"A Wrinkle in Time" is doing free screenings for underprivileged kids, and this is what it feels like to cry happy tears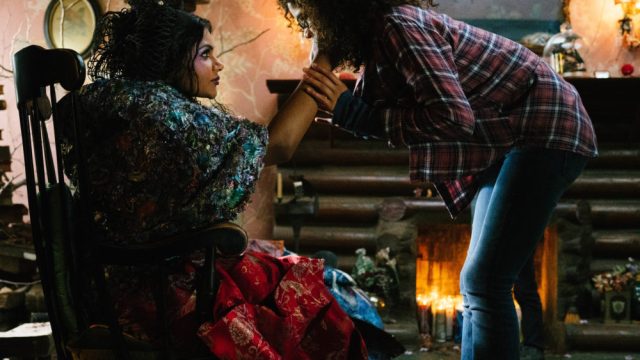 A Wrinkle in Time is an important story of perseverance, individuality, and the importance of love — and thanks to an incredible partnership, a ton of kids are going to be able to see the big-screen adaptation. Coming on the heels of an amazing campaign to help families in need see Black Panther in theaters, racial justice organization Color of Change and AMC Theatres are teaming up to help kids see A Wrinkle in Time.
Similar to other crowdfunding campaigns before it, the "Give a Child the Universe"initiative is an online platform that encourages people and organizations to donate — with each ticket costing $10 — allowing children and teens see to the matinée showing of A Wrinkle in Time on the film's opening day, March 9th.
Color of Change will be distributing donations to a variety of local partners, schools, and organizations across the country, allowing children and teens the opportunity to see the groundbreaking film at their local AMC Theatre at no cost.
"Color of Change believes in the power of images and supports those working to change the rules in Hollywood so that inclusive, empathetic and human portrayals of Black people and people of color are prominent on the screen, said Rashad Robinson, executive director of Color Of Change. "From Selma to now A Wrinkle In Time, Ava DuVernay has set out to change the rules in Hollywood for people of color and women. By casting a black teenage actress Storm Reid as the heroine at the center of this story, the filmmakers and the studio send a powerful message to millions of young people who will see someone like them embracing their individuality and strength to save the world. We are pleased to partner with AMC to ensure that as many young people as possible, regardless of economic and financial hardships, can see this groundbreaking film.
This film is going to be a game-changer for so many reasons and we're so glad that Color of Change and AMC Theatres are ensuring that all kids have the opportunity to experience the magic without having to worry about being able to afford it.
A Wrinkle in Time was directed by Ava DuVernay and boasts an all-star cast of Storm Reid, Reese Witherspoon, Mindy Kaling, Chris Pine, Gugu Mbatha-Raw, Zach Galifianakis, and Oprah Winfrey. The film opens on March 9th.