Wow, this intense episode of "Teen Jeopardy" is a real nail-biter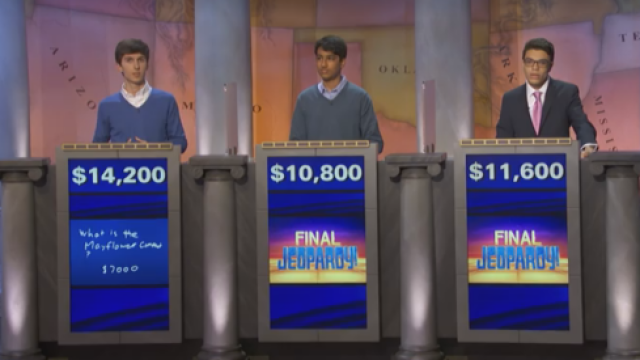 We'll admit it: not many of us watch Teen Jeopardy. But perhaps we should. In the most recent episode of Teen Jeapardy, a contestant lost by a dollar. A single dollar! The episode was a real nail biter for all those who watched.
According to Entertainment Weekly, this past Tuesday contestant Alec Fischthal was robbed of the winning spot and cash money prize by one. single. dollar. Ouch. Will Alec become our new Tom from Jeopardy? We just want to give Alec a hug and tell him it will be okay. After all, we're still very proud of him!
Here's how the drama of Teen Jeopardy went down:
During the final part of the game, the three remaining contestants — Sharath Narayan, Alec Fischthal, and Michael Borecki — were asked by Alex Trebek which document written by William Bradford was partly inspired by the "mutinous speeches" of some passengers. For most of us, this question would be met with a long head scratch.
Instead, all three geniuses answered correctly with, "What is the Mayflower Compact?" It looks like someone is watching their Drunk History.
Here's where things get tricky
Although Sharath Narayan began the day in second place, he was smart enough to place a wager of $901, which upped his two-day total to $39,701; exactly one dollar more than Alec Fischthal.
It's almost too painful to watch.
Fiscthal's face when he realized he'd lost his lead, and came in second place by a single dollar, hurts our hearts. Sharath Narayan, a high school junior from Alabama, meanwhile, was unsurprisingly pumped:
"I'm floored... being on Jeopardy! has been one of my lifelong dreams. We've been watching it since I was little. I love trivia.
Of course, the internet went crazy when they learned about this win:
Many were impressed with Naryan's sharp skills.
Others compared it to March Madness.
Some were full of empathy.
Political allegories were made.
And some of us punned.
On the upside, all three contestants went home with some money. Alec earned $50,000 and Michael received $25,000. In our hearts, they are all winners. Congratulations, gentlemen! And hey, at least we all now know what you will all be writing about for your college application essays.