Luke, Paris, and Kirk play Would You Rather — are not fans of Jackson's zucchinis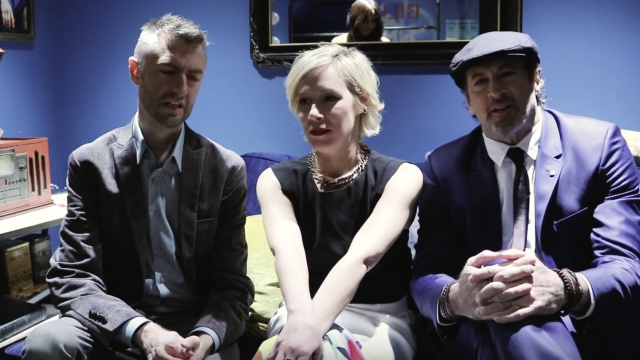 It's official: Gilmore Girls: A Year in the Life is on Netflix and it seems like the whole world is freaking out. With the long-anticipated revival of the beloved WB series getting so many fans to re-watch the original seven seasons, it seemed like everyone in the world had seen the show. But somehow, new fans keep emerging. But none as giggly or excited as one Tonight Show Starring Jimmy Fallon host.
Fallon joined the bandwagon late in life and due to the timeliness of the Gilmore Girls press tour, was able to have three of his favorite characters on the Tonight Show. On the show, Liza Weil (Paris Geller), Sean Gunn (Kirk Gleason), and Scott Patterson (Luke Danes) spoke about the revival and Jimmy's obsession with Gilmore Girls. Fallon also got them to play a fun Stars Hollow edition of Would You Rather in an online exclusive.
Check it out below (to figure out if this headline is a double entendre):
https://www.youtube.com/watch?v=GJC0xQU_sZc?feature=oembed
In the game, the trio had to answer some serious questions. Starting this off with a bang was the question: "Would you rather try to win an argument with Paris Geller or Emily Gilmore?"
This question had them perplexed as arguing with Paris and/or Emily is something nobody ever wants to face. After a pause, the three agreed that Paris isn't as experienced an arguer as Emily and could *possibly* be outsmarted.
Another tough question the trio were faced with was whether they'd rather be reprimanded by Mrs. Kim for breaking a lamp or be chastised by Taylor for missing a town event. While the answer seems fairly obvious, it definitely called for deliberation.
The trio agreed that being reprimanded by Mrs. Kim would be painful, but Weil made an important point: Taylor's chastising would never end. Anyone who has ever seen the show knows that Taylor Doose can, and will, reprimand for life.
So there you have it! Three of Stars Hollow's favorite residents and friends have spoken! If you still haven't seen the revival, check it out and compare their answers to what goes down in the revival!