The World's Ugliest Dog has been crowned and we're in love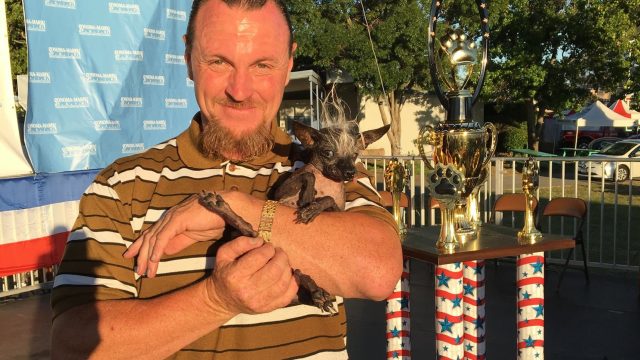 It's that time of year again…you know, time for the annual World's Ugliest Dog contest at the Sonoma-Marin County Fairgrounds in Petaluma, California. (What? You don't have this permanently marked on your calendar? GET ON IT.)
This year marked the 28th year of the contest, which isn't just a mere (anti)beauty contest, but a way to honor and appreciate canines who look a little different than the typical dog next door. On the contest's website, Erin Post, CEO of the Sonoma-Marin Fair says, "We're proud to celebrate all dogs and pets by showing that no matter their imperfections, they are adoptable, lovable and a great add to any family."
We absolutely love this message, which is why we've fallen hard for this year's winner, Sweepee Rambo.
This was Sweepee Rambo's third year to compete for the World's Ugliest Dog title. The third time was indeed the charm, because the 17-year-old Chihuahua/Chinese Crested mix walked away with the giant trophy and a $1,500 check.
Sweepee Rambo's pet parent is dad, Jason Wurtz, who told ABC News that he originally bought the dog as a gift for his now ex-wife. When the two of them split, Wurtz took custody of the tiny 4-pound dog and from the sound of things, they've had an amazing life together. Sweepee Rambo's bio on the contest's voting page sounds pretty much like a doggy dream come true:
Awwww.
Congrats Sweepee Rambo! And props to Jason Wurtz for being an awesome doggy dad.
You can check out the other entrants in this year's contest here. We have heart eyes for each and every one of them.