The world's new highest bridge just opened in China and we can't stop marveling at it
For those of you with an aversion to heights, look away now and spare yourselves a bout of vertigo. As for everyone else, do your eyes a favor join us in staring in awe at this video of the world's new highest bridge. Located in southwest China, the Beipanjiang Bridge recently opened to traffic in one of the country's remote mountainous regions and the views are absolutely stunning.
At four lanes wide, the looming structure connects the provinces of Guizhou and Yunnan and stands 1,854 feet above the Beipan River, making it the highest in the world.
To give you an impression of how this bridge has impacted commuting in the region, it has managed to cut travel time between the cities Liupanshui and Xuianwei from five hours to two, according to The Telegraph.
CCTV shared a video of the bridge on YouTube, which offers an overview of the marvelous structure during its construction phase.
https://www.youtube.com/watch?v=pjWuWO1c3qs?feature=oembed
Here's a view of the Beipanjiang Bridge from a distance: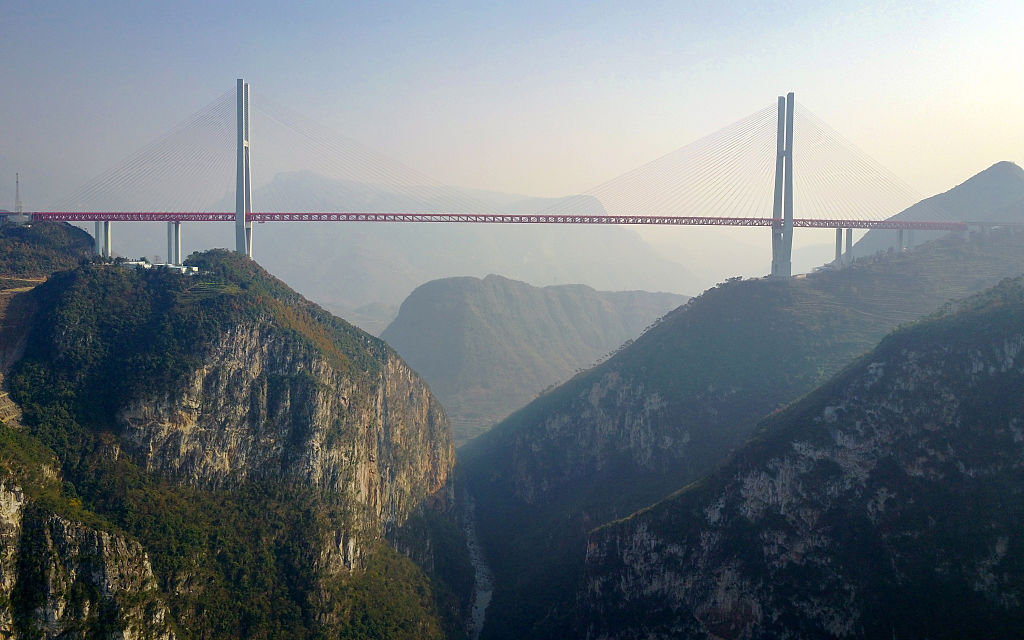 And an incredible aerial view:
And yes, people are actually brave enough to drive across it:
So, we may or may not need someone to drive us across this bridge while we shiver and cover our eyes from the passenger's seat.
In case you didn't already know, China is no strangers to constructing panic attack-inducing bridges. In August, we told you about the country's 4000-foot high glass bridge that precariously hugs the side of a mountain, so basically building bridges that make you wanna crap your paints is sort of their thing. China is also home to the world's second and third highest bridges, so there's that as well.
Anyway, should you be planning to a trip to southwest China in the near future, we won't judge you if you're too chicken to cross this bridge to take a pic. A selfie from a distance will do just fine.