The founder of Tiyya Foundation shares how the organization helps refugees on World Refugee Day and every day
Today, June 20th, is World Refugee Day.
President Donald Trump wants to "build a wall" along the U.S.-Mexico border, and has already instituted an inhumane zero-tolerance policy detaining families seeking asylum and separating children from their parents. (Trump may have passed an Executive Order today, June 20th, ending the forced separations, but it does nothing to reunite families who have already been separated or stop zero-tolerance detainment.)
Trump's wall may not yet be erected, but refugees who have made it to the United States already have a wall built around them. It may be a figurative wall, but it still blocks them from opportunities to resume their lives as they struggle to access housing and education.
Meymuna Hussein-Cattan is a refugee from Ethiopia living in America and founder of the nonprofit, Tiyya Foundation. Based in Los Angeles and Orange County, California, the award-winning organization provides community support (including extracurricular activities) and resources (including school supplies) to displaced families and refugees. Meymuna says, "Refugees are eager to succeed here, but they have to redo their degrees all over again."
Fourteen-year-old Afghan refugee Amna*, who gets help from Tiyya, is happy to live in the U.S. with her family — although she wishes their apartment were big enough for her and her five siblings. Amna likes the "freedom" in the U.S., despite the "weird" looks she gets from people. "I'm just normal," insists the Tiyya participant, who enjoys choir and is excited for summer.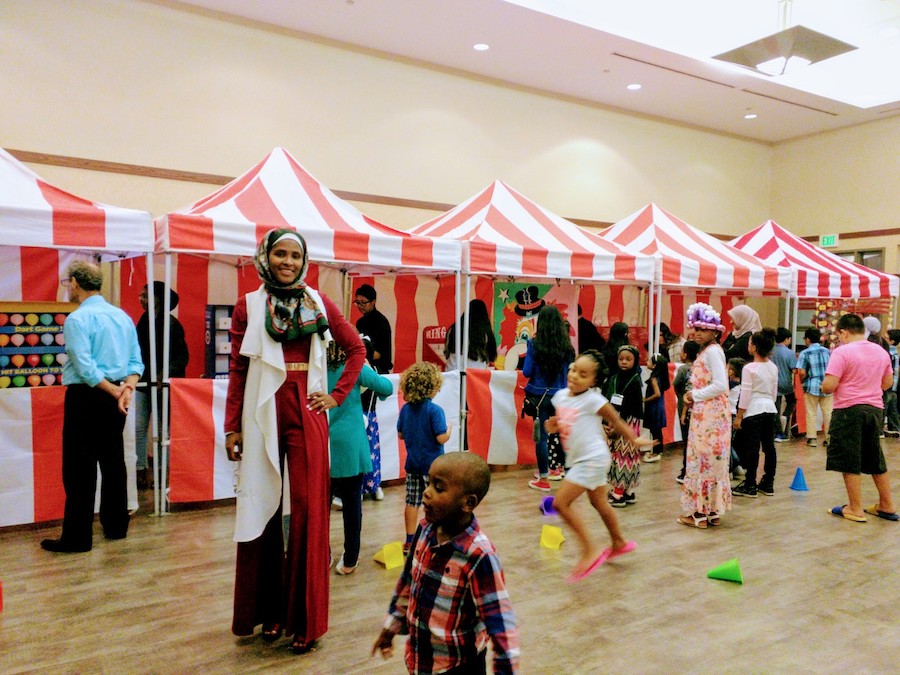 On June 20th, refugees like Amna are attending the United Nations Refugee Agency's (UNHCR) World Refugee Day events. Earlier on June 17th, to celebrate World Refugee Day and Eid, 300 people — including refugees — attended a Multicultural Eid carnival in Southern California's Inland Empire, organized by Tiana Franklin. "I wanted to do something special for them," Tiana said. She added that refugee attendees preferred not to be "singled out," and wanted to enjoy the Eid holiday like everyone else — because they are like everyone else.
World Refugee Day began in 2000 and celebrates the bravery and contributions of the world's refugees.
This year's World Refugee Day is especially important because of the U.S. government's cuts to refugee programs, as well as Trump's multiple attempts to uphold the travel ban that stops migration from six Muslim-majority countries.
In 2018, only 1,800 Muslim refugees have been admitted into America — when approximately 22,900 were admitted in 2017. As GlobalCitizen.org reports, "In January 2017, President Donald Trump slashed the refugee resettlement quota by more than half…and 2018 is on pace to be the worst year for resettlement to the U.S. in decades." In 2018, the U.S. has only taken in 11 Syrian refugees, and there are five million Syrian refugees and 700,000 Rohingya refugees unsettled in camps around the world. There are 65 million refugees worldwide.
"We helped 795 refugees this year, up from 500 two years ago, because so many resettlement centers have shut down, explained Meymuna. "On the plus side, our volunteer numbers have increased because people want to help."
The Tiyya Foundation is involved in Los Angeles Forum's World Refugee Day event, where Meymuna is speaking on a panel. "The event is beneficial to refugees, says Meymuna. "They network with one another and with case managers."
Tiyya participants are empowered and happy to attend events where they can represent refugees and explain the dire situations in their respective countries like Syria, Guatemala, and more.
"The [refugees we help] are teachers, not victims. They've left the refugee camp life behind, now they are here to rebuild the life they had, emphasized Meymuna. "These are your neighbors. They are not strangers in a foreign country. You'll see them working at your grocery store or studying at the library. I tell [our participants], I do this for you because I know you would do the same for me.
https://www.instagram.com/p/Bf1O2K0jZpk
While I watched the heart-wrenching but informative refugee documentary Human Flow, I saw how the forced influx of people out of their countries into different nations has created amazing cultural exchange and blurred borders. People who may have otherwise ignored one another are now united in their shared needs and situations. Meymuna agrees, explaining the refugees that Tiyya works with just "want to give back to the country that has helped them."
Help aid refugees by donating to the Tiyya Foundation here.  UNHCR asks you to help pressure the government to share the "global responsibility" of protecting displaced peoples by signing the online petition #WithRefugees.