Obama, Ellen DeGeneres, and so many others are calling out Donald Trump on World Refugee Day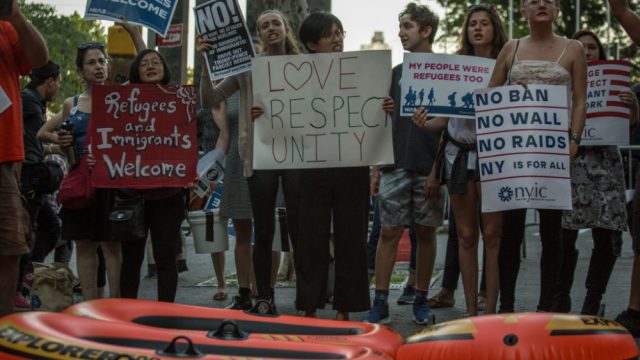 Today, June 20th, is World Refugee Day, a day created to shine light on those forced to flee their home countries due to danger, conflict, and famine. And this year's World Refugee Day coincides with the Trump administration's zero-tolerance immigration policies. In response, many prominent public figures have observed the day by calling out the administration and their actions — including former president Barack Obama.
The 44th president shared an eloquent Facebook post in which he urged Americans to look at refugees with compassion and take action to keep families together. He asked his followers to put themselves in a refugees' shoes, as well as to consider the morality of taking children from their parents.
"Are we a nation that accepts the cruelty of ripping children from their parents' arms, or are we a nation that values families, and works to keep them together?" he wrote in his post. "Do we look away, or do we choose to see something of ourselves and our children?"
Obama continued by reminding readers that their relatives had once been new arrivals to the United States, too.
"Whether our families crossed the Atlantic, the Pacific, or the Rio Grande, we're only here because this country welcomed them in, and taught them that to be an American is about something more than what we look like, how our last names sound, or the way we worship," he wrote.
Obama wasn't alone in calling for action today.
Supermodel Gigi Hadid called on her Twitter followers to help child refugees today.
Director Judd Apatow promoted Amnesty International.
Actress Natalie Morales reminded us all what the Statue of Liberty stands for.
Ellen DeGeneres urged her followers to "do an act of kindness."
Hillary Clinton tweeted, "There's nothing American about tearing families apart."
Olympian Laurie Hernandez suggested donating to UNICEF to support refugee children.
Author and U.N. Refugee Agency Ambassador Neil Gaiman also shared his thoughts.
Canadian Prime Minister Justin Trudeau wrote of the need to honor those who have been displaced.
Even the Pope weighed in.
As of this afternoon, June 20th, President Donald Trump has signed an executive order stating that children will no longer be separated from their parents at the border but that the zero-tolerance immigration policy (even for those fleeing gang violence) will remain intact.