Channel the back-to-school spirit with these workwear wardrobe updates
Our school days meant experimenting when it came to fashion—bold prints, trendy accessories, the latest shoe brand that our best friend loved—we were willing to try anything, and there were no rules when we got dressed in the morning. But when we making the switch from "student" to "young professional," it can be easy to lose that sense of fun and experimentation in seeking out a more polished work wardrobe. But while it's smart to chose more professional pieces than you wore to your college classes, you don't have to go from one extreme to another.
It's easy to slip into a routine when it comes to your office attire, but we're here to tell you that it doesn't have to be all work and no play.
Back-to-school season is all about fresh starts, so take this opportunity to give your workwear wardrobe the updates it needs. There are simple ways to get in touch with your youthful fashion sense again—incorporating elements like plaid patterns, fun hair accessories, and fresh jewelry will bring a lively vibe to your work outfits. We rounded up some pieces that will help you channel your inner school girl energy while still remaining the polished professional that you are.
1Plaid patterns
What screams back-to-school style more than plaid? This classic print always reminds us of our school days, and luckily, we don't have to nix it from our closets even though we're past those times. Incorporate plaid into your wardrobe with blazers, dresses, pants, headbands—anything, really—and you'll feel like a student again.
Vince Cameo Highland Plaid Pleated Skirt
We're all about the midi skirt trend, and we plan on adding this plaid one to our fall workwear wardrobe.
2Mary Jane shoes
Classy and practical, Mary Jane shoes have been a back-to-school wardrobe staple for as long as we can remember. Add a heel, some unexpected fabric, a dash of color, and voilà—you have yourself a modern, grown-up Mary Jane shoe.
Attention to Excellence Velvet Heel Mustard
These velvet mustard heels will definitely earn you some compliments at the office.
Wide Fit Links Mary Jane Ballet Flats in Crushed Red Velvet
If you don't feel like wearing heels, these comfy and cute Mary Jane ballet flats are the perfect alternative.
3Fun hair accessories
Headbands, barrettes, scrunchies, hair bows—all of these hair accessories remind us of our school days, and luckily for us, they're currently making a major fashion comeback. Tie a printed ribbon around your ponytail, pull your hair half back with some sleek barrettes, or utilize the ultimate school girl accessory: A Blair Waldorf-style headband. These simple style tweaks will bring some fun-loving energy into your workwear wardrobe.
Lauren Knotted Headband
This rusty orange headband adds the perfect pop of color to your fall wardrobe. It comes in seven other fresh shades, too.
2-Pack Imitation Pearl Hair Clips
Every fashionista needs some pearl barrettes, and this set does the trick.
4Jumper look-a-likes
Chances are, when you were in elementary school, your parents probably dressed you in a jumper at some point. While an actual jumper might feel a little too youthful, we found some look-a-likes that are more grown up (read: office appropriate).
Overall Winner Jumper
Pair this suspender-style skirt with a dressy blouse like this one, and you'll be eager to take on the day.
Wide Leg Denim Overalls
These burgundy overalls are a bit tamer than a full-on jumper, but still have a playful vibe.
5Charm bracelets
If your childhood fashion sense was anything like ours, then charm bracelets were one of your most coveted accessories. This fun throwback accessory is currently having a fashion moment, and we're here for it. Slip a charm bracelet on your wrist and—bam—a splash of personality is added to your work outfit. BaubleBar has a huge selection of unique bracelets to choose from.
BaubleBar Modern Acrylic Initial Bracelet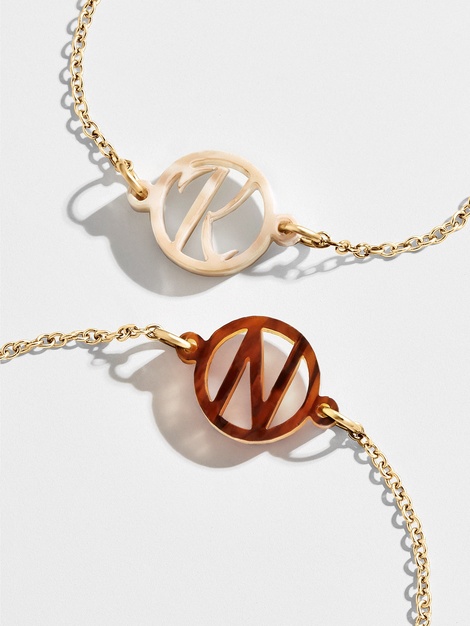 These sleek acrylic bracelets put a personal stamp on your workwear wardrobe.
6Playful jewelry
When we went back-to-school supplies shopping, we always opted for the girly notebooks and folders covered in butterflies, hearts, and stars. While you might not carry around a backpack full of these school essentials anymore, you can incorporate those youthful symbols into your outfits with your jewelry.
This simple star necklace is just the finishing touch your work outfit needs.
Incorporate these back-to-school-inspired pieces into your workwear wardrobe this fall, and you'll be feeling just like your school girl self before you know it.