What it's like to be one of TV's go-to tech experts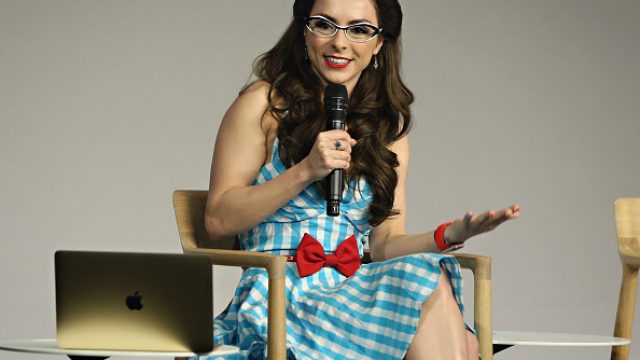 Meet Katie Linendoll, the boss lady we're featuring in this month's Working Girl Diaries. Katie is a tech expert and Emmy-winning TV personality who you may have seen on the Today Show, The Weather Channel, CNN, and more. In addition to her work on these programs, Katie travels around the world for more than 250 days of the year, speaking at conferences and covering tech stories as a journalist. Her work is especially empowering as it is a reminder that establishing a career in tech does not depend on running a multibillion dollar startup.
One of Katie's greatest passions is encouraging and advocating for girls interested in STEM fields; she started coding herself at the age of 12. Katie also sponsors a school in Kirembe, Kenya through the organization Worldreader, helping the students access thousands of books every year with e-books and mobile devices.
She also hosts the podcast, Katie <dot> SHOW, where she interviews everyone from astronauts, to CEOS, to celebrities and journalists.
Here are three days in Katie's busy life!
Day 1
8 a.m.: I wake up in my NYC Tribeca apartment. I am used to being on the road about 200+days per year, so a night at home is a real treat. As a tech expert, my daily life is infused with the latest and greatest gadgets. I sleep on an advanced hybrid mattress and use specially designed scientific sheets and pillows. Also, when I am in need of a great night's sleep, I use a high-tech sleep headband (Sleep Shepherd Blue), which I help consult on. It wakes me up at exactly the right time, so no one gets a "pre-coffee email." This morning, my sleep is cut short due to an early work commitment. I open my eyes and order Starbucks on my app. It's not until I hold my iced double espresso that I am ready to face the world.
8:15 a.m.: It's time to start hair and make-up. My make-up artist, Alicia, is a talented professional and also a fun travel companion. I call her Dee Dee as people compare us to Dee Dee and Dexter from Dexter's Laboratory (one of my favorite cartoons). We pepper the seriousness of the make-up prep with our usual antics of jokes and skits.
10:15 a.m.: My phone has rang twice reminding me of my car pickup, a passive aggressive New York way of saying, "Hurry your ass up; we have other clients!" Sometimes the subway is quicker in NYC, but today it is too hot. If I took the subway, my makeup could literally melt off and I might get to the shoot smelling of hot trash.
11:00 a.m.: We arrive at a confidential top technology company for an upcoming media project near the Empire State Building. While waiting for our contact, Alicia reminds me to do a social media post. It is important that I keep up on social media, as it builds interest in my brand and brings focus to the stories that I cover. Alicia always reminds me to, "Do it for the 'Gram." I realize that I still have rollers in my hair, and she takes a pic of me that looks like Peggy Olson of Mad Men.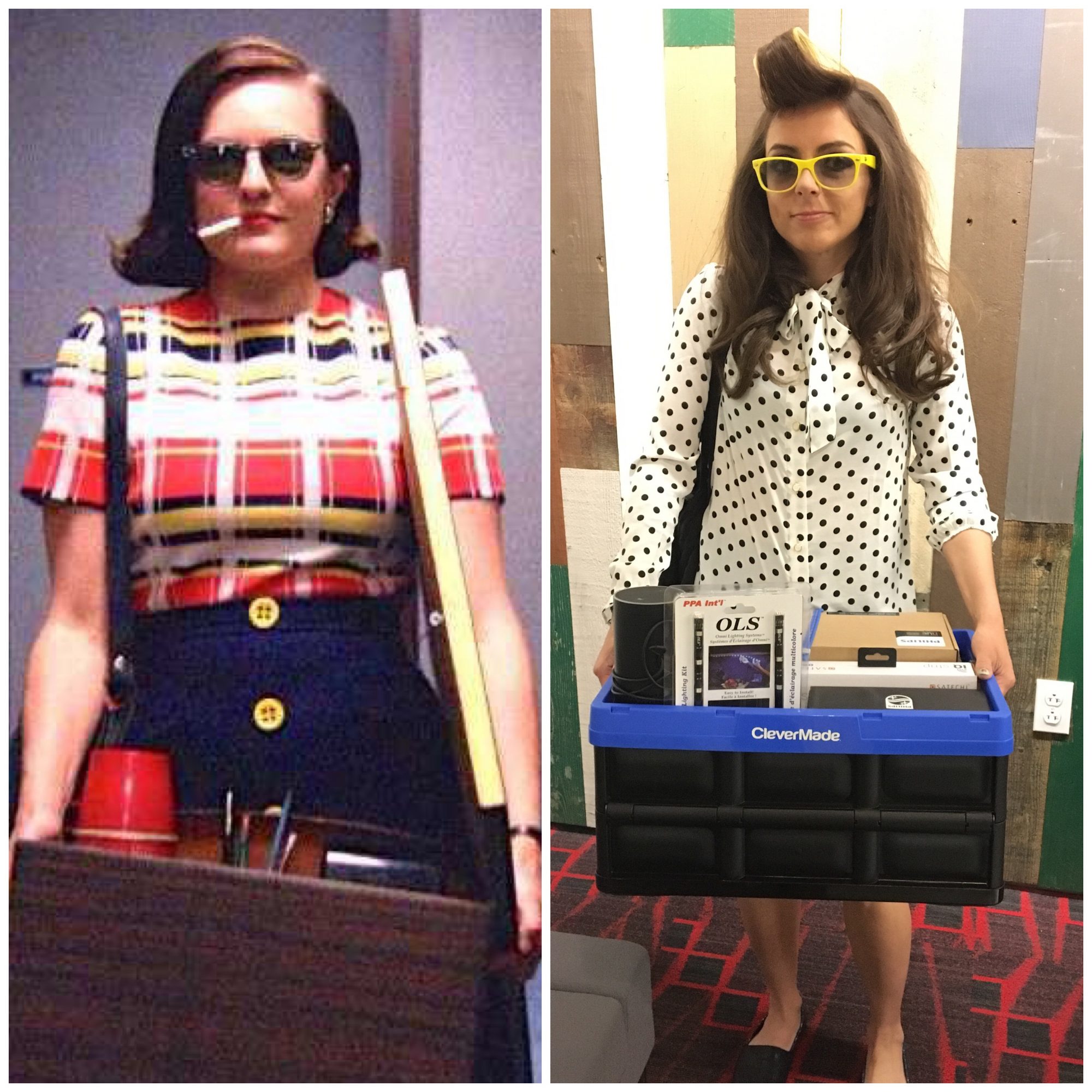 1:40 p.m.: I have a lot of experience doing gadget segments like this for other outlets such as the Today Show, FOX News, and The Weather Channel, so we complete the project 20 minutes early, which makes the producer and crew very happy. The shoot is officially a wrap, and Dee Dee and I start to pack up our gear.
2 p.m.: We walk to the subway stop on 34th Street at Madison Square Garden. Just as we are about to board the train, I realize that I forgot my computer at the studio. I am due to catch a flight to Las Vegas this afternoon, so every moment is precious. Dee Dee offers to go back for me to get the computer, so I can head home to finish packing. We separate with plans to meet back at my apartment.
2:10 p.m.: I arrive home and hustle to finish packing. Simultaneously, I continue to work on my presentation for a corporate speaking event with GS1 tomorrow, which is a compost of experts who create international standards for barcoding and other systems of commerce mega data. . One of the most enjoyable aspects of my job is being asked to be a keynote speaker for many technology and corporate events. These conferences are often held in deluxe hotels with huge amphitheaters. The first time I did a keynote speech, I was awestruck. It felt like the Oscars. I know that when you are up on this huge stage, you can't wing it with a black and white PowerPoint presentation. I am adamant about creating custom presentations that are graphically engaging and unique to the audience. I develop all of my presentations with the help of a graphics designer, who is currently on location in the Netherlands. Since he is overseas, I know I only have a few hours left to be in touch with him and finish this massive keynote presentation.
2:30 p.m.: Dee Dee arrives with my computer safely in hand. Thank goodness! I make a quick salad for lunch, and we have Magnolia cupcakes (from this morning's shoot) for dessert.
4:30 p.m. We were supposed to leave for the airport by 3:30 p.m., but are running late. My life is full of these last minute sprints to JFK. Unfortunately, we are now hitting the intensity of rush hour. We drive through the back roads of Brooklyn, and even though the airport is only 13 miles away, it takes us an hour and 20 minutes to get there.
6 p.m.: We finally arrive at the airport. Our flight was originally departing at 6:30 p.m., but it has been delayed by hour. We thought we were late, but now we have plenty of time! We get through security and board on time en route to Las Vegas!
Day 2
12 a.m.: We arrive at the Las Vegas Airport. The city is experiencing record breaking temperatures — when we land at this late hour, it is still 112 degrees. When we exit the airport to catch a cab, it feels like we are walking into a wall of heat. Finally, we get to the hotel, and we have an epic view of the Vegas strip! I take advantage of the scenery and shoot a social post on Twitter for my Gadget of the Day.
1 a.m.: I continue to working on my presentation with my designer, who just woke up in Netherlands time. The theme of my talk for GS1 is "Tomorrow in Technology," and I focus on the evolution of technology within the retail world. I pepper the presentation with interesting high-tech perspectives of augmented reality and virtual reality to hopefully expand the horizons of those in the audience.
1:30 a.m.: I finally decide that I need to get some sleep, and it's lights out.
8 a.m.: I wake up to double alarm clocks. Alicia, who is more of a morning person, makes our first Starbucks run.
8:30 a.m.: I start hair and makeup, and continue to practice my presentation.
9:59 a.m.: I start my rehearsal on stage before doors open, and I meet with the CEO of GS1.
11:00 a.m.: The doors open and the conference day begins.
11:26 a.m.: It's my cue. I still feel butterflies in my stomach when I walk out on stage, but the adrenaline kicks in and I launch into the presentation. I like to prove that I run my own social media and respond live to some kind Tweets: "Thank you from the stage! ☺"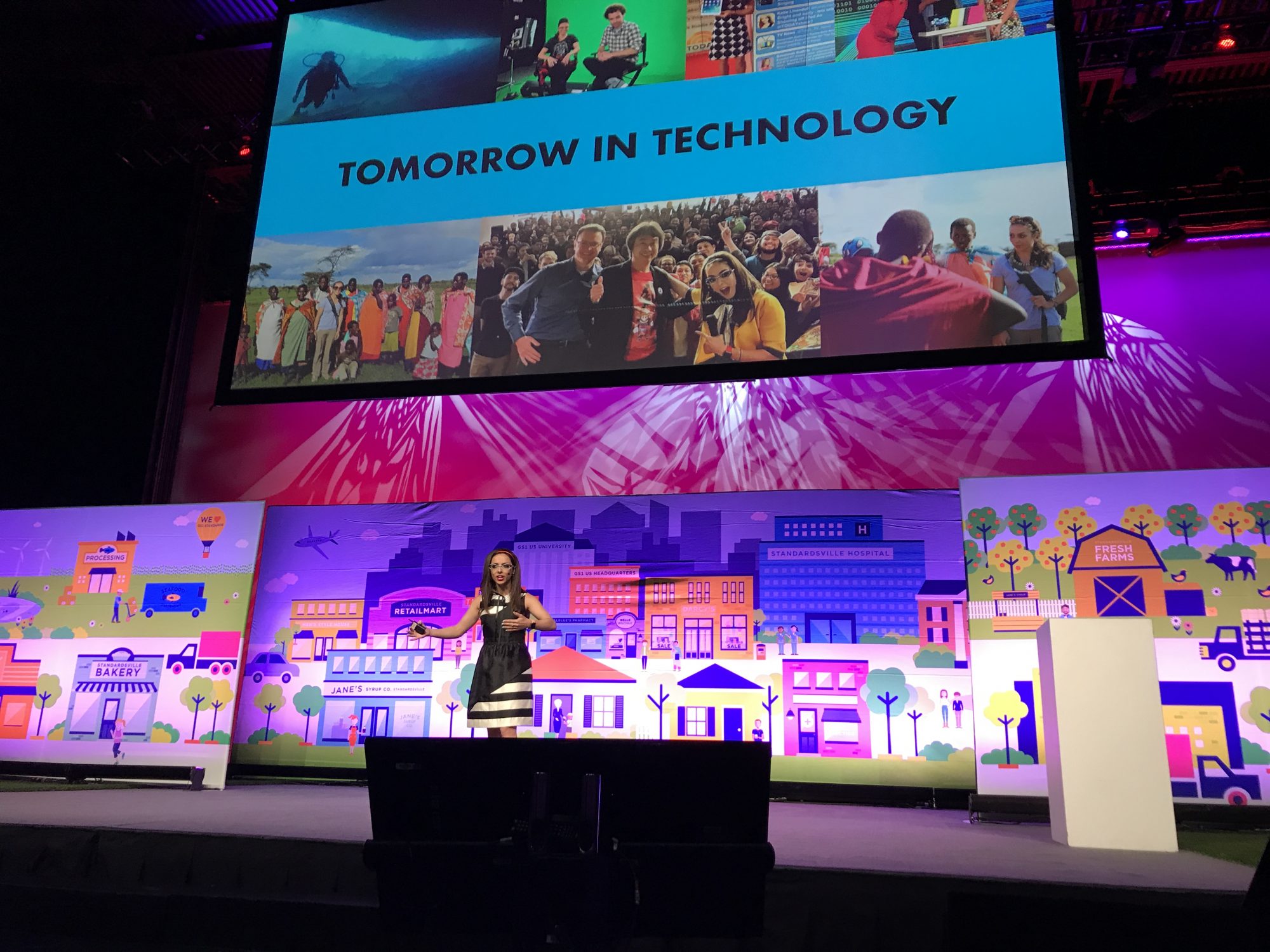 12:15 p.m.: I participate in a Q&A with the CEO on stage.
1 p.m.: I have a quick lunch and then create some video posts for social media.
2 p.m.: I respond to emails (I receive a couple hundred per day). My primary focus now is negotiating a shoot that I will be doing tomorrow in Bermuda live for The Weather Channel. I will be covering two separate stories on the lionfish, and one with a sailor from America's Cup, a prestigious sailing race.
3:45 p.m.: I attend one of the GS1 presentations by a Microsoft Executive on blockchain.
5 p.m.: I start thinking about traveling tomorrow, and my flight it is not looking good. I keep receiving alerts on my Apple Watch that my flight to NYC is delayed. I am worried that it might be cancelled, and I absolutely have to be in Bermuda the next day. I get online and start researching other options. Luckily, I find one of the only seats left on another airline, and shortly after making the change, my original flight is cancelled. I travel so often that I've learned when to trust my gut instincts and rearrange my plans.
9:10 p.m.: We pack up after the last presentation and arrive at the airport with only 40 minutes to spare. I make it through security and board the flight back to NYC.
Day 3
5:55 a.m.: I arrive back at JFK. I don't have time to make it to my apartment, so I just stay at the airport. I wait for my sister, who often travels with me, and is flying in from Boston. I make a Starbucks run and buy some Baked by Melissa cupcakes as treats for us and the experts, who I will be interviewing in just a few hours.
8 a.m.: My sister arrives on time, but our flight to Bermuda is delayed due to heavy winds on the island. I cross my fingers that we will get out!
9 a.m.: The winds die down and there are no further delays. We board the flight and are on our way.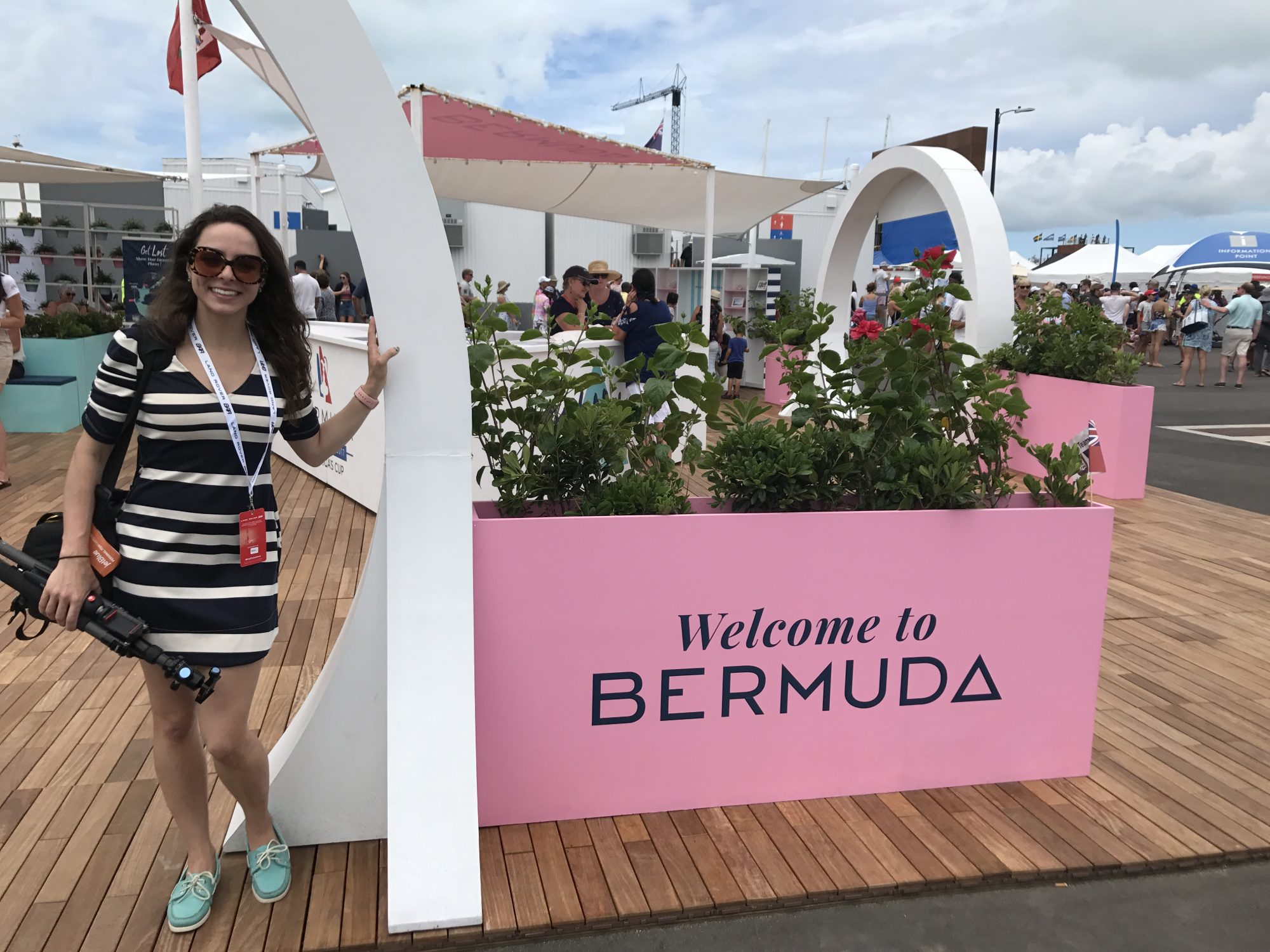 11 a.m.: We arrive in beautiful Bermuda. The drive from the airport is always breathtaking, like I have been transported into another world. The water sparkles with an otherworldly turquoise blue. I started traveling to Bermuda around five years ago to cover a story that I discovered on the lionfish for a major news outlet. This time I am returning to do a follow-up story for The Weather Channel. This invasive predator species has overpopulated — and is now threatening — the fragile ecosystem of the coral reefs.
12 p.m.: We go straight from the airport to BIOS (Bermuda Institute of Ocean Sciences). I set up the camera equipment and then shoot an interview with an amazing female scientist who I have known for a few years. I love seeing her in Bermuda — she has done extensive research on the lionfish and is also an expert diver. We discuss ways that humans are trying to reverse this manmade ecological problem. My sister helps me smoothly negotiate the interview, chatting and making sure we are staying on time and on point.
3 p.m.: We check into our hotel. Every time I touch down in Bermuda, I feel pulled into island time. Though we are ridiculously pressed for time, we still accept a Rum Swizzle and take a tour with the friendly concierge around the grounds. We truly feel Greek-sirened, even though now we are in jeopardy of running late.
4:30 p.m.: I arrive at the historic Dockyard in Bermuda, which is home to the 35th Annual America's Cup. I meet with PR representatives to plan for tomorrow's shoot, in which I will focus on how the race is incorporating more and more high tech (drones and virtual reality) into highly competitive sailing.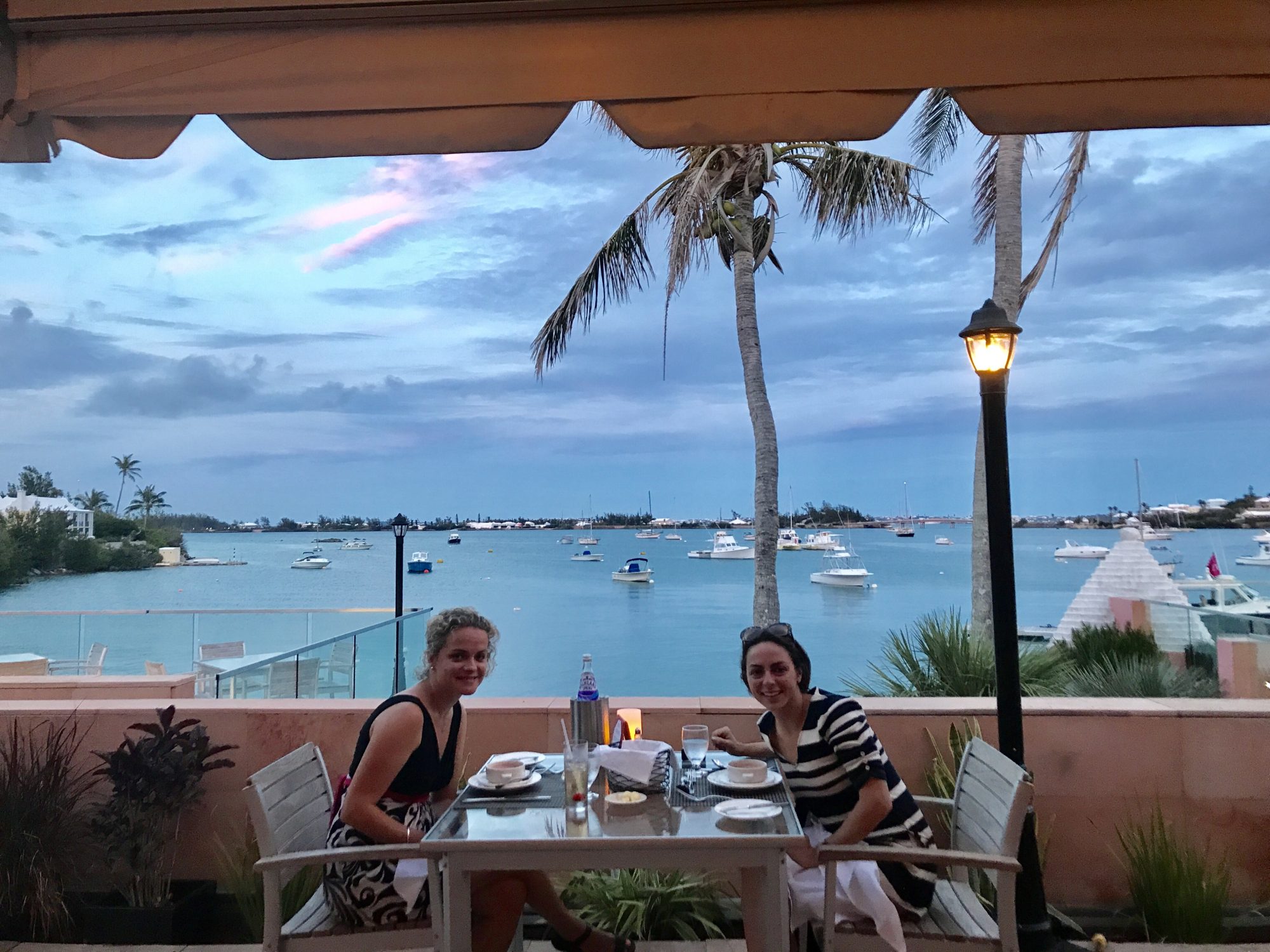 6 p.m.: We return to the hotel for dinner and eat alfresco looking out onto the marina. The view is breathtaking as the sun sets. I pull out my iPhone and shoot some b-roll (video clips) for the America's Cup segment, and also take some photos for social media. Finally, I shoot some 360 degree photos, which attracts the attention of our server. He stops by the table and I give him a quick tutorial on the camera and we talk about drones.
7 p.m.: The grounds outside of our hotel room also have breathtaking views, so I use the last remaining minutes of daylight to shoot a gadget segment for The Weather Channel highlighting my Top 10 travel gadgets. My sister shoots it, and since she's my sister, gives me honest feedback about the best lighting and clothing options.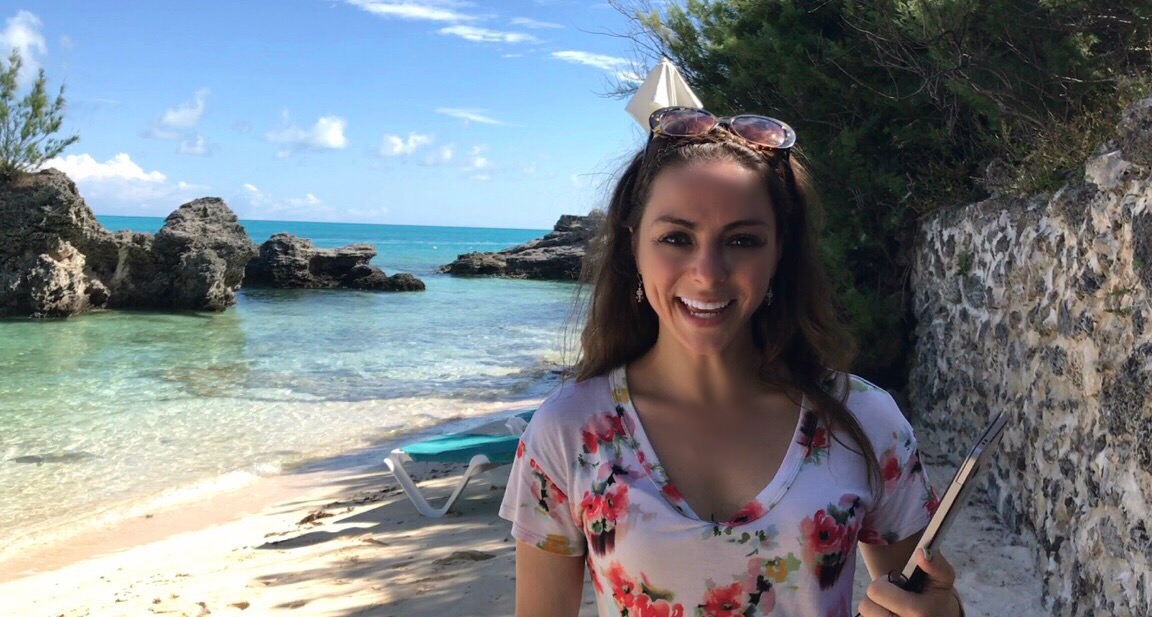 8 p.m.: Finally we have some spare time to take a swim. Of course, I take along my GoPro, just to test it out in the gorgeous infinity pool.
10 p.m.: I answer emails and prepare equipment for tomorrow's shoot.
1130 p.m.: I get into bed to do some reading. I open the most recent issue of National Geographic with an article on Antarctica and deep-sea diving under the ice shelf. I fall asleep wondering if my travels might one day take me on an adventure to this remote destination.
For more Working Girl Diaries, check out:
What it's like to run Fashion Mamas, an organization that supports working mothers in creative fields
What it's like to be an animal rights lawyer
What it's like to run an all-romance bookstore in Los Angeles
And see more here…