I'm a part-time travel writer, and this is what I wear to work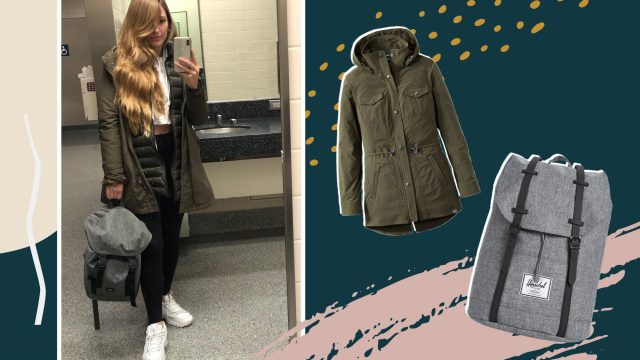 Welcome to Workwear Wardrobe, where we look at the outfits that women nationwide are wearing for their jobs. We ask women to track their work clothes over a work week and break down their style. This month, Merissa Principe, a 28-year-old who spends half her time flying across the world, walks us through her work week. 
Occupation: Pre-school teacher and travel writer
Industry: Education & Media
Employment Status: Part-Time
Location: New York, NY
HelloGiggles: What is your day-to-day work like as a part-time teacher/freelance writer?
Merissa Principe: As a freelance writer, my job takes me to various corners of the world. I honestly never have two weeks that look the same. Typically, I try to be home in New York Monday-Thursday and travel Thursday night to Sunday night. During the week, I run a part-day preschool and baby developmental movement program I designed while pursuing a degree in Early Childhood Development. When I'm not teaching, my career as a freelance travel writer takes me to a new city on a weekly basis. I'm always on the run to discover the best new destination, restaurant, or working on my life's mission to save the planet one sea animal at a time.
HG: How do you put together your workwear outfits?
MP: When I'm teaching, you can find me in big comfy sweaters, athleisure wear, and easy to slip-on sneakers or boots. However, I do also have a lot of work events or meetings sprinkled throughout that week, so you're either catching me at my best or at my Britney Spears getting Cheetos at a gas station. My weekend travels are a whole different ball game, though. I'm either drinking rum punch on a traditional Caribbean sailboat or I'm skiing in  Switzerland enjoying farm-to-table alpine cheese at a Michelin starred restaurant. My wardrobe is definitely indicative of my environment, while still ringing true to my core aesthetic.
HG: What's the most important thing you factor in when buying clothes? 
MP: For me, the most important thing I factor in when buying clothes is fit, quality, and most importantly price. I love to incorporate low-end items with a bigger designer pull. My guilty pleasure is splurging on a well-made piece but I'm also one to score a great dupe on Amazon.
HG: Is there anything else you want to talk about regarding your style/workwear wardrobe? 
MP: Another big factor weighing in on my purchases is sustainability. If it's sustainably made that's a big plus for me. As I mentioned, I really enjoy vintage shopping but for work events or trips, I love to rent clothes too. Rent the Runway and Nuuly are great nation-wide companies, but I love using the Wear Wardrobe app, a local based NYC-based company.
Monday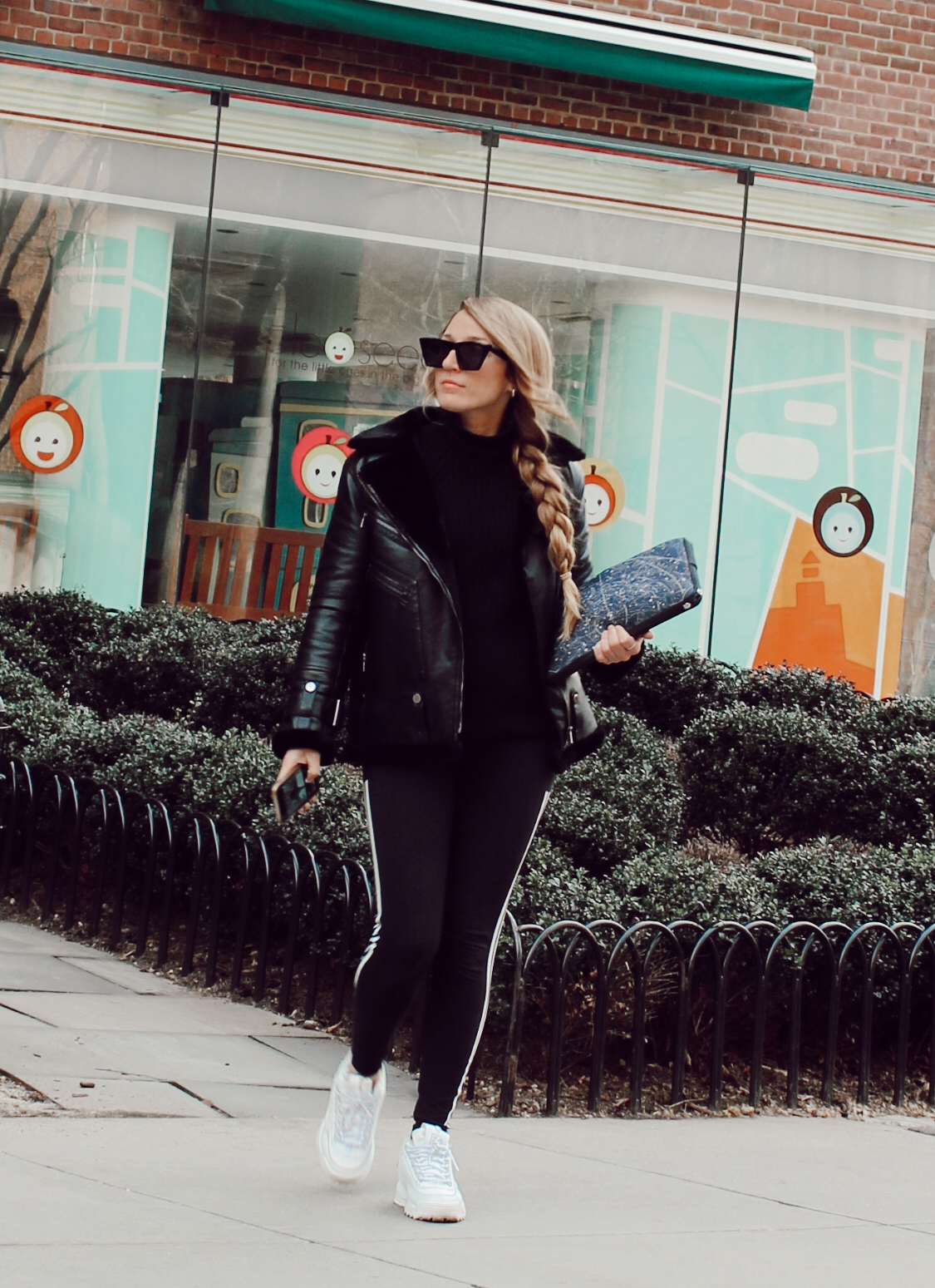 The day ahead: I just flew in Sunday night, so I'm scrambling to unpack and tackle a game plan of things I need to get done before my next trip later this week. In the morning, I take the subway and teach from 9-5. I have a few breaks in between where I pop into a coffee shop to tackle my email inbox for the week, outline any upcoming projects, and research trips. After work, I hit the gym to swim laps at the indoor pool before heading to an eyelash extensions appointment before returning home to unpack and finish laundry. I like to be comfy on an errand day, so my repertoire of black leggings is varied and endless.
What Merissa's wearing: A chunky black sweater, a leather shearling jacket, small gold hoops, Amazon sunglasses, Adidas leggings, and Fila sneakers.
Shop similar styles:
1ASOS Stradivarius Aviator Jacket
2Adidas Women's Essential 3-Stripe Leggings
3Fila Disruptor II Premium Sneaker
Tuesday
The day ahead: I have a full schedule of teaching followed by a fun work event—"Visit Puerto Rico" is hosting an event in New York City to discuss the upcoming tourism season. There will be small bites and cocktails followed by an after-event drink with some industry friends, so I want to look nice. It's rainy in the city but I'm going to take an Uber, so I decided to pair a sleek midi dress with booties and tights for warmth.
What Merissa's wearing: A polka dot midi dress, black tights, heeled Aldo booties, an Amazon headband, and gold hoop earrings from Madewell.
Shop similar styles: 
1re:named Catalina Midi Dress
2Aldo Bensetti Ankle Boot
1J. Crew Black Opaque Tights
Wednesday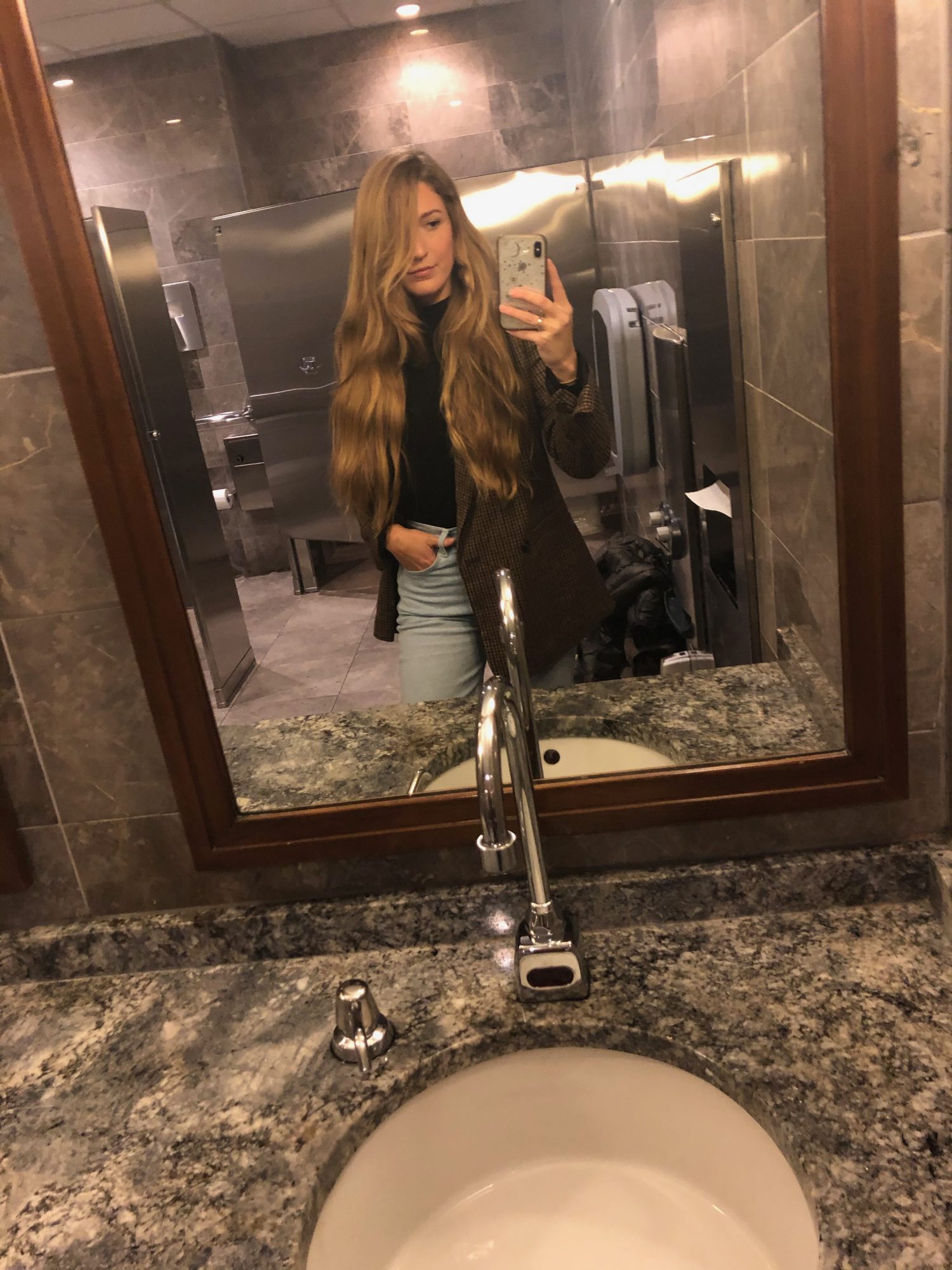 The day ahead: It's another rainy day so I've packed my raincoat (not pictured) and am running around the city. In addition to my normal schedule, I have a coffee meeting across the city towards the end of the day. Once I'm done teaching and having that meeting, I'm going to see a friend for drinks before he embarks on a national tour. When I know my day is going to be all over the place I like to dress in separates that can take me from day to night.
What Merissa's wearing: A green-ish blazer, a black bodysuit, a pair of mom jeans, small gold hoop earrings, and her Urban Outfitters Chelsea boots (not pictured).
1Zara Double-Breasted Buttoned Blazer
2H&M Mock-Turtleneck Bodysuit
3Everlane Summer Jean
Thursday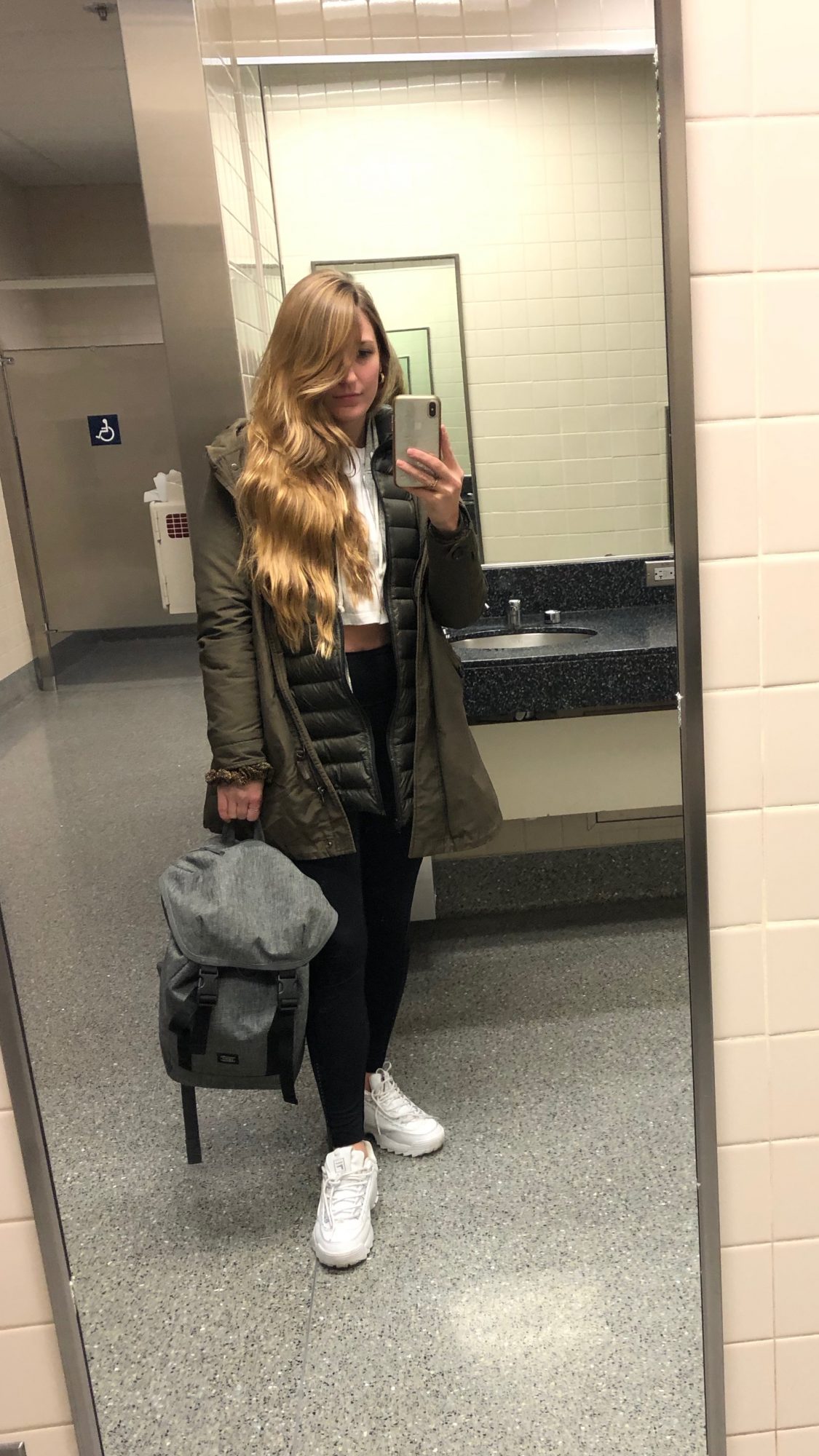 The day ahead: I'm headed to the airpor for a work trip to one of America's most underrated cities (IMHO), Portland, Oregon. I have a late-night flight, so dressing comfy is key for me. The forecast says rainy so I brought my Woolrich parka—it's a raincoat and has a removable puffer underneath for added warmth.
What Merissa's wearing: Lululemon Leggings, a white crop top, Fila sneakers, her Woolrich parka, and a Herschel Supply Company backpack.
Shop similar styles: 
1Herschel Supply Co. Retreat Backpack
2L.L. Bean Luna Jacket
1Topshop Crop Tee
Friday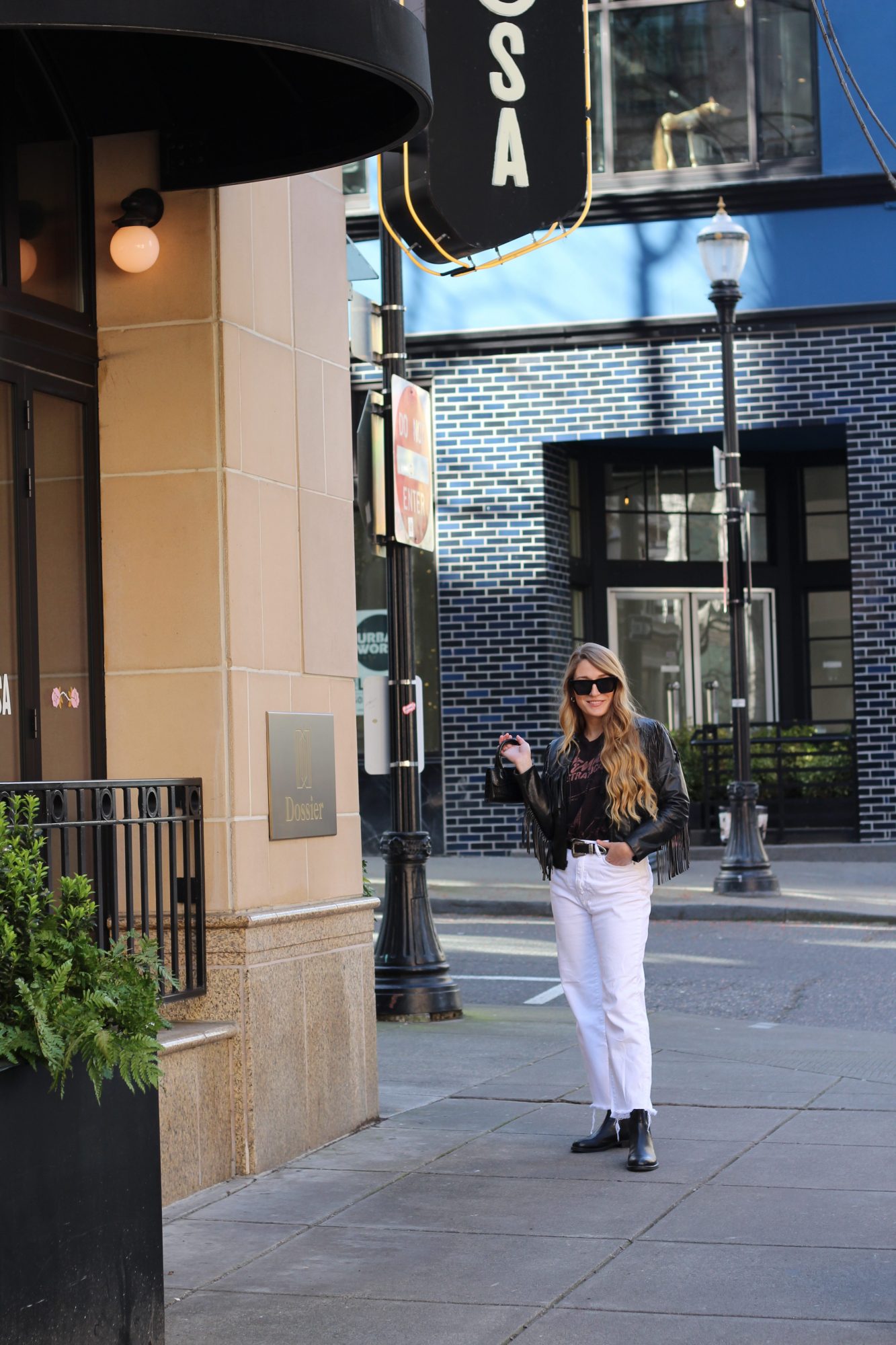 The day ahead: Today, I'll be checking out Voodoo Doughnuts, women-owned distilleries, and vintage clothing stores around Portland—there's nowhere else I'd rather be vintage shopping than a city who's slogan is "stay weird!" Obviously, I had to wear my mom's vintage leather jacket from the '70s for the occasion.
What Merissa's wearing: Her mom's vintage jacket, a vintage Fender t-shirt, a micro-purse from ASOS, white jeans, a black belt, her Urban Outfitters Chelsea boots, and Amazon sunglasses.
Shop similar styles: 
1BLANKNYC Fringed Faux Leather Moto Jacket
2Everlane '90s Cheeky Straight Jean
3Urban Outfitters Zoe Chelsea Boot
And that's a wrap!