Stop what you're doing and look at these behind-the-scenes pictures of the Amazon warriors in "Wonder Woman"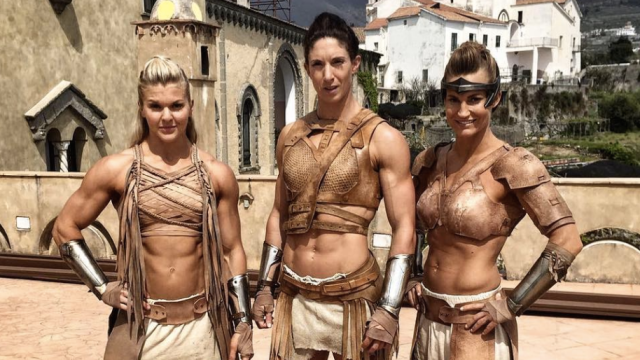 This weekend, after what felt like centuries in the making, Wonder Woman opened to rave reviews and insane box office success. We've finally got the female hero we deserve front and center, and even better, Diana Prince's story was brought to life by the ridiculously talented director, Patty Jenkins. Everything about Wonder Woman is seeping with girl power.
And, it actually gets better. There's another layer in here, and one that we fully support. The all-ladies island of Themyscira (Diana's home) used IRL athletes and hella strong women to bring the Amazon world to life. We're blown away by this fact as it is, but prepare to be floored — many of the Amazon warriors have started sharing behind-the-scenes images from their time filming the movie, and we are in AWE.
Have you ever seen so many strong, powerful ladies gathered together before?
https://www.instagram.com/p/BUpEXxxBL0d
The Amazon warriors were comprised of stunt-women, boxers, fighters, cross-fit enthusiasts, an equestrian stunt-double, and even a Victoria's Secret model. The diversity is so beautiful, we're on the verge of crying just looking at these pictures.
https://www.instagram.com/p/BU3xtuCA-lt
If Warner Bros. is listening, here's a pretty good idea: How about a Wonder Woman spin off just about Themyscira? Come on, we didn't get nearly enough time hanging out on the island with them at the beginning of the movie.
https://www.instagram.com/p/BUvwMTqDEDM
https://www.instagram.com/p/BUzd7h8Dc9n
Also, fun fact, there is a clear difference between an Amazonian *training* outfit and a *battle* outfit. Here's the training outfit:
Here's the battle outfit:
Above all, it sure appears that these ladies had the best time shooting the movie.
https://www.instagram.com/p/BUzDCXNDo37
https://www.instagram.com/p/BUteUKxFNCC
https://www.instagram.com/p/BUZiflMjSi0
https://www.instagram.com/p/BUd2Y0vDLW9
AND THEY'RE STILL FRIENDS TODAY, AND SEEING WONDER WOMAN TOGETHER, and I'm not crying, YOU'RE CRYING.
https://www.instagram.com/p/BU7mvhdFPpI
In conclusion: Go see Wonder Woman again.