The Alamo Drafthouse just shaded the haters complaining about their "Wonder Woman" screening
Alamo Drafthouse has made a bold name for itself by frequently putting people in their place. You want to talk or text during one of their screenings? Yeah, good luck with that.
It's no surprise, then, that Alamo Drafthouse Austin didn't hesitate for a second to respond to people hating on their decision to hold a women-only screening of Wonder Woman. But, while some responses did include their signature sass, most were eloquent and thought out, explaining why a screening such as this matters.
"Apologies, gentlemen, but we're embracing our girl power and saying 'No Guys Allowed' for one special night at the Alamo Ritz," the establishment wrote on its event page. "And when we say 'People Who Identify As Women Only,' we mean it. Everyone working at this screening — venue staff, projectionist, and culinary team — will be female."
The theater also posted to Facebook, and then came the trouble:
Some didn't respond so well to the idea of a special screening for women alone to celebrate the fact that the famous superheroine — who has certainly meant a lot to many, but women in particular — finally has her own feature film.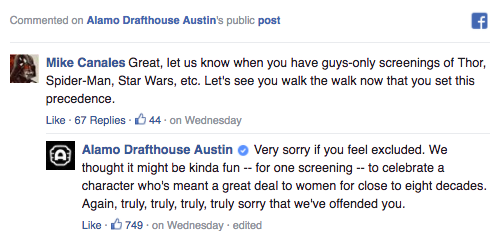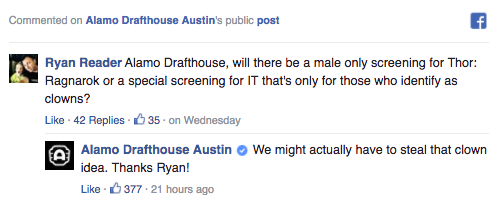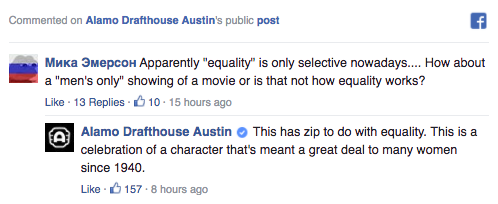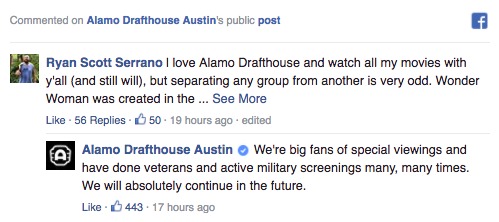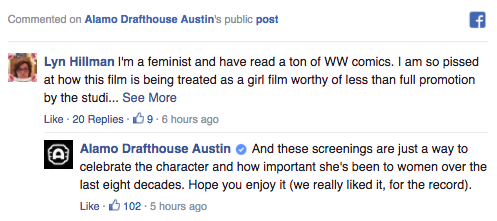 There were plenty, however, who were super into the idea — as well as Alamo Austin's responses — so much so that an additional screening was added.
The two screenings have since sold out, so the theater is looking into adding more. Even better, other Alamo theaters across the country are apparently considering women-only screenings too.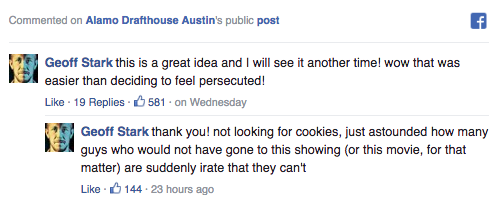 Stay tuned, indeed! And until there's word about other cities, we might just take a look at flights to Austin…