Jacob Tremblay in the first trailer for "Wonder" will break you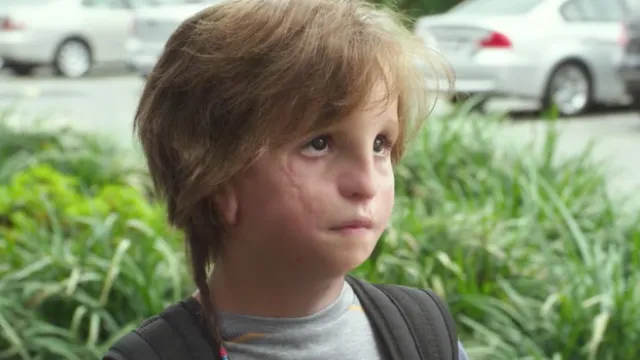 This goes without saying, but Jacob Tremblay can seriously do anything. The young actor wowed audiences in Room as a young boy raised in a small shed by his mother — played by Brie Larson, who won an Oscar for the role — both of whom were being held captive. And from the looks of the trailer for Wonder (due November 17th), which encourages viewers to #ChooseKind, it appears he's about to take another transformative turn.
The emotional first trailer shows Auggie adjusting to life at school, and it certainly isn't easy. He was born with facial differences, so his mother (Julia Roberts) and father (Owen Wilson) are concerned that kids will be mean to him, and they are at first. (There's a scene where Roberts' character has to reassure Auggie that he isn't ugly, and it's so gut-wrenching.) In time, though, fellow students accept him for who he is, and he seems to carve out a happy life for himself.
https://www.youtube.com/watch?v=ngiK1gQKgK8?feature=oembed
Lionsgate's description for the film — directed by Stephen Chbosky and also starring Mandy Patinkin and Daveed Diggs — reads as follows:
"Based on the New York Times bestseller [by R.J. Palacio], Wonder tells the inspiring and heartwarming story of August Pullman. Born with facial differences that, up until now, have prevented him from going to a mainstream school, Auggie becomes the most unlikely of heroes when he enters the local fifth grade. As his family, his new classmates, and the larger community all struggle to find their compassion and acceptance, Auggie's extraordinary journey will unite them all and prove you can't blend in when you were born to stand out.
But, what journey does he need to take to stand out? That, is the question, and we can't wait to see what Tremblay — who has had a number of other credits since Room, and more ahead, like The Book of Henry — and his famous costars deliver when Wonder hits theaters.