Those behind the Women's March are organizing a Women's Strike, and here's what we know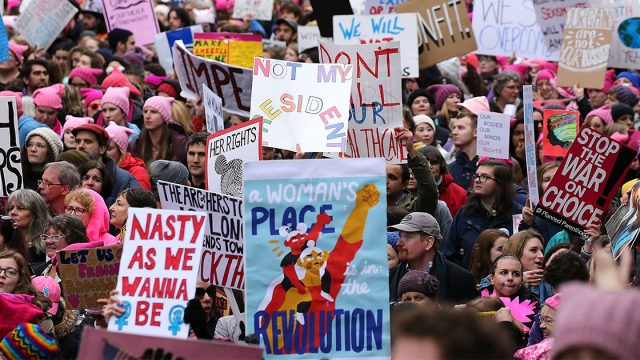 It's been announced that the organizers of the Women's March are to hold a General Strike for a "Day Without Women."
Last month (January 21st), millions of people around the world marched in support of women's rights, with people attending for a multitude of reasons, including the election of President Donald Trump, rape culture, and a woman's right to choose. Indeed, since the march, there have been a multitude of questions and answers about how to keep the momentum up, including continued protesting, becoming involved with local politics, contacting your representatives, and staying active and loud.
So, in a bid to do just that, the organizers of the Women's March are to hold a strike.
In an essay written for The Guardian, Linda Martín Alcoff, Cinzia Arruzza, Tithi Bhattacharya, Nancy Fraser, Barbara Ransby, Keeanga-Yamahtta Taylor, Rasmea Yousef Odeh, and Angela Davis wrote about how they were going to continue their efforts to fight against injustices.
"While Trump's blatant misogyny was the immediate trigger for the huge response on 21 January, the attack on women (and all working people) long predates his administration," they wrote. "Women's conditions of life, especially those of women of color and of working, unemployed and migrant women, have steadily deteriorated over the last 30 years, thanks to financialization and corporate globalization." 
Drawing in examples from Latin America, South Korea, and Poland, which recently held its own strike where thousands of women refused to work over restrictive laws regarding abortion, they argued that what was important about these strikes was that they marked a new breed of intersectionality, and "a new international feminist movement with an expanded agenda: at once anti-racist, anti-imperialist, anti-heterosexist and anti-neoliberal."
In a bid to do this, they suggest an international strike day on March 8th against male violence and in defense of reproductive rights where they'll be joining with feminist groups from over 30 countries.
"The idea is to mobilize women, including trans women, and all who support them in an international day of struggle – a day of striking, marching, blocking roads, bridges, and squares, abstaining from domestic, care and sex work, boycotting, calling out misogynistic politicians and companies, striking in educational institutions," they suggest. "These actions are aimed at making visible the needs and aspirations of those whom lean-in feminism ignored: women in the formal labor market, women working in the sphere of social reproduction and care, and unemployed and precarious working women."
Citing Argentinian coalition NiUnaMenos, who were responsible for mass walkouts against violence towards women, the Women's March group said that they aim "to oppose the institutional, political, cultural and economic attacks on Muslim and migrant women, on women of color and working and unemployed women, on lesbian, gender nonconforming and trans women."
What's more, as our friends Bustle report, there is already strike action planned with The F17 Strike on February 17th. That strike, which is more generalized to American workers, is set to challenge the increased infractions upon America's constitution. For more information, visit The F17 Strike website.
The organizers of the Women's March are also calling people to set up their own "Huddles" to stand up for action. For more information, watch the video below and visit the website.
Given that an estimated 2.6 million people around the world joined the Women's March on January 21st, we're pretty sure that this call for an international strike will resonate with people all over the world. For more information about the General Strike for a Day Without Women, follow the Women's March on social media or sign up for their newsletter.