The Women's March organizers tell us where the movement is a year later and how the new book, "Together We Rise," serves as a blueprint for progress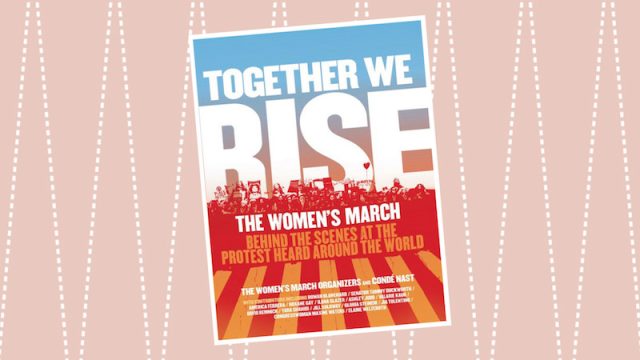 Almost exactly one year ago, 5 million people worldwide participated in the Women's March as a response to the election of President Donald Trump and the longstanding injustices faced by women. On January 21st, 2017, powerful and angry women gave rise to the largest single-day protest in American history, with 3-4 million people marching in the United States alone.
Two of the women who organized this historic gathering are Tabitha St. Bernard, the Women's March Youth Coordinator, and Paola Mendoza, Women's March Artistic Director and one of the leaders of Together We Rise, a HarperCollins and Condé Nast book project detailing the days right before the 2017 march.
Released earlier this week on January 16th, Together We Rise: Behind the Scenes at the Protest Heard Around the World features essays from incredible women in both the political and artistic spheres: Roxane Gay, Gloria Steinem, Ilana Glazer, Rowan Blanchard, Yara Shahidi (read her excerpt exclusively on HG!), Senator Maxine Waters, Senator Tammy Duckworth, Elaine Welteroth, America Ferrera… the list of brilliant women sharing their thoughts in the book continues.
Leading up the second Women's March on January 20th, 2018, I was able to jump on the phone with Paola and Tabitha, and we discussed where the Women's March movement is today as the fight rages on in the era of #MeToo. Paola tells me, "We've had many losses and many people hurt by the Trump Administration, but we've also had more wins than we could have imagined. We've been able to protect many, many people. And so on the anniversary of the Women's March, I think we need to be excited about what the future holds for us and the change we're going to be able to enact. It's not going to happen miraculously, but it's going to happen because we're working hard every single day."
Our conversation touched on how and why the movement especially needs young people and young girls to participate. Tabitha tells me, "Young people aren't just the future, they are the present. They're activated right now and looking to us for guidance so they can do the work that needs to done." Paola adds, "It behooves progressive politicians to listen to young people. Because young people innately are more progressive than their elders. And so if we are able to engage their ideas in this political moment, then we will have them in the political movement for the rest of their lives."
As the Women's March prepares to take to the streets once again, Paola says that Together We Rise "is not just a look back at what we did a year ago. It's ultimately a blueprint on how to move forward as a movement, how to organize from an intersectional and intergenerational standpoint with grace, dignity, love, and compassion."
Read on for more of our conversation.
HelloGiggles (HG): Can you describe your roles in the march and the movement?
Paola Mendoza (PM): I saw a hole that needed to be filled — and that was organizing the artists and storytelling; what were the stories that we were trying to tell? From our social media stories, to our visual art stories, to the video content that we are putting out, to the organizing of the artists themselves. So I jumped into that role, along with a lot of other people in the movement.
Folks don't necessarily understand what an artistic director does, but the images that have become iconic from the march — they were not by accident. It was very intentional. We partnered with Amplifier Foundation in order to put those images out, and it's very clear the story that we were trying to highlight, what we were trying to say with the images.
Since the march, my role has continued to be to organize the artists to help push a cultural shift in this country. And once we shift in culture, then our policies can also begin to shift and change as well. The role of the artist is to literally tap into the heart of Americans and expand the heart. And I think we find ourselves in a place where we are in a contraction of the heart. That is the reason why Donald Trump is in office — but we are fighting against that.
Tabitha St. Bernard (TSB): I started off at the same place as Paola. I was one of the organizers and I saw sort of a gap… There were young people that were reaching out to us and saying that they wanted to get involved, so I stepped up to organize those people. And before the march, we had a youth ambassador program which saw around 300 applications from young activists who are doing really amazing things all over the country. And they applied to sort of be the young voice for the margins. And we took 31 really outstanding young people, and they were able to use the platform of the Women's March to amplify the work that they had been doing.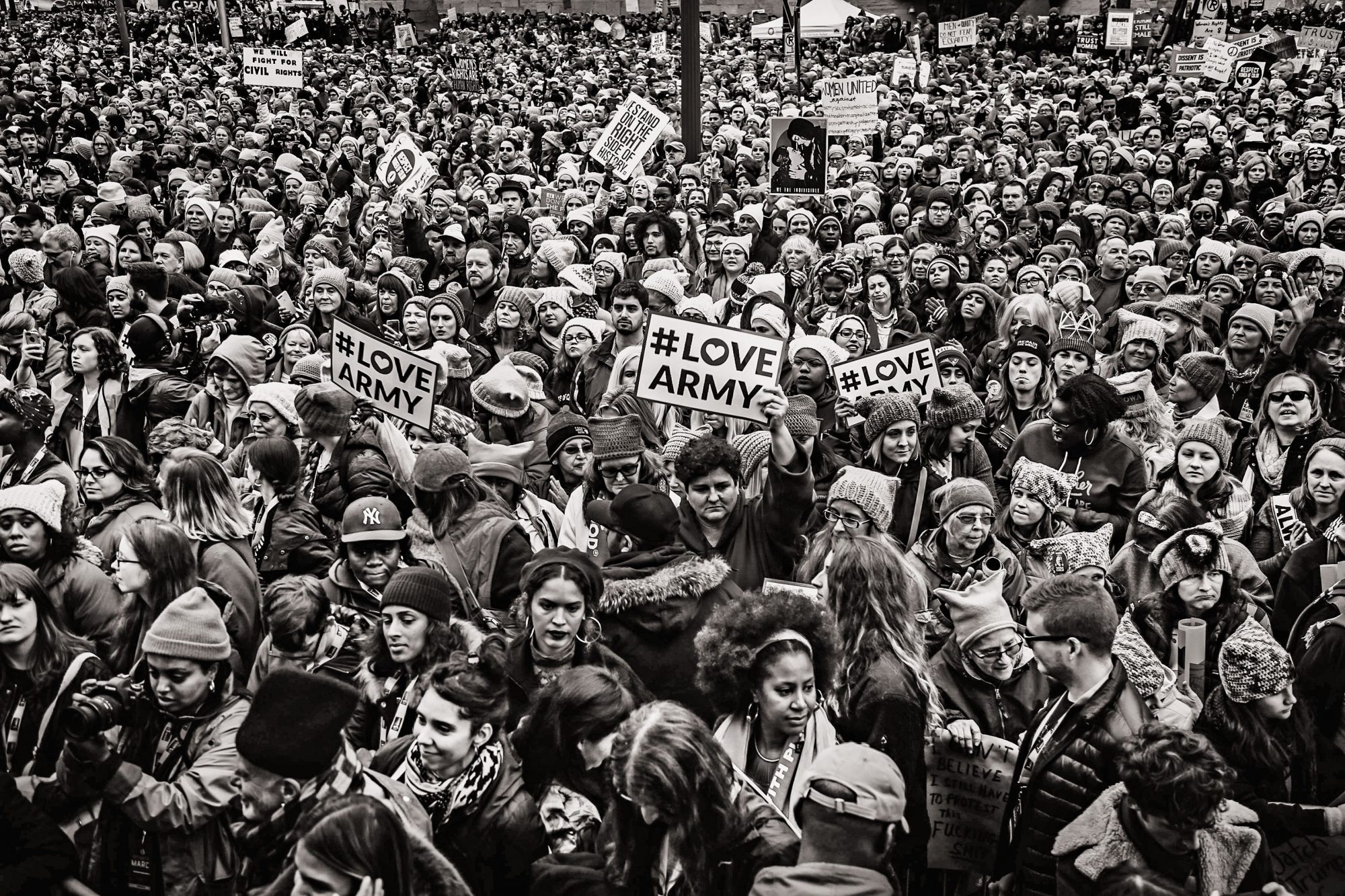 HG: What advice do you have for young people who feel helpless — who maybe aren't familiar with the small actions that have helped the movement progress since the first march?
TSB: My advice would be to find a community. I think what we've seen, especially in the last year, is that there are people all over the country, all over the world, that want to get much more involved. They're just looking for ways to do that. So I would suggest reaching out to people within [activist] groups, and to find a community and people that share their belief system.
PM: The simple act of having conversations — young people having conversations with their friends around issues, around the politics of the moment — I think that's one of the best things that has happened this year… Feminism and women's issues have become mainstream among young women. When I grew up, being a feminist in eighth grade was definitely not a popular thing. I was ostracized because of that. But right now, while there's obviously still some ostracism around being a feminist at such a young age, there is so much support because that cultural shift has happened.
HG: How can someone get involved in organizing while still in high school or middle school?
PM: When we were putting the book together, we really wanted to include young people's voices. The book has 20 essays by the foremost thinkers, activists, artists in the country. Like Roxane Gay and Elaine Welteroth and America Ferrera and Gloria Steinem and Ashley Judd and Senators Maxine Waters and Tammy Duckworth — but we also wanted to make sure that we included essays from people that were under 18; folks that were not able to vote, yet were going to be on the receiving end of so many of the policies that this administration is going to enact. And so we were able to include Yara Shahidi and Rowan Blanchard. And those two voices, for us, are amazing leaders amongst young people… They say that even though you can't vote, you can still get involved. And they themselves have been involved in so many ways.
I think that young people, young girls, need to find an issue that they're passionate about, that they love, that is not an added chore to their already very busy schedules. If you find that, then you will actually find more time for the rest of your life because you will be balancing your time in a much more efficient way. I know that that sounds kind of counterintuitive, but I'm more busy than I've ever been and I didn't think that I would be able to manage it. But I am, because my work is not work — my work is the thing that fuels me and gets me excited to go home to play with my son. So I think young women need to find their community and issues they love, and then always make sure that they're taking care of themselves.
TSB: We have four teenagers that are on the youth team, and there are times when maybe they have a final exam and are not available to do a certain action because of internal craziness in their lives. It's sort of an ebb and flow, and I think that if they approach activism as sort of an addition to their lives — as opposed to a project-based kind of situation — I think it's a better outlook. Do the best that they can with the time that they have.
HG: It's about to be one year since the first Women's March, and the second march is fast approaching. What are some of the behind-the-scenes victories and organizing that some folks might not be aware of? What do you see happening next?
TSB: Since then, for youth coordinating, we've been doing monthly workshops and recently launched Women's March Youth EMPOWER, which is a toolkit that focuses on three areas. First, we help young people learn how to organize. We get emails from young people saying, "I want to do a march, I want to do an action in my school," and they want to know actual steps. Second, we help them in terms of living: how to vote, what it takes to vote, what it means to vote, the power of voting. Third, we are helping Black women get ready to run for office if they are interested, and we have partners like TeenVogue, Peace First, Rise To Run, The Justice League NYC, The Gathering For Justice, and Rock The Vote to help people have the tools they need to really continue the work.
PM: Since the march, there have been a variety of different creative actions and social media actions that we've done [to make platforms for] our shared stories. When the Bill O'Reilly story broke that he had sexually harassed women, we put out a hashtag and encouraged women to share their stories of workplace sexual harassment. We had hundreds and thousands of stories that were shared via text message back in April or May.
We did the same thing with the [potential repeal of the] Affordable Care Act, and in 30 days, we had over 106 million oppressed people share their stories about the ACA on social media. So all of that was very artistic — the perfect combination of art and activism coming together.
It's important to remember that, a year ago on January 21st, we started the year off with the largest mass organization in the modern history of the world. We had over 5 million people gathering together in one day to say, essentially, women are here and we're not going anywhere; you must hear our voice. And women ended 2017 with a digital campaign, [#MeToo]. It is, again, forcing people to listen to women and their stories in a way that we've never seen a digital campaign influence and change society in the United States. Even around the world, we're seeing changes around women experiencing sexual assault and sexual violence.
We have to remember that, on November 8th, 2016, we were kicked down. We could not have imagined a little over a year later that we would have several [powerful] men being fired because of sexual assault, sexual harassment, and rape allegations against them, that we as women would have contributed to such a cultural shift.
HG: Since we are talking a lot about youth getting involved in politics, I'm wondering about your first memories of activism.
PM: I was born in Colombia, and came to the United States when I was three years old. I grew up very poor here in the United States, and moved back to Colombia to live with my aunt (who was very wealthy) when I was 14. So in Colombia, wealth made my life very different, but there were a lot of street children in my city. I knew one little 5-year-old girl; her name was Ladie — I'll never forget. I was 14 at the time, it was after school and I was in my school uniform, and she was selling candy and gum on the streets in her school uniform. I bought some candy from her, and noticed that she was very smart with her math because I gave her maybe $10 and the candy was $2.50 or $2.25 — and she just whipped the change out. I started testing her with math equations about getting change, and she was incredibly smart. I sat down with her on the street for about two or three hours.
This is something in Colombia that does not happen because of our class structure. The fact that I was a wealthy girl literally sitting on the street with a street kid was shocking to many people as they walked by. They'd comment, hiss at her, or stare at us. But we just continued our day, talking and laughing, and I never saw Ladie again. For me, that was a moment of human connection. I think that, at the end of the day, that's what we're talking about when we talk about activism — it's human connection. I love people, and I believe that they need to be equitable and have the ability to express themselves. That little girl, Ladie, opened up my heart in a way that has led me to the path that I'm on today.
TSB: My first memory of activism was my grandmother. She would always, for her birthday, cook a whole bunch of Trinidadian food — which is where I'm from — and she'd take the food to the local orphanage. Going there and hanging out with those kids and eating with them is a memory that I've had for as long as I can remember.
And then when I was in high school, I went to a very prestigious school — but there was a point in my education where I had to choose whether I wanted to [transfer] somewhere else. I chose to transfer to what was arguably the worst school in the country, but it was closer to me and more practical, and I felt that the other school I was going to didn't really fit my interests.
So I went to this new school, and we had a stigma in the country because there were a lot of students with HIV, there were kids with AIDS. We were neglected and considered sort of the rejects of the entire country because we were at that school. But I only saw kids like myself, and I started a school paper where we began to write stories about ourselves and the people going there. We wrote stories about the things that mattered to us. And we were able to organize ourselves and create the first paper that school had ever seen.