How the women's cycling scene changed the way I see the city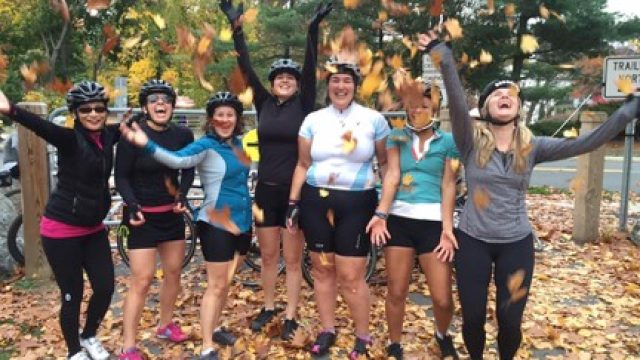 Cycling in New York and its boroughs has become increasingly popular over the last few years, and with good reason. Not only is it a cheaper alternative to the ever-crowded subways, it's also a fantastic way to exercise, is meditative, and can help you experience different areas in an entirely new way. There's also a blossoming women's cycling community in New York.
It's no secret that cycling has always been seen as a male-dominated sport. Just take a look at the bike lanes in New York or any of its boroughs, and you're sure to see plenty more men gliding by on bikes than you are women. But they're certainly out there, and with the wonders of the Internet at our fingertips it's easier than ever to get together with other lady cyclists in New York.
Starting out as a cyclist can be relatively daunting, especially in a crowded city where there are already so many people who seem, comparatively, like experts. That's where groups like WE Bike NYC (Women Empowered through Biking) and Black Girls Do Bike become so important. They offer women and non-gender-identifying persons an opportunity to chat and bike with other like-minded people. They provide a safe space where anyone from seasoned pros to people who are considering buying their first bike can talk and go on rides together.
Similarly, heading into a bike shop for the first time can be intimidating, especially for new riders. There's so much going on, and there's not always someone there to break it down and explain how to buy a bike for the first time. Many bike mechanics are also men, which means they might not consider how a heavy frame or oddly shaped saddle can inconvenience a female rider.
Both Bicycle Habitat, a chain of shops in Brooklyn and Manhattan, and Bicycle Roots are two great respites. Bicycle Roots is a shop located in Crown Heights, Brooklyn that was founded by a woman, Nechama Levy, and offers mechanic services for all types of riders. I've yet to go, but from what I've heard, they're incredibly friendly, accommodating, and offer up tons of useful information to ensure that you leave with your bike in perfect shape. Bicycle Habitat is another fantastic shop, and they also have a Women's Cycling group. They host rides and workshops, offer mechanics classes, and overall are just a fun bunch of ladies to ride with.
And if you're interested in learning about the intricacies of bike mechanics or just want to learn the basics like fixing a flat, then bicycle co-op Time's Up is another awesome resource. They offer women and trans only bicycle repair classes, which is a really cool way to help people learn to fix their own bikes or become mechanics themselves.
There are plenty of things that women cyclists experience that men probably don't have to deal with, or at least not nearly as much. Like the time I was followed by a deliveryman on a bike who pulled up next to me at every red light and harassed me. Or the time my friend was biking down a one-way street and a guy riding in the opposite direction crashed into her and pushed her off her bike once she got back on. Or any of the occasions when me or any other women I know were met with incredulity and disrespect in a bike shop. It can be overwhelming and discouraging, but having an outlet and a community of support makes getting past it all seem that much easier.
Women's cycling groups aren't only in New York, either. There are plenty of others available around the United States. And many cities are becoming a lot more bike-friendly with additions of bicycle share programs (Citi Bike in New York, Divvy in Chicago, Indego in Philly, and lots more!), which make it easier for people to explore a new area from the comfort of a saddle. For me personally, I know these groups have helped me grow into a more serious cyclist and also feel more comfortable on long tours, despite being surrounded by mostly men. It feels like a secret club that I stumbled into, and I've never felt more accepted in a male-dominated sport. As the country becomes more bike-friendly overall, maybe the gender imbalance will finally start to even out, one cyclist at a time.
Nicole Ortiz is a writer and copy editor based in Brooklyn, NY. She loves smiling at stranger's dogs, going on bike adventures, cuddling with her fluffy kitty, and will never say no to a warm cup of tea. She tries to make people laugh on Twitter, but mostly ends up talking to herself.
Images via author