Women who proposed to their husbands explain why they challenged archaic marriage traditions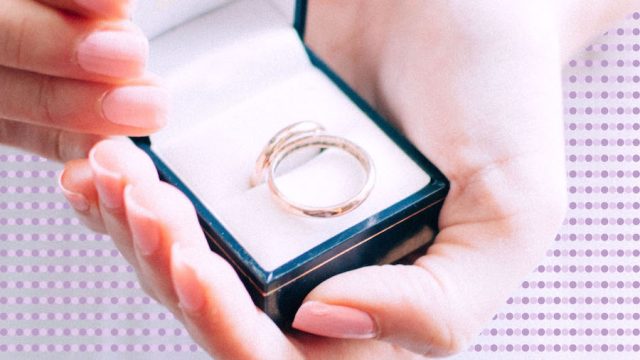 There's a club boasting members that include Judge Judy, Pink, Kristen Bell, and Elizabeth Taylor. No, it's not just a badass women's club — it's the club of women who have proposed to men.
We don't need to delve into the history of marriage (an ancient ritual that predates history and was ostensibly instituted as a way to build alliances, for what it's worth) to know how the proposal aspect traditionally goes down in heterosexual relationships. A man buys a diamond ring, gets down on one knee, professes his love, and asks his partner to marry him. But these days, more women are choosing to flip the script and take engagement matters into their own hands.
One of those women is Amy, a 29-year-old aesthetician who popped the question after dating her partner for two-and-a-half years. They'd discussed marriage in the past, but "I wasn't really thinking about getting married," she says. "I figured we would, but I wasn't in a rush." Then, a casual lunch with her mom about marriage developed into the beginning of a clandestine plan.
"We ordered a bottle of white wine, and halfway through the bottle, my mom was bugging me about marriage," says Amy. "I told her we'd get to it eventually." Her mom's response?
She was right. The next day, Amy bought her intended an engagement ring. Then, she proposed to him during a family vacation less than two weeks later. (She read a letter to him before getting down on one knee.)
Jess, a 31-year-old client success manager and executive assistant, had been with her partner for about eight years with no plans of marriage. But unexpected hardships strengthened their bond as a couple, and she changed her mind. "We had a really hard 2016: depression, career changes, and a lot of death," she says. "When I finally found my head above water, I thought, yeah, he's my guy."
Considering his profession (her husband is a DJ), Jess opted for a creative route to ask the big question. "When I was thinking of proposing, a ring felt really cheesy and a diamond ring felt even cheesier," she says. "I thought, what is the equivalent of jewelry to him? Records." She spent months collecting records with the word "Diamond" on it (think Neil Diamond, Marina & the Diamonds, you get the drift) and hid them inside the box of a board game. When he suggested playing the game one night, he opened the box with a puzzled expression. "I really think we should get married," she said, "and I didn't know what kind of Diamond to get you." They eloped four months later.
There are plenty of societal shifts that might factor into the uptick in women opting not to wait for their partner to make the move.
Along with the growing national discussion about equality, nearly half of employed U.S. women are their family's main breadwinner — and more women (single and married alike) are taking the reins when it comes to finances.
Jack, a 30-year-old artist, proposed to her now-husband just hours after they closed on their first house together. Because of the trust (and financial commitment) that goes into purchasing a home with a partner, marriage can seem like less of a leap. "He was — is, always will be — the right one," she says, "and that moment was the right time."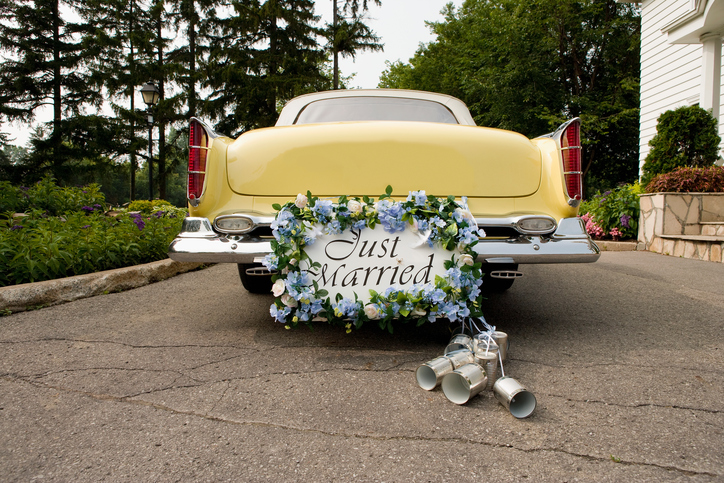 Not only are we the majority consumers of everything from cars and electronics to food and healthcare, but women are rapidly taking control of the economy at large — to the tune of approximately $18 trillion globally by year's end. If we're the ones bringing home the bacon, it makes sense that we also want a say in decisions that affect our finances and our future.
If a partnership is meant to be built on equal footing, then who is to say that such a big choice can only lie in one gender's hands?
This change-up in tradition seems to be steadily growing in popularity — deodorant brand Secret even created a commercial featuring a woman popping the question back in the summer of 2016. However, it's worth noting that stigma remains.
https://www.youtube.com/watch?v=3Qkn1SCAANc?feature=oembed
Dr. Forshee says it has a lot to do with how we've been socialized growing up.
She adds that the viewpoints we hear from our parents and adults when we're growing up help create our belief system, influencing how we see the world, ourselves, and our roles.
"When I'm asked about the proposal, it is always phrased like: how did your husband propose?" says Emily, 31, a teacher who proposed to her husband in the fall of 2005. "When I respond that I did, the response is within a very small range between surprised and shocked, no matter who the person is or how progressive I would have thought them [to be]." Emily admits that, sometimes, she is made to feel like she and her husband missed out on some rom-com moment — but she wouldn't change her decision. "I proposed from my gut when I was young and stupid in love," she adds, "but I think, even then, it was an act of bravery."
For women considering the proposal route, Dr. Forshee says nothing should hold you back — as long as you're not trying to mask underlying relationship issues or pressure your partner into a commitment they're not ready for.
"I strongly believe in pursuing and achieving the things I want in life, and for me, I didn't think a proposal was something my now-husband had to do simply because he is a man," says Caroline, a producer in her 20s who proposed to her partner in the winter of 2016. Her best advice? "When it comes to engagements and weddings, everyone has an opinion. Be comfortable with who you are and what you want, even when it doesn't fit others' expectations."