Women are offering their wedding dresses to brides after a decades-old bridal salon abruptly shut down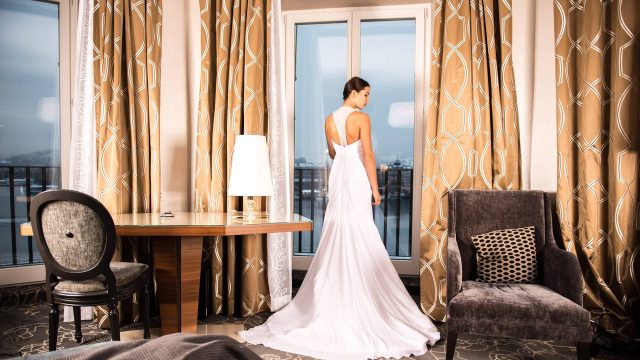 While social media surely does distract us from our daily lives, it can also bring us together — and that's exactly what's happening now, after an 84-year-old bridal company filed for bankruptcy and abruptly shuttered its stores, leaving thousands of brides-to-be without gowns. However, the power of empathy is prevailing, as already-married women on Twitter are offering their own wedding dresses to the women who had purchased gowns at the now-defunct Alfred Angelo bridal stores.
The quick and charitable offers are probably being made because every bride who's gone through the wedding-planning process knows what a complete nightmare planning a dream wedding can be. Finding a wedding dress can be a major challenge — we've all watched Say Yes to the Dress —  so it's incredibly sweet that women are offering their gowns up to the brides in need.
These generous women are filling our hearts with joy.
This woman opened up about why she's offering her gown from her own special day to others. #EmpathyFTW
And she's even inspired others to do the same.
The dresses being offered come in a variety of sizes, so all brides should be able to find something!
And women from all over the country are responding to the dress crisis.
Southern California radio station KPCC has organized the hashtag #dressmatchmaker for the benevolent former brides to tweet information about their wedding gowns.
Competing bridal stores like David's Bridal are even offering discounted gowns to women who have the receipts from their Alfred Angelo purchases.
https://twitter.com/udfredirect/status/885839468246257664
As far as refunds go, nobody is sure how Alfred Angelo will reimburse the jilted brides (if at all). At the moment, Alfred Angelo is simply providing the contact information for the bankruptcy lawyer handling its case.
According to NPR, the lawyer has already received over 7,000 emails about gowns that customers had ordered and not yet received before the company shut down. We can only imagine how many exclamation points and capital letters are in each of those emails.
At least the women of Twitter are banding together to show us that there is good in the world, and there are wedding gowns for those who need them.