Who are the five women accusing James Franco of sexual misconduct?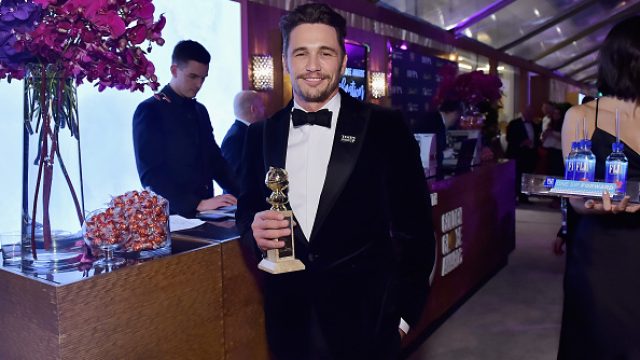 During the 2018 Golden Globe Awards, James Franco came under fire when actresses tweeted that he was hypocritical for wearing a "Time's Up" pin, alleging that he had behaved in sexually inappropriate ways. And on January 10th, the number of women accusing Franco of sexual misconduct grew to five with a report published in the Los Angeles Times. But who are the women accusing Franco?
Katie Ryan
Ryan took classes at the Studio 4 acting workshop in Los Angeles that Franco ran. She told the Times that Franco "would always make everybody think there were roles on the table if we were to perform sexual acts or take off our shirts."
Hilary Dusome
Dusome was also a former student of Franco's, but she took classes at the Playhouse West workshop in North Hollywood. She recalled a shoot at a strip club where Franco asked the actresses if anyone wanted to take their shirts off. When nobody volunteered, Dusome said that Franco left the building in a rage.
https://www.instagram.com/p/Bda7Pc4AVxd
Natalie Chmiel
Chmiel was also present at the Playhouse West shoot at the strip club. She confirmed Dusome's account that Franco became "visibly angry" when the actresses present decline to film topless.
Violet Paley
Paley wasn't one of Franco's students but had asked Franco to provide feedback on a script. During the 2018 Golden Globes on January 7th, Paley was one of the first women who accused Franco of sexual misconduct. She tweeted that Franco had attempted to force her to perform oral sex on him.
Unlike the other accusers, Paley also tweeted that she and Franco had been engaged in a romantic relationship, and that this fact made it harder for her to accuse Franco of sexual misconduct. Paley is an actress who has appeared in the films Chipped, Pink Zone, and Sex&Drugs&Rock&Roll. She has also written for Playboy.
Sarah Tither-Kaplan
Tither-Kaplan took to Twitter to express her outrage when she saw Franco wearing at Time's Up pin at the 2018 Golden Globe Awards.
https://twitter.com/udfredirect/status/950165990213496832
https://twitter.com/udfredirect/status/950190313468968961
The actress was another student of Franco's at Studio 4, and she accused him of removing the plastic guards covering actresses' vaginas while he shot a scene simulating oral sex. Tither-Kaplan has acted in a commercial for AAA as well as a series of short films.
https://twitter.com/udfredirect/status/925123123086630913
We commend all five of these women for coming forward with their allegations. We support them and all survivors of sexual abuse.