What this woman did with her wedding dress after her husband cheated on her is epic
Breakups are tough, and sometimes, after a particularly brutal and/or heartbreaking split, you might have the inclination to shout from the highest rooftops about what a loser/jerk/cheater/what-have-you your ex is. Divorce can be even tougher – it's a break-up with a whole bunch of legal jargon, formalities, and splitting of property and/or children usually involved. But one scorned woman is clapping back at her ex in the most EXCELLENT way – by getting rid of one symbol of her marriage in a badass and hilarious manner.
This genius of a woman is selling her wedding dress on eBay, to pay for her divorce (according to the listing). The ad listing the dress also serves as a deliciously brutal takedown of her allegedly cheating ex-spouse.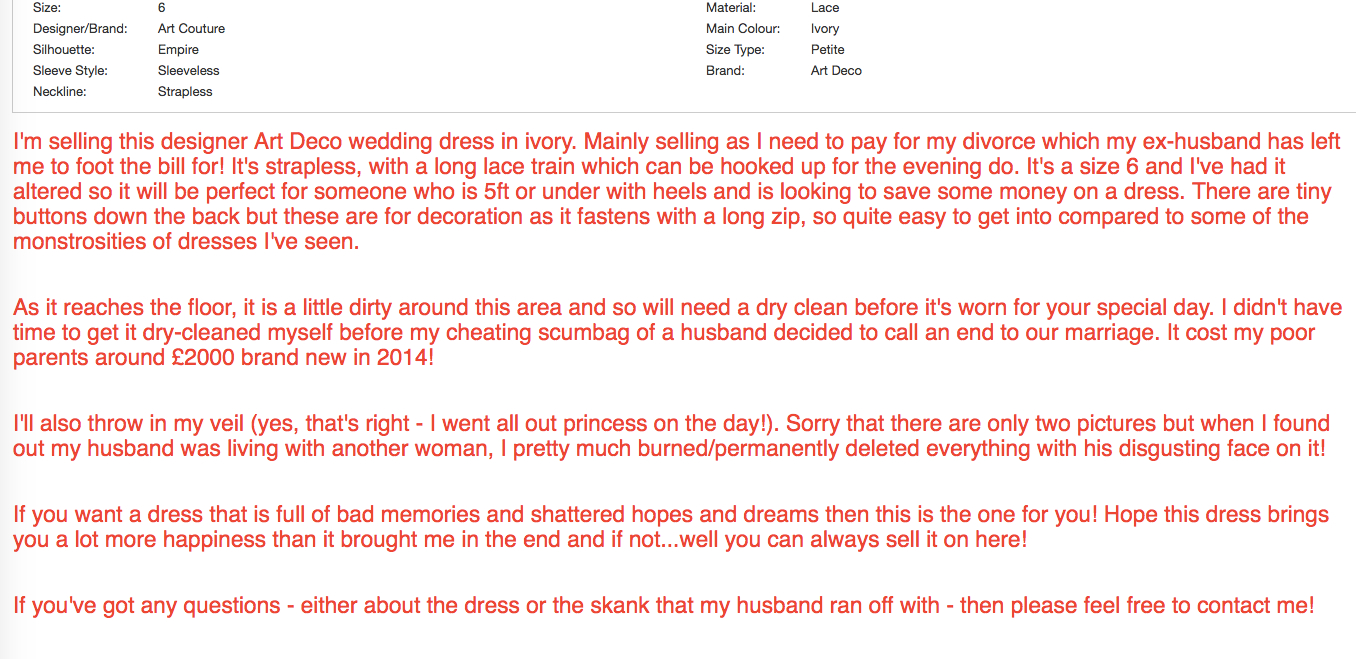 Say it with me now: Oh. Snap.
According to Metro UK, the seller is Samantha Wragg. Samantha is a 28-year-old blogger from Chesterfield, who apparently married her husband in August 2014 – only to find out under 18 months later that he was cheating on her. Shortly after, he allegedly left Samantha and moved in with another woman. Ugh. So much ugh.
The ad throws a ton of shade at her ex – and I can't say I blame her, given this story. According to the ad, Wragg's ex "left [her] to foot the bill for" the divorce in the aftermath of his cheating. She sarcastically apologizes for not having time to get the floor-length dress dry-cleaned before her "cheating scumbag of a husband decided to call an end to [their] marriage." OMG. While we don't condone the shaming of the other woman, we do get why Wragg is so angry.
The listing goes on to wryly note that if the buyer wants "a dress that is full of bad memories and shattered hopes and dreams," this is the dress for them. She also wishes the buyer more happiness with the dress than it brought her. I mean, kudos to her for being upfront about the potential bad juju up in this gown, am I right?
The dress itself is beautiful, though, so of course people are bidding on it – bad juju and all. It's a gorgeous size 6 empire silhouette sleeveless and strapless gown made of lace and in the color ivory from the UK brand Art Couture, according to the information listed in the ad. The starting bid was 500 British pounds, but as of this writing, it's already up to 1,650 British pounds after eight bids. Samantha mentions that the dress set her parents back around 2,000 British pounds back in 2014, when it was brand new.
The hilarious ad quickly went viral, and Samantha posted a response on her blog regarding the ad earlier today, titled "The truth behind THAT DRESS."
In her blog response, Samantha explains that she'd had the dress up on eBay for a few days with no hits, having just gotten around to selling it after her marriage fell apart in January. She then "decided with a little help from [her] brother (ok it was all his idea!) to make it funny" by adding the excoriating description. She admitted that she works in social media and was "hoping it would go viral" in the back of her mind, though she never expected it to go as far as it did and is most definitely NOT selling her story.
Wragg also noted that everyone responding to her and sending her messages after seeing the ad was "SO NICE" and even wished her ex the best, offering him her forgiveness, and explaining that she is "very happy now" and hopes he is as well. Whoa. Way to be the bigger person, Samantha! You go, girl.