This beauty blogger posted a video about what it's ACTUALLY like dealing with stomach problems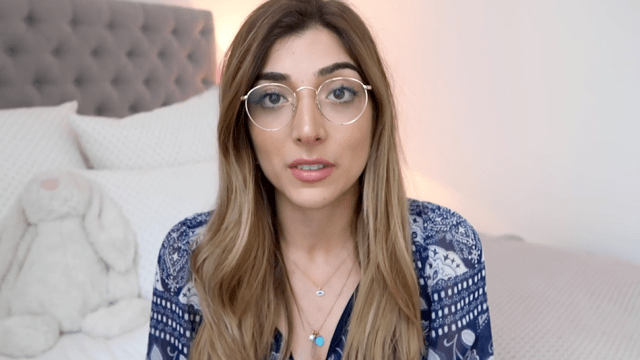 Anyone who has dealt with a health problem that's embarrassing to discuss or hard to overcome will understand the digestive health struggles that Amelia Liana details in her latest video. The beauty, fashion, and lifestyle YouTuber got personal about her digestive health on May 25th, and her words not only express what living with digestive disorders is like — they may also be helpful to anyone else experiencing something similar.
Although Liana usually showcases her clothing or makeup, her health update vlog is all about her stomach. She has been dealing with small intestinal bacterial overgrowth (SIBO), candida in her gut, large intestinal dysbiosis, and irritable bowel syndrome (IBS). This cocktail of gastro issues leads to symptoms like nausea, bloating, and fatigue — and, as Liana explains, they haven't been easy to live with.
Even with after doctors, going to consultations, trying different diets, and taking antibiotics and antimicrobials, Liana is still living with these digestive issues.
https://www.youtube.com/watch?v=6jtilv_2tkc?feature=oembed
Despite being frustrated, Liana decided to create this video as a way to educate people and possibly help those who understand her pain. So she includes some tips that she discovered during her journey for digestive health that might be helpful to anyone else who has been living with — or has just been diagnosed with — something like SIBO. They are…
Learn all you can by doing your own research.
After having doctors dismiss her symptoms, Liana did her own research to try to help herself. She personally benefited from the information she found from the SIBO Symposium and the book The Paleo Cure by Chris Kresser. Each body is different, so while these particular resources may not help you, the point is you're going to need to invest some time into your own health.
Avoid focusing on your symptoms.
Liana spent a lot of time focusing on symptoms at the beginning, and this anxiety was actually worse for her since she would fixate on them while eating. If you feel the same way, take some of her tips, such as: putting away your medications after you take them, so they aren't a constant presence, or distracting yourself with music while you eat. Since she has significant stomach bloating, she even removed her mirror from her bedroom.
https://www.youtube.com/watch?v=hhbTJmwkzSk?feature=oembed
Don't be embarrassed to talk to someone.
We get that talking about gas and poop and other stomach issues is no fun. But keeping it bottled up is bad for your health. And trust us: More people are dealing with gastro problems than you probably realize, so you aren't alone.
Look out for you.
Once you realize you need to remove some foods from your diet to have better gastro health (because that's usually an integral step), make sure you don't eat those foods — even to be polite. Don't feel bad being a little demanding at restaurants because, as Liana said, you should put your body first.
https://www.youtube.com/watch?v=sjp2tGtdGlY?feature=oembed
We're sending positive vibes to Liana as she battles these digestive issues, and we hope that her opening up will help others out there. Because talking about something as important as your how your body responds to food shouldn't be taboo.