This woman used a watermelon in her pregnancy time lapse video, and it's genuinely entertaining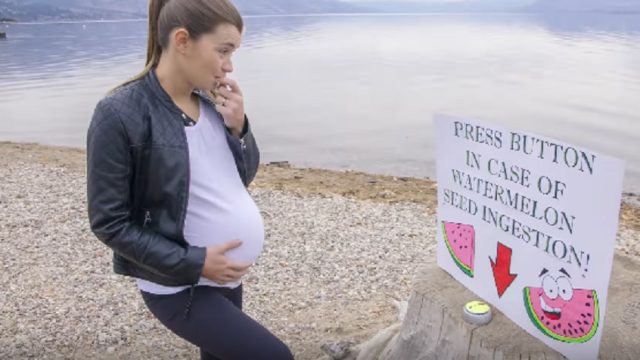 Thanks to social media, the workload that comes along with being preggers these days is a tad bit heavier, and we're not talking about baby bumps. This mother's super creative pregnancy time-lapse video is proof that 21st-century expectant moms absolutely must step their pregnancy reveal skills up a notch or three.
If this is any consolation to new moms, we *so* appreciate all the hard work you put into informing everyone about your babies because watching endless adorable pregnancy videos helps us feel better about the direction in which humanity is headed.
In the cute clip shared by YouTube user Devon Spittle, his wife starts out by devouring several slices of watermelon, because everyone knows babies come from swallowing watermelon seeds, duh.
We know, we knowwwwah. Just play along with it for now!
Anyway, after mama-to-be finishes off her meal, she takes us on a time-lapse adventure behind the wheel of her vehicle where her watermelon baby belly goes from this:
To this:
To THIS IS LITERALLY THE CUTEST THING WE'VE EVER SEEN:
Now this is some next level creativity that we absolutely LOVE. Hopefully, Spittle and his wife will take a cue from Mark and Brittany Sherman, another couple who chronicled their baby's arrival with two pregnancy time-lapse videos because obviously baby deserves a sequel to look back on when she's older to see how excited her parents were to bring her into the world.
https://www.youtube.com/watch?v=mO258V5wU6Y?feature=oembed
SIGHS. We can't be the only one crying real tears rn.
Congrats to the lovely couple!