This woman took a picture of her pregnant stomach every day for nine months, and the time-lapse video is hypnotic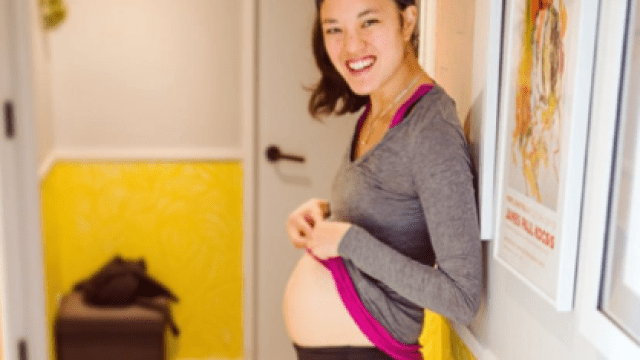 Whether you're celebrating "humpday" or "bumpday" this cheery Wednesday, this video will amaze you. Mommy blogger, Jasmine Katatikarn, took a picture of her stomach every day for her entire 9 month pregnancy. She created a time-lapse video by stringing all the photos together and the result is hypnotic.
What makes this video even sweeter is the fact that Jasmine struggled with infertility for five years before finally becoming pregnant with daughter, T. After multiple IUI and IVF treatments and battling the less than 1% chance that Jasmine and her husband could have their own children, T came along and proved to be a miracle baby.
Via her blog and Instagram account, Jasmine kept followers up to date on the latest diagnosis and procedure. She also posted a video on her blog explaining her infertility journey in detail.
Recently, Jasmine's family and followers got some super exciting news. T will be a big sister in a few months and Jasmine has already started baby number 2's time-lapse video!
In her second pregnancy announcement post, Jasmine writes that she's currently in the "honeymoon stage" of pregnancy where you definitely look pregnant, but aren't "huge where you are uncomfortable."
If you're expecting and want to create a time-lapse video of your baby bump, Jasmine created an app to do so. The app is called Pregmo and it helps you string together your nine-months worth of photos.
By the time your baby arrives, you'll have your own virtual album to look back on.
We're sending so many congrats to Jasmine and her family. And we can't wait to see the sequel to her first pregnancy time-lapse.