A woman is suing Whole Foods for racial and pregnancy discrimination, and her story is infuriating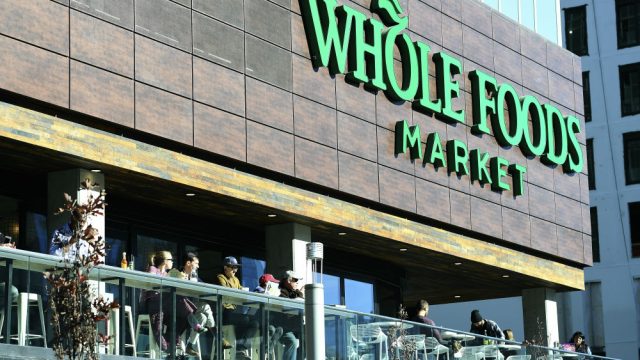 Discrimination in the workplace is nothing new — research shows that 42% of women say they have been victims of gender discrimination at their jobs. Still, that doesn't make hearing about it any less infuriating. And this story about a woman who is suing Whole Foods for racial and pregnancy discrimination is definitely going to make your blood boil.
Kissi Moore, an African-American woman, is a former Whole Foods employee in Tallahassee, Florida who is suing Whole Foods for discrimination and being unjustly fired. Moore says she was treated unfairly after her pregnancy and because of her race.
According to the lawsuit, Moore started working at Whole Foods in December 2014. In November 2016, she went on maternity leave. When she returned, she was assigned to a new team leader who had been hired to fill in for a previous team leader, who, coincidentally, was also out on maternity leave (pay attention to this detail!).
The lawsuit states that this new team leader scheduled Moore to work eight days in a row, which is not kosher at Whole Foods. Moore tried to talk to the leader about her schedule, saying it was "negatively affecting her health and ability to care for her child." But instead of trying to work something out, the leader reportedly said, "Welcome to my world."
The lawsuit also states that, as time went on, Moore noticed a "disproportionate number" of African-American employees being fired; there's no information available yet on why they were terminated.
Moore tried once again to talk to the team leader, but the lawsuit says the leader did nothing about her concerns. So Moore went higher up the ladder — and got nowhere. On top of that, she received a very low score on her evaluation from the new team leader, despite the fact that the old team leader had already completed her evaluation before she took maternity leave.
But wait, there's more.
Moore was told that she looked "mean and intimidating" and that "certain employees were afraid of her." In the lawsuit, Moore says she had never heard these complaints before.
Just in case you were thinking that maybe Moore was in the wrong, even a little bit, there's this: When the old team leader (who was white) came back from maternity leave, she was "encouraged to ease back into the job." So while Moore was told to work eight days in a row, another woman in her same situation was reportedly told to take it easy.
Ten days after she complained to the regional office about everything, Moore was fired. The lawsuit states that the store leader tried to get Moore to sign a blank discipline form, which she refused to do. After being fired, Moore asked for her personnel file, only to find that the form had reportedly been filled in and forged with her signature.
Whole Foods Market released a statement to WTXL ABC 27, saying,
"Whole Foods Market has a long and recognized history of celebrating diversity in our workplace and supporting team member happiness. We strongly disagree with these claims and will respond appropriately with the court." 
We can only hope that, in the end, justice will be served.