Woman shamed for wearing shorts writes awesome Facebook post and we want to give her a high five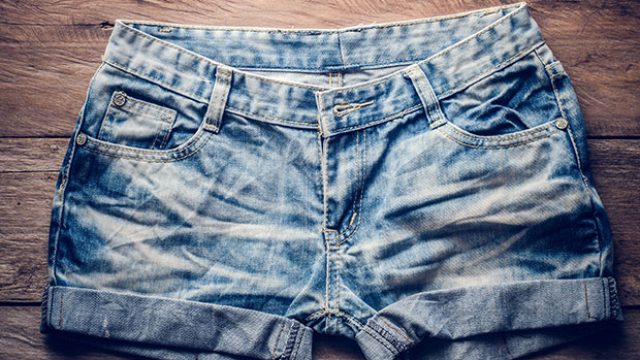 "Today I put on a pair of mid-thigh denim shorts, a flowy white blouse, flip flops and left the house to run a couple errands." So begins a Facebook post (brought to our attention by Runway Riot) by a woman named Brynne Huffman, accompanied by a photo of her looking stylish in said outfit. It doesn't sound like the start of an extraordinary story, but it turned out to be, for a few reasons.
First of all, for Brynne, just making the decision to wear the shorts out in public was a pretty big deal. She has struggled with body image issues and worried about showing her bare legs in public. At first, her courageous outfit seemed to be well-received. A woman in line in front of her at the UPS store complimented her on it. But a woman in line behind her had a different reaction: "Your hair is really amazing," she told Brynne, before adding, "you should probably rethink the shorts though."
UGH.
Brynne noticed that the woman who had insulted her body happened to be wearing a shirt that said "COEXIST." Brynne was taken aback that a person who seemed to espouse ideals of acceptance and love would be so judgmental of her looks. So she told her, "You should probably rethink your shirt." Boom. Well played, Brynne. But there's more.
In her Facebook post, which has gone viral, Brynne described why the woman's comment made her so angry, especially when contrasted with the message of her "COEXIST" shirt:
Brynne's right. The hypocrisy here is off the charts, but unfortunately it's indicative of a larger truth about our society: fat hate really is one of the last acceptable forms of OVERT prejudice that is still largely accepted. Brynne isn't OK with that, and as a society, we shouldn't be either.
"You might have an issue with my body," Brynne wrote. "I don't. And I've worked very hard past judgmental family and friends, past divorce, past depression to NOT have an issue with my body. Women. Do not tear each other down. Celebrate each other. Every day."
Hear, hear! And for the record, Brynne, we love your outfit. Keep rocking those adorable denim shorts — and speaking the truth.