Another woman has come forward with allegations against T.J. Miller, saying he once drugged her drink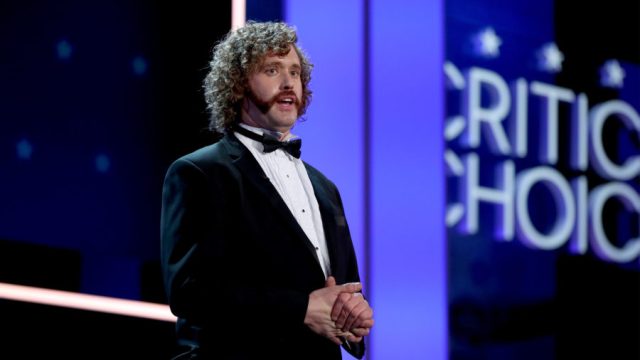 Yesterday, December 19th, news broke that a currently anonymous woman (called "Sarah" in the Daily Beast report that broke the story) had come forward with sexual assault allegations against T.J. Miller. Both the comedian and his wife denied the claims in a joint public statement, but now yet another woman has leveled claims of sexual misconduct against him.
In case you missed it, the initial allegations appeared in an article in The Daily Beast. The victim explained that she briefly dated Miller in college, and during that time he both physically and sexually assaulted her. She eventually took the case to campus authorities, and had several roommates testify on her behalf.
That same day, a female comedian took to Twitter and claimed that she, too, had experienced an aggressive encounter with Miller.
And the latest story, shared in a post by a Twitter user named Dalia, adds another layer to this story. Dalia recounts a time "about 5, maybe 6 years ago" when she and several friends were at an open-mic night. Miller — already an established star on the comedy scene — dropped in to do a set, and proceeded to flirt with Dalia at the bar.
Dalia then recalls that she left her drink to step outside (thinking a friend would be near it the whole time). When she returned, the bartender quickly grabbed the drink before she had time to take a sip, explaining that he had seen Miller loitering near it, and at one point he had removed the napkin that had been placed over the brim of the glass.
"As the bar tender put it, he didn't feel comfortable letting me have the drink without knowing if it had been messed with."
Dalia went on to write,
"The whole time Miller watched me and asked me at least three times how I was feeling. I can only assume it was to see if any drugs that had been flipped me had taken effect.
She ended her post with, "Bartender got a huge tip, and I really learned the lesson of vigilance, even if you are with friends." She also noted that she had been encouraged to share her story in light of the recent other allegations against Miller.
It certainly seems as though a pattern of behavior is emerging when it comes to how the comedian treats women, and we will be monitoring this story as it develops. We also — as always — thank these women for coming forward with their stories. Every voice matters in this reckoning. As of yesterday, December 19th, Miller's animated comedy series The Gorburger Show has officially been canceled after one season.