This woman's "jellyfish mullet" has gone viral, and the internet doesn't know how to feel
A woman's haircut is making waves on Instagram, and people are losing their minds over this wild "jellyfish mullet" style.
Hairstylist John Vial (@johnvialhair) shared a pic of his client Liliana Sanguino's (@lilisanguino) new coif, and the unusual cut is going viral. Liliana had a mullet of sorts before the geometric cut, kind of a soft shag with bangs and long blonde waves underneath. Her new hairstyle is reminiscent of a jellyfish, but with a modern, mullet twist.
The look is a radical style reminiscent of Blade Runner that works perfectly with Liliana's bone structure and light eyebrows. John is the owner of Salon Sloane in London and works with Revlon Professional. He told Bustle about the viral haircut,
"The idea was that it would look three-dimensional and aerodynamic. It's a haircut within a haircut and a shape within a shape."
John knows the cut isn't for everyone. "It's not meant to be commercial," he said. "It's meant to push the boundaries." It's certainly doing that. John tagged the photo with "Sassoon" and by the looks of it, we're guessing he used some techniques from hair pioneer Vidal Sassoon's geometric precision method. Still, we have to wonder about the growing-out process.
Commenters have mixed reviews. Many love it, calling it "futuristic" and "fun," but of course, there are some sassy remarks. One person said, "Oh memories…this reminds me of that time my brothers cut my Barbie's hair."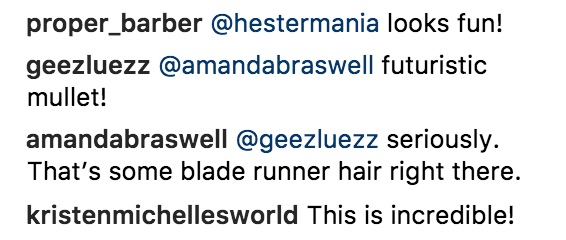 The stylist's shot of the haircut from all sides.
It's like architecture.
The client's pre-haircut style.
We think it's totally adorable!
The "after" photo.
The red lip and pale brows make this look super fierce.
It definitely takes a certain kind of person to rock this style. Is it the cut of 2018, if not the distant future?