This wonderful woman is knitting boobs for breast cancer survivors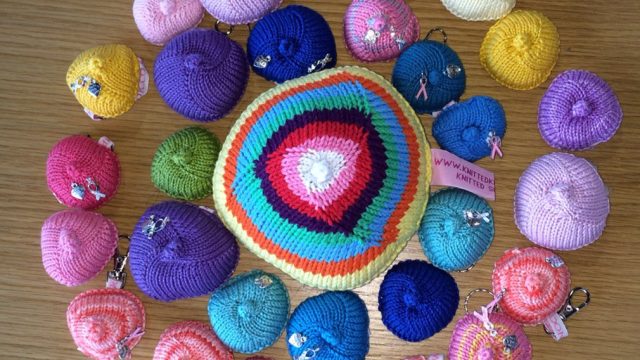 Although she knits boobs, Sharon Simpson of Knitted Knockers knows firsthand that breast cancer is not a soft disease. "Breast cancer isn't pink and it isn't fluffy," Simpson, a woman who knits boobs for breast cancer survivors, told BBC News. "It's a nasty, horrible disease that changes people's lives."
Through the organization Knitted Knockers, Simpson and others knit breast prostheses for women who have undergone mastectomies. With this in mind, Simpson's story is uplifting, and also brings much-deserved attention to the cause.
The charming Simpson was diagnosed with breast cancer in January 2013 and discovered Knitted Knockers online while she was receiving her cancer treatment. In 2018, she will be five years cancer-free and is spreading the word of Knitted Knockers' mission through a BBC News video that is going viral.
While you might not think that knitted breasts would be a suitable substitution for women who don't undergo reconstructive surgery after a mastectomy, Simpson's video proves otherwise.
The knitted breasts are lighter and softer than traditional breast prostheses made of silicone. And they look natural when put into a bra, thanks to the array of sizes — not just in breast shape, but in nipple size — that the knitters through Knitted Knockers create.
Simpson calls the people she knits with Knockerettes, and these people are giving hope and an alternative to women who go through mastectomies.
As Simpson said in the BBC video, "My reason and purpose is to make life better for people who are in the throes of cancer, and that's what I'm doing. And that's why I'm doing Knitted Knockers."
And she certainly is making life better, one knitted boob at a time.