Woman hearing for first time gets asked the best first question ever by her boyfriend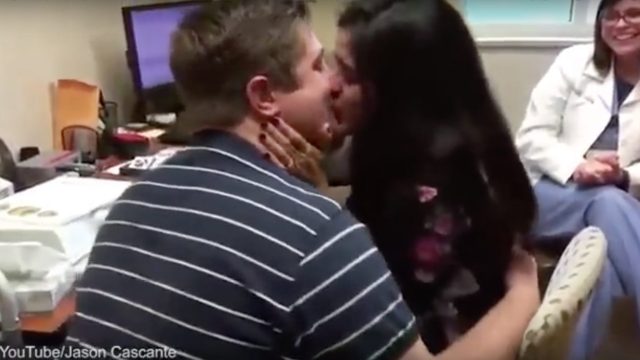 This might be one of the most heartwarming videos of all time.
Not only does a woman gain her hearing, but she also gets engaged to her sweet boyfriend. Andrea Diaz, who had received a cochlear implant, was waiting for the device to be turned on when this video was recorded, and it's giving us all the feels.
https://www.youtube.com/watch?v=H6QWSBz2sys
In the video, the implant specialist asks Andrea, "Ready?" Almost instantly, you can see the sheer emotion wash over her when she hears herself and her surroundings. Andrea laughs and cries. As the specialist tries to gauge if the volume is at the right level, the girl's mother tells her, "I love you, baby," and they hug.
After Andrea says her implant is "noisey," the specialist turns it down a smidge, and Andrea agrees that it's a lot better. Then, the specialist gestures to her boyfriend.
"Can you hear me?" he asks. "Does it sound OK?"
She says it does.
"Well, baby I wanted to make one of the first things that you hear…"—this is where he pulls out the white ring box and gets down on one knee, and Andrea LOSES it—"because I love you so much, and you're my best friend, baby. I wanted to make the first thing you hear me asking you to marry me."
Of course, she says yes. "I got a ring!" she reacts in her adorable way.
"Are you happy?" mom and boyfriend ask her.
"Yes, very happy," she responds. "It worked!"
We're so touched by this amazing, life-changing day! Here's hoping she makes lots of beautiful—and sound-filled!—memories with her new fiancé.