The woman who fought her groper at a festival has posted a new video explaining why she would fight back again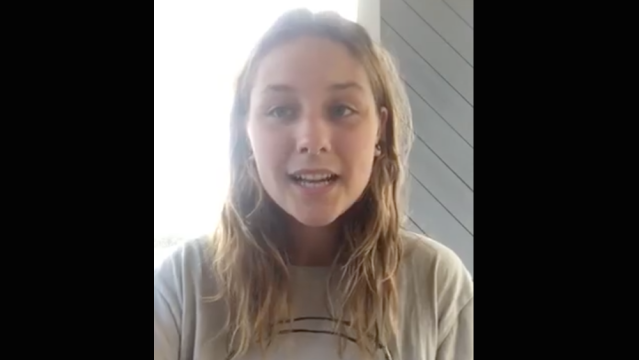 An American woman is defending her actions after her response to being groped at a New Zealand festival over New Year's weekend sparked backlash about her behavior. While attending the Rhythm & Vines festival in Gisborne, Madeline Anello-Kitzmiller and a friend were walking through a massive field at the venue when a man snuck up behind her and grabbed one of her breasts in front of a sea of onlookers. Anello-Kitzmiller and her friend turned to see the man scamper back to his friends and decided to approach him. Anello-Kitzmiller hit the unnamed man multiple times while her friend threw her drink at him.
The whole incident was captured on video and has since gone viral.
While Anello-Kitzmiller has received an outpouring of support since the groping, she's also faced criticism from those who don't condone her retaliation. Even more frustrating: some commenters are blaming her for the groping. Many have cited her toplessness and glitter paint covering her breasts as "attention-seeking" and "asking for it."
But now, Anello-Kitzmiller is firing back in a new video posted to her Facebook, in which she defends her attire — not that she needs to — and breaks down her decision to hit her assaulter.
Anello-Kitzmiller explained that her topless attire was in no way out-of-place at the festival, adding that she paid to have her breasts painted at the festival at a "glitter tits" stall, alongside many other women. She went on to say that in addition to a waterslide at the festival offering money to men and women willing to go down the slide naked, she saw numerous naked men during the festival who faced no harassment. Anello-Kitzmiller expressed frustration at how men and women's bodies are treated differently: "The difference is that women have been over-sexualized for way too long and it needs to stop."
Anello-Kitzmiller revealed that months ago she had been groped at a club in Portland, Oregon, and that she promised herself that she'd punch the next person who harassed her. Well, it turned out to be this guy at this musical festival.
"My anger was fueled not only by the harassment throughout the day, but throughout my life," she said. "Next time I think I'd go grab [the sexual harasser] and get him kicked out of the festival."
Anello-Kitzmiller went on to express support for others who've been victim-shamed after being sexually assaulted or harassed, saying, "You are not the problem. And the fight for the rights to our own bodies is only being fueled now. Make your voices heard and don't be discouraged, be who you are unapologetically."
While Anello-Kitzmiller's video is full of incredible words about standing up for yourself, we find it a little frustrating that she's had to double-down and defend herself. It seems the fact that she was sexually assaulted — a man touched her breast without her consent — is lost on many.
Anello-Kitzmiller is certainly showing an incredible amount of grace and poise in the aftermath of a traumatizing event. We're glad she's speaking out on behalf of women taking control of their bodies all over the world. Nobody should ever be made to feel like their clothing choice is responsible for the abhorrent actions of others.