This woman discovered her sphynx cat is actually a shaved kitten, which is so messed up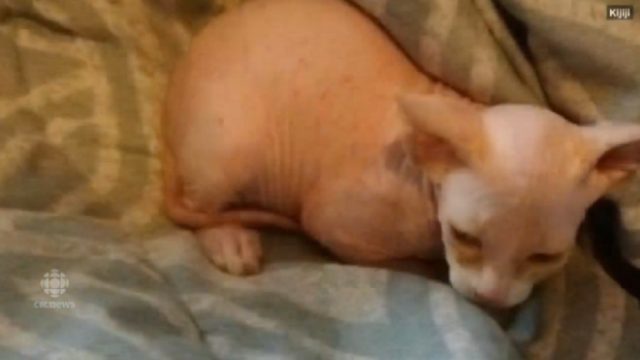 Allow this unfortunate bit of news to serve as a cautionary tale for potential cat buyers: Recently, a Canadian woman discovered her sphynx cat was a shaved kitten, Bored Panda reports. JoAnne Dyck of Alberta told CBC News that she purchased what she believed to be a bald sphynx kitten for $700 from a seller in Calgary who offered to have a friend deliver the animal to Dyck. Shortly afterward, she gave the hairless cat named Vlad away to another woman after discovering that he wasn't bonding with her other Sphyx cats.
"Regular sphynx kittens would want to be held and would want to be warm and touched," Dyck said, "but he didn't want anything to do with us. He probably didn't want to be touched because his hair — it wasn't supposed to not be there."
A trip to the vet confirmed that Vlad was in fact not a Sphynx cat as advertised. The vet determined nicks on the kitten's skin were a result of razor burn or a hair removal cream. Vlad also suffered from cuts on his tail, that according to Dyck, nearly resulted in its amputation. Removing all doubt that Vlad was definitely not one of the naturally hairless felines are the before and after pics that show the cuddly kitten with a full coat of hair one week later.
CBC also notes that a second woman who appears to be a victim of the online cat-selling scam came forward after learning about Dyck's incident.
Currently, Vlad still lives with the woman Dyck gave him to, but she has a warning for anyone considering purchasing one of the unique cats.
"Definitely go to where the cats are being bred. Never meet them anywhere. If they won't let you come to their house, their residence, it's probably a bad sign," she said.