This woman designer revolutionized fashion before Coco Chanel and inspired my feminist style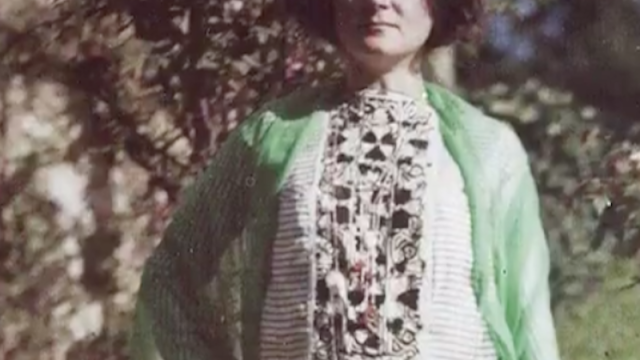 March is Women's History Month. Here, one contributor celebrates the rebellious fashion designer lost to history, Emilie Flöge.
I loved the Art Nouveau unit of my art history course not only because of its early 1900s surrealistic glamour, but because that class led me to my new icon: gender norm-defying fashion designer Emilie Flöge.
My fascination with Emilie Flöge began when I saw artist Gustav Klimt's famous portrait of lovers, "The Kiss." I demanded to know the identity of the depicted woman in the classic painting, and learned that art historians believe it to be a self-portrait of Klimt and his longtime partner, Emilie. After researching their relationship, I became entranced by Klimt's seemingly rebellious muse. Emilie Flöge and Gustav Klimt were bohemians from Vienna, Austria and they led somewhat of an untraditional lifestyle.
In other words, Emilie didn't give a fuck. She never married her longtime partner, and she chose to focus on her career rather than have children. She completely defied social and cultural fashion norms.
Emilie and Gustav helped each other gain an audience. Gustav Klimt introduced Emilie to his patrons, and she did the same. They traveled together throughout Europe and met many famous artists and fashion designers.
Coco Chanel may be a household name, but Coco herself was inspired by the unique couture of Emilie Flöge.
Emilie was sick of the rigid, constricting outfits that women were forced to wear. She opted for a looser, brighter, and borderline androgynous silhouette. Her infamous fabric textiles sparked a freeing fashion movement for women in Europe, long before Coco Chanel opened her first shop in Paris. In addition to opening her own dress shop in Vienna in 1904, Emilie Flöge showcased her work all around Europe and bumped elbows not only with Coco Chanel, but with Christian Dior as well.
Emilie took the iconic Art Nouveau aesthetic out of paintings and architecture to make radical geometric patterns wearable. Through delicate embroidery and dreamlike shapes, she combined feminine prints with stereotypically masculine designs, creating a look that had never been seen before.
Emilie blazed the trail for female fashion designers after showing the world that women could design (and wear) whatever the hell they want.
In combination with the funky, loose fitting dresses that paved the way for the modern woman, Emilie also popularized the trouser. This was a relatively new concept for upper-class European women, so you can credit the genesis of your beloved pants to Ms. Flöge.
https://www.instagram.com/p/BgShzNmjPIC
Then, the terrifying rise of the Third Reich in Austria took a toll on Emilie's success. She lost her clients and her store when the Nazis invaded, as did so many businesspeople and artists at the time.
Emilie Flöge's name was somewhat erased from history. Her feminist fashion efforts and unique bohemian lifestyle disappeared from the headlines.
The fashion world continued to unknowingly steal from her once iconic designs, but her name was no longer widely spoken.
To me, Emilie is an excellent example of an underrated female artist. She has inspired me both personally and artistically. Even though not everyone may know her name, we have her to thank for modern advancements in the world of fashion. Not only was her work new and exciting, but her lifestyle was groundbreaking. She gave a whole new meaning to "independent woman," and she was nothing short of a creative genius.
There are many artists who make inventive adjustments to current styles and trends, but there are few who actually produce completely original ideas. Emilie Flöge was one of the rare latter. Someday, I hope that her name makes its way into fashion magazines and art history textbooks. It's what she deserves.