This woman claims United Airlines flight attendants told her to pee in a cup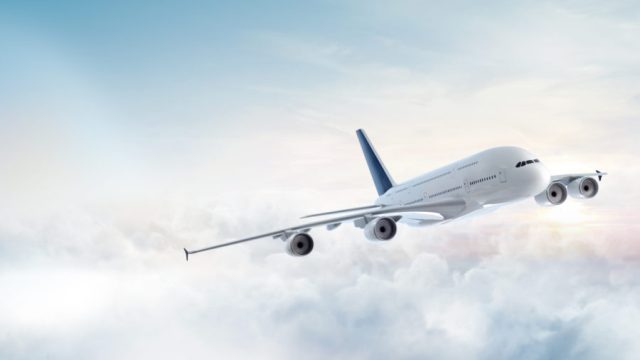 Uh-oh, it seems more trouble is on the horizon for United Airlines. As in, a passenger claims United flight attendants told her to pee in a cup.
After what many would classify as the airline's worst month ever, United is getting more heat now that a woman has come forward with shocking allegations about her recent in-flight incident. In a Facebook post that has since gone viral, Kansas City, Missouri mom Nicole Harper opened up about her "shaming" experience after flight attendants allegedly refused to let her use the restroom while flying home with family from Houston to Kansas City. What's worse, after Nicole joked that, due to her overactive bladder, she'd either need to be allowed to use the restroom or use a cup…flight attendants apparently encouraged her to do the latter.
"While allowing other passengers to get up and use the restroom on a seemingly uneventful flight, United Airlines crew wouldn't allow me to get up and use the restroom until the pilot turned off the seatbelt sign," Harper shared on her Facebook page. "After explaining that I have an overactive bladder and would either need to use the restroom or pee in a cup, I was handed a cup by flight attendants."
But then, according to Harper, things went from bad to traumatic.
"Bad enough? No, crew then escorted me to the restroom (now it's safe to get out of my seat), shaming me down the aisle while other passengers overlooked," she wrote. "The flight attendants treated me like I had committed a crime, stating they would be filing a report, calling in the hazmat team to clean the entire row (let me mention there was no mess involved) and told me I would need to talk with the pilot after the flight!"
"I guess they would have preferred me to pee in the seat?"
Harper claims that this incident happened on the same day that Dr. David Dao was forcibly removed from an overbooked flight, reportedly suffering a concussion and losing two front teeth in the incident. After more than a month of trying to go through customer service to report the issue, Harper writes that she took to Facebook as a last resort.
In response to the disturbing story, United issued the following statement:
"Customer safety is always our first priority. Initial reports from the Mesa Airlines flight attendants indicate that Ms. Harper attempted to visit the lavatory on final descent and was instructed to remain seated with the seat belt fastened per FAA regulations. The situation as described by Ms. Harper and our employees is upsetting for all involved. We have reached out to Ms. Harper and our flying partner Mesa Airlines to better understand what occurred."
If this incident did indeed go down as Harper described it, this is obviously unacceptable.