Why no one can stop talking about this woman breastfeeding at a wedding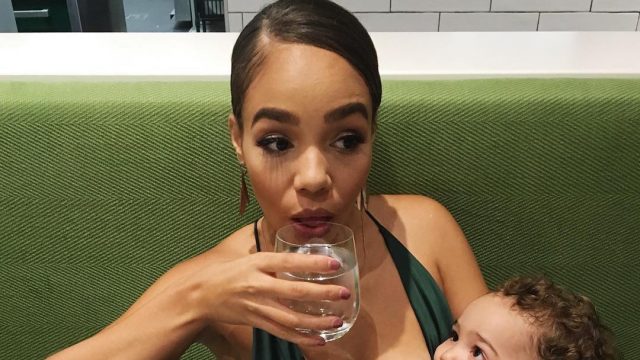 About a month ago, Australian mom Haddas Ancliffe uploaded a photo to Instagram of her breastfeeding her son. Since then, it's gone viral —for an important reason.
The photo shows her going in for a sip of water at a black-tie wedding. And she isn't the only one who's having a drink – so is her little boy Jonah. The mom ended up captioning the snapshot by writing, "Just me and my baby having a drink (Gotta do what you gotta do, wedding or not) #normalizebreastfeeding."
Since posting, Ancliffe has gained close to 3,000 likes and over 250 comments. Most importantly, the mom's photo was posted at a pivotal time – not only because of the #FreeTheNipple movement – but because, on February 26th, there was a breastfeeding protest at an Australian mall.
According to Mic, the "Boobs for Babies" protest was set in motion after mom Luci White was kicked out of the mall's food court for breastfeeding – since security wanted her to move to a special "feeding room." In response, protest organizer Michelle Van Zyl told the Bendigo Advertiser, "It's perfectly legal. We're not breaking any laws for feeding our babies and we shouldn't be made to feel like we are."
Because of Ancliffe's timing, a few commenters feel as though the mom is seeking attention. Be that as it may, the mom has been posting breastfeeding photos for several months now. To caption her very first image of this sort, Ancliffe wrote, "At first I couldn't decide if I should post it but now, the more I look at it, the more I want to share it. I know I've talked about it before but I really do love breastfeeding and I'm so passionate about it. I'm happy to be able to say I'm confident enough now to ignore people's stares and just enjoy bonding with my baby. I wish moments like these could last forever."
Overall, we think that Ancliffe says it best when she mentions that she's passionate about breastfeeding and that it's something that provides her with confidence. In the end, it's a personal decision that feels right for her as a mom and she shouldn't be punished for it.