A woman asked her husband for a Fenty highlighter and he bought her highlighter markers instead
The need for Fenty Beauty is strong among makeup aficionados. Its wide variety of products are the perfect gift for any occasion. That's why a woman named Charlema Webb asked her husband, Vincent, to get her a Fenty highlighter and brush to celebrate their one month wedding anniversary. While it was a great gift to ask for, her husband got her something completely different, and yes, hilarity ensued.
Vincent searched for a Fenty Beauty highlighter and brush at a few drugstores to find the mysterious "Fenty highlighter" his wife spoke of, but he couldn't find any. So he did the next best thing: he came home with a Goody hairbrush and a pack of highlighter markers. Bless his heart. Of course, Charlema shared this hilarious tale on her Facebook account and it caught on like wildfire because both brands, Fenty Beauty and Goody, took notice. They both shared their two cents on the adorable mix-up.
Have you ever come upon such a pure miscommunication? All Vincent wanted was to get his wife an anniversary present that his wife would love, and now he's internet famous. But at least now the whole world knows how thoughtful he is.
We give this attempt at picking up a new Fenty Beauty highlighter a 10/10.
Major points for trying.
We love that Fenty Beauty and Goody got a major kick out of this now viral story. And it looks like Charlema will be getting her Fenty goodies after all.
And since we can all use a new hairbrush, Vincent did his wife a solid.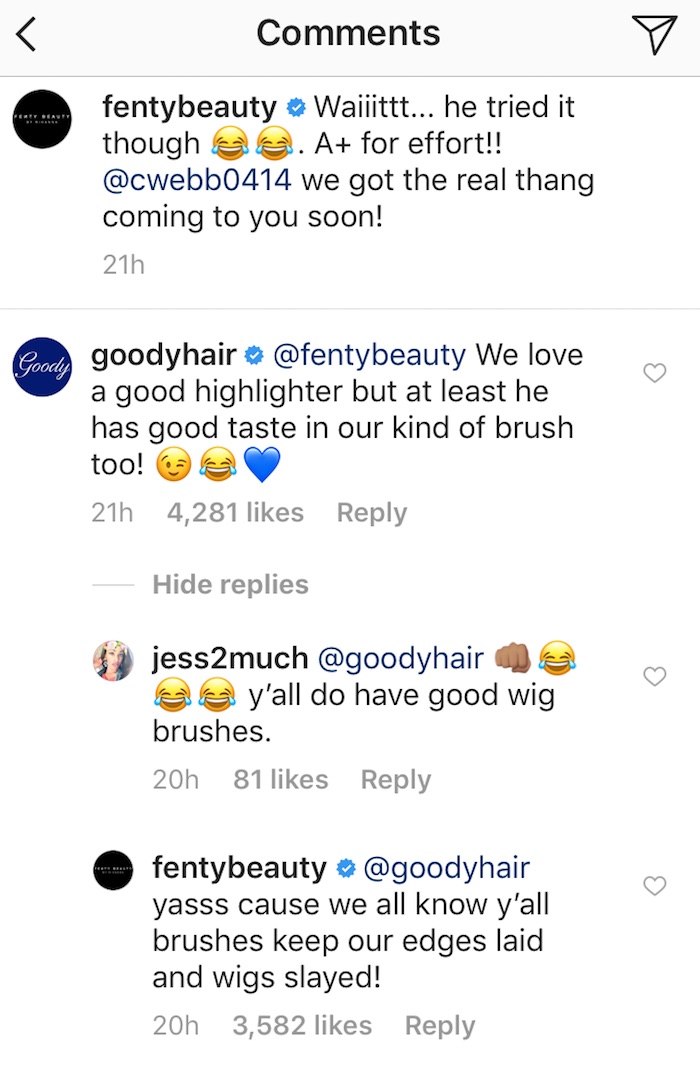 We have a feeling Charlema's husband won't be making this mistake ever again!