FYI: The wolves in "Popstar" also star on "Game of Thrones"
Andy Samberg and the Lonely Island guys, Jorma Taccone and Akiva Schaffer, were able to round-up so many of their celebrity friends to participate in their new movie Popstar: Never Stop Never Stopping, it's hard to keep track. Like, it's almost impossible. Turns out not all of those celeb cameos are from humans.
But we've done our best to round-up the people celeb cameos we know about: Justin Timberlake, Seal, Will Arnet, Questlove, Carrie Underwood, Nas, 50 Cent, Ringo Starr, Simon Cowell, Adam Levine, Pink, Emma Stone, DJ Khaled, Mariah Carey, Usher Mario Lopez, Pharrell, Jimmy Fallon, Martin Sheen and Snoop Dog. You know, just to name a few.
Then, there's a non-human cameo that caught us totally off guard, and we're super excited (and sort of terrified) about it. Have you seen that moment in the trailer where Seal gets attacked by wolves? Well, that group of wolves is from Game of Thrones.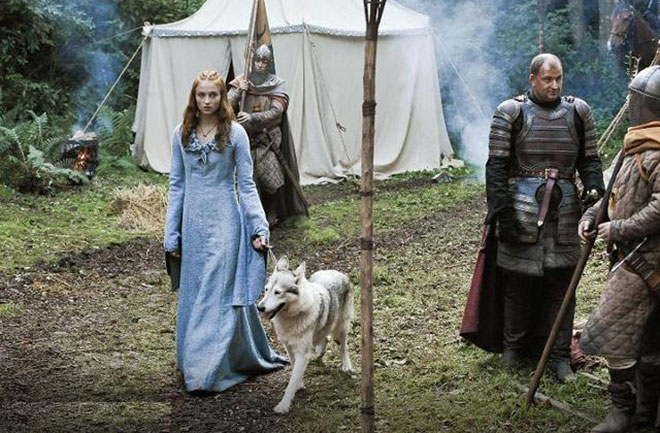 That's right, plucked straight from the countryside of Westeros, the Stark direwolves have a cameo in Popstar. Taccone told Bustle about the wolf star power on set. "We nerded out over that. The same wolf actors. Wactors." Andy Samberg also said of the wolves, "They make a lot per day but they're worth it. But they were super scary also. The whole thing felt like the first act of a Jurassic Park movie, where you know something is about to go horribly wrong, and you're just waiting for it." We're pretty jazzed that these wolves are having such a big Hollywood career.
Popstar comes out today, but in the meantime, here's a clip of the direwolves being, well, direwolves in Popstar. And spoiler alert, it's messy. https://www.youtube.com/watch?v=