We're calling it: This witchy ice cream is going to be the flavor of the summer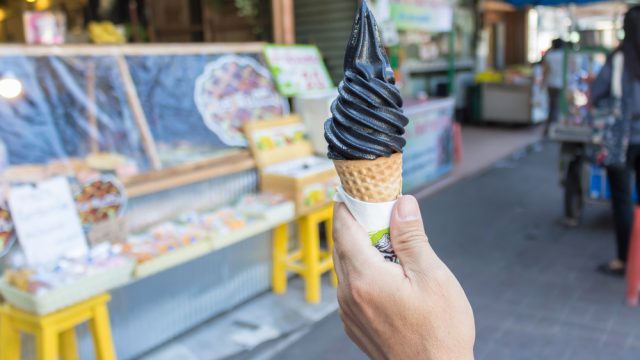 With the weather heating up, ice cream is coming back in a major way. And we've already decided that this witchy ice cream is going to be the coolest flavor of these warmer months. So far, activated charcoal has been popping off in Los Angeles. But it's also being picked up all over the country. Guess that emo phase we all went through in high school wasn't just a phase after all!
The ice cream shop Little Damages in downtown LA was one of the first to blow up the internet with their activated charcoal creation. The almond charcoal flavor is not only aesthetically pleasing, but it's also very tasty.
Just one look at this beautiful summer creation and you can see what all the fuss is about.
https://www.instagram.com/p/BS2PpcRgKM1
And now, other shops have followed suit. So if you are craving some delicious witchy ice cream, you now have a bunch of options!
1 Frankie & Jo's
This plant-based ice cream shop has been churning out delicious flavors for a while now. But it's their Salty Caramel Ash ice cream that has got our attention.
https://www.instagram.com/p/BOlB4fRAMis
Not only will this goth-inspired dessert look good, it will also make you feel good! Their ice creams are made from "a combination of sprouted cashew nut milk and coconut milk."
2Drips & Swirls
If you want to make sure that every one of your friends has a good time, take them to Drips & Swirls. You can get their amazing Charcoal Crispy Rice cone, and your friends can choose from so many other amazing flavors.
https://www.instagram.com/p/BTPeH7VAAQO
Soft serve ice cream is the best ice cream after all.
3 Morgensterns
Is your mouth ready for this upper class introduction to flavor-town? Morgensterns has been serving up delicious ice cream, and you can now try their Black Coconut Ash.
The coloring is rich and looks like the thing you should be eating while listening to Good Charlotte.
So go out there this summer and try one of these witchy ice cream cones for yourself!