We only wish we could all be as cool as Ciara is at this athleisure-inspired maternity photo shoot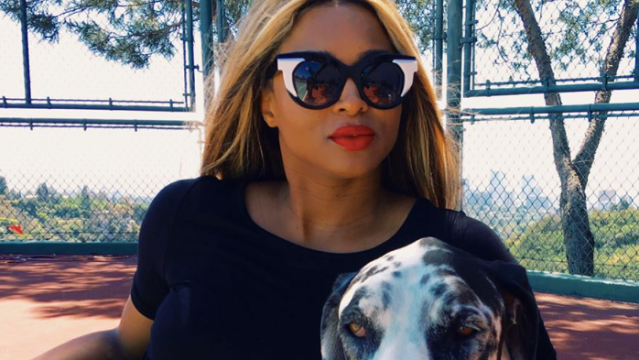 We're constantly on the hunt for some serious photoshoot inspiration, looking for a brightly colored wall or a cool background to make our next Instagram photo pop. That's why when we saw Ciara's impromptu photoshoot pics we were inspired. Because not only did she look great in her black-on-black ensemble and platform sneakers, but her super pregnant belly looked cuter than ever. Ciara certainly has the attitude to be the most badass mama around, and with this outfit, she seems like the most stylish mama too!
Clad in some sky-high, striped platform Gucci sneakers that perfectly match her black and white sunglasses, Ciara struck a pose on the tennis court, showing us the definition of athleisure in the coolest way. After all, what's a better accessory than a baby you're growing inside of you? We're not sure. And although we are here for planned photo shoots with props and all, there's something special about some random art that happens organically.
Ciara also wore some bright orange-red lipstick to bring a pop of color to the look. But of course, the princess exceeded our expectations and also brought along a canine companion for the ultimate photo shoot prop.
Next time we're walking past our local park, we'll take some inspiration from Ciara and take our outfit photos on the courts. We can't wait to see the singer's baby, we bet they'll be just as well-dressed as their mama.