In horrible news: A Wisconsin company is giving its employees gift cards for guns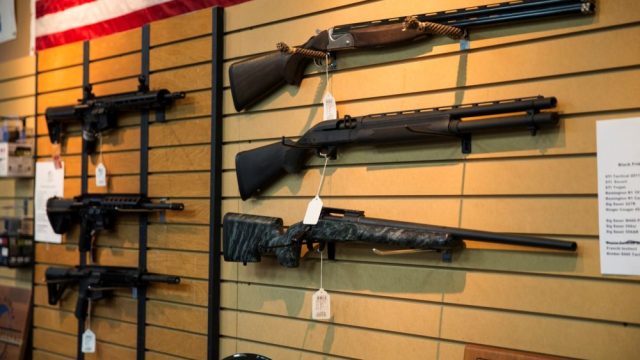 After 2018's many deadly mass shootings, the calls for gun control reform seem louder and more urgent than ever. This year alone, protesters have marched to end gun violence, companies have vowed to stop selling firearms, and advertisers have pulled their support for the NRA. But there are still those who believe that more guns save lives—like Wisconsin glassware company BenShot, which is handing out gift cards for firearms as the year draws to a close.
BuzzFeed News reports that this holiday season, rather than receiving their usual bonus, BenShot employees will receive gift cards worth $500 to a gun shop of their choice. Each individual will still have to pass a background check, and the company's cofounder, Ben Wolfgram, told BuzzFeed that he has also mandated a handgun safety and protocol course for employees.
Wolfgram reportedly wanted to "give a gift…of personal protection to keep employees safe."
Two employees have turned down the offer for a gun and received a prepaid Visa card instead. But many of the remaining 14 BenShot employees have already reimbursed their cards. Wolfgram told BuzzFeed that a couple of employees used their company gifts to purchase rifles because they already owned handguns.
It's safe to say that BenShot is unabashedly pro-gun—despite the fact that there is little proof that carrying a gun will make you or others safer. A 2017 Stanford University study, for example, found that states that pass right-to-carry laws see violent crime rates increase by 13-15% in the 10 years after the laws pass. And an FBI study found that armed people who weren't law enforcement officers only stopped 3.1% of shootings between 2000 and 2013. Even doctors have called for gun control in recent weeks, recommending that it be viewed as a public safety issue.
It's time that the U.S. start looking at the facts when it comes to gun control and gun safety. Because something needs to change.