5 Ways to Winterize Your Haircare Routine, According to Celebrity Stylists
Dry and brittle strands, be gone! Take a cue from these expert tips.
The product recommendations in this post are recommendations by the writer and/or expert(s) interviewed and do not contain affiliate links. Meaning: If you use these links to buy something, we will not earn a commission.
Winter can be a fun time to enjoy all the outdoor activities the season brings, such as ice skating, snowshoeing and skiing. It's also a season that can wreak havoc on our skin and hair. Repeated exposure to the elements can literally suck the moisture out of our strands, leading to dry, brittle and damaged hair.
RELATED: 7 Upgrades I Made to My Beauty Routine In My 30s
Dry and brittle strands cause breakage — and according to the American Academy of Dermatology, the loss of 100 strands of hair per day, or more. Shedding aside, there are many reasons you'll want to stop hair from getting too dried out in the first place.
This can be achieved by following these five easy ways to winterize your haircare routine.
1. Wash less
If you think you're doing your hair a service by washing it daily, think again. Just the process of washing your hair in itself can be drying, when you take into account scrubbing, rough-drying with a towel, using products that contain harsh sulfates, and heat-styling.
"Over-washing your hair can do a number of things to your mane, and not for the better. From stripping your hair of its natural oils, fading color faster and drying out your scalp, just to name a few, if you can wash less, your hair will thank you," states celebrity hairstylist Samantha Bentson, who has worked with Jenny McCarthy and Sophia Bush.
While it's recommended to wash your hair only once or twice a week, if you tend to get greasy at the scalp and can't stand it, then a dry shampoo spray like UNITE's is a great option.
"You'll save time and water, keep natural oils in check, plus neutralize odor, leaving styles refreshed, reset, and residue-free," says Bentson.
2. Switch to a moisturizing shampoo
You'll want to pay extra attention to the labels on the products you buy during this time of year. "It's super important to care extra for all hair types during this time, but I find that curly hair, blondes and color-treated hair gets most affected by this," says celeb hair stylist Mary Kendall.
For climates that are already prone to dryness (desert climates, like Las Vegas, etc) it is "critical to use moisturizing treatments/shampoos and conditioners year round, to protect your hair," says Bentson. This can be as simple as looking for the words "moisturizing" or "hydrating" on the bottle.
The other essential is to make sure the products you are using are free of parabens and sulfates — the very chemicals that help shampoo to lather up when mixed with water, actually strip hair and cause excessive damage to your hair's cuticles, say the experts we spoke to.
3. Mask up
Using a conditioning hair mask once a week during the wintertime can give your hair that head start it needs to get through the season intact.
Here's how to get it right: "After shampooing, ring your hair out a bit to get some of the water out and apply the mask on your ends and comb through the roots to distribute it evenly through your hair. If you tend to get oilier hair or struggle with volume, I recommend a very small amount on roots. Leave it on for 10 minutes (or longer) and see amazing, hydrated results. This will also help and prevent heat damage and split ends," says Kendall.
4. Don't neglect your scalp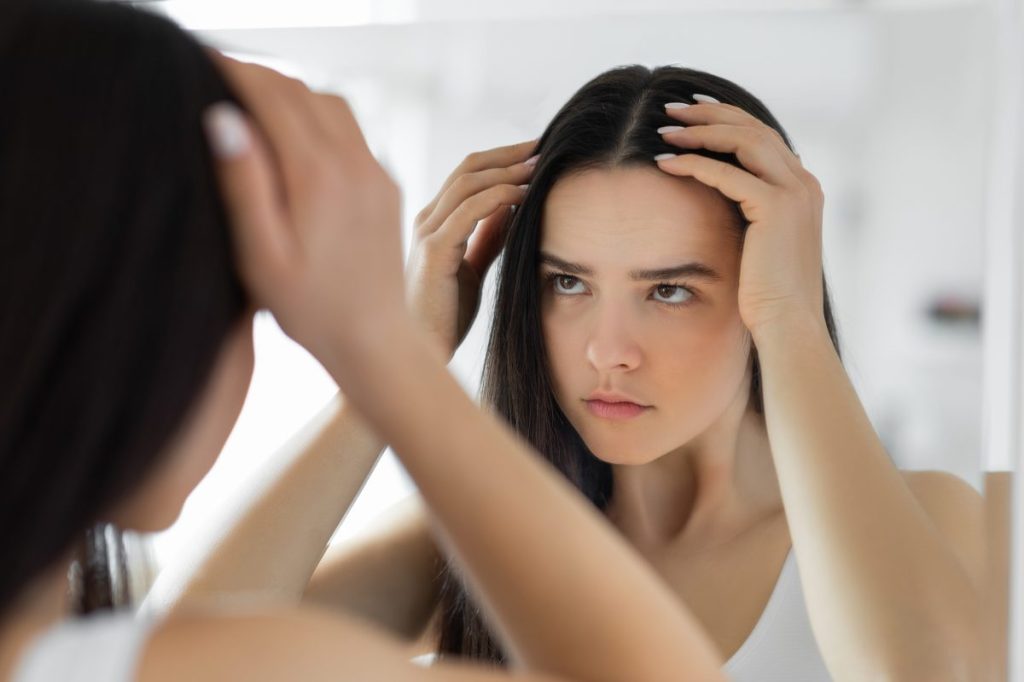 Winter can also be very drying for our skin, and we often forget that also applies to our scalp. And a dry, itchy scalp that's leaving flakes on our shoulders is not a good look.
"This leads to dandruff, which is everyone's worst nightmare and very difficult to get rid of," says Kendall. So how do we prevent this?
"Scalp massages are great for stimulating growth and keeping your natural oils flowing," she explains.
You can opt for a hair oil serum like Ogx's Argan Oil of Morocco, or try this expert recommended DIY. "I use essential oils as a treatment for my scalp. I typically take a mixture of tea tree, peppermint, and eucalyptus oil, section off my hair into four parts, and put a few drops of each along these sections. Then I take a few minutes to massage it all evenly into my scalp, sleep with it in and shampoo and condition in the morning. Not only is this great for scalp stimulation, but this will also reset your PH to get rid of any dryness that could be causing your dandruff," adds Kendall.
Everyone in my family swears by a product called Tonic spray from Bumble & Bumble, which contains a mixture of tea tree oil and vitamin E.
5. Use less heat
It goes without saying that hot tools can be a source of breakage and hair damage. But oh how we love our Beachwaver curling iron, Dyson Airwrap and nifty little Chi Lava blowdryer. So what's a happy medium?
You can take a break from heat styling once in a while by opting for products that work while your hair air dries, experts say, such as the Beach Day spray or the BOOSTA volumizing spray, both by UNITE.
Also, be sure that when you do opt to use heat styling, to properly prep the hair with some sort of heat protectant balm or spray.
Bonus tip
One last tip? Switch to a satin pillowcase like this one by Eucalypso. Laying your head on one can help to prevent the usual friction and tugging that can cause even our extra-hydrated locks to break, especially if you're a rough sleeper.
You can also switch to fabric scrunchies as opposed to elastic hair ties, as those tend to be gentler on hair, too. Here's to happier hair, all winter long!
Jené Luciani Sena is an accredited journalist and internationally-renowned bestselling author, regularly seen on national TV outlets such as Access Daily, Today and Dr Oz. Touted as one of Woman's World Magazine's "Ultimate Experts," she's a TEDTalk speaker and a busy Mom of 4.
Read more