Here are 12 holiday-themed spa treatments to calm your travel anxiety
Whether you're staying home or traveling across the country this holiday season, it's likely you could use some rest and relaxation amidst all the hustle and bustle. Even if you're not someone who gets facials on the regular, there are plenty of spas giving out unique treatments and killer deals for the holidays that you, if you're anything like us, won't be able to resist.
While deals abound, now might be the time to splurge a little on yourself to reconnect with your long lost sense of zen. And even if the concept of zen feels too far away to ever be restored to you personally, one of these winter-themed spa deals might make the perfect gift for a loved one.
In order to make your spa shopping a bit easier, we've gathered some of the best winter spa deals from coast to coast.
Palm Mountain Resort and Spa is a luxurious stop for spa lovers all year round. But this winter they are offering a deliciously festive peppermint-infused reflexology foot massage. Anyone who books a treatment at the spa between December 1st and January 31st can grab the Peppermint Foot Treat(mint) for just $25! For best results, we recommend you follow it up with a calming dip in the pool.
The Spa at Cedarbrook Lodge is doing the absolute most with their lovely holiday deals. For just $118, spa lovers can score a 50-minute Chocolate Truffle Body Wrap treatment which lathers your skin in a hydrating chocolate-infused formula. If you wanna give your whole body the dessert treatment, they also offer a 50-minute Candy Cane Foot Refresher ($68) which exfoliates your feet with candy cane scrub. We'll take a serving of both, please.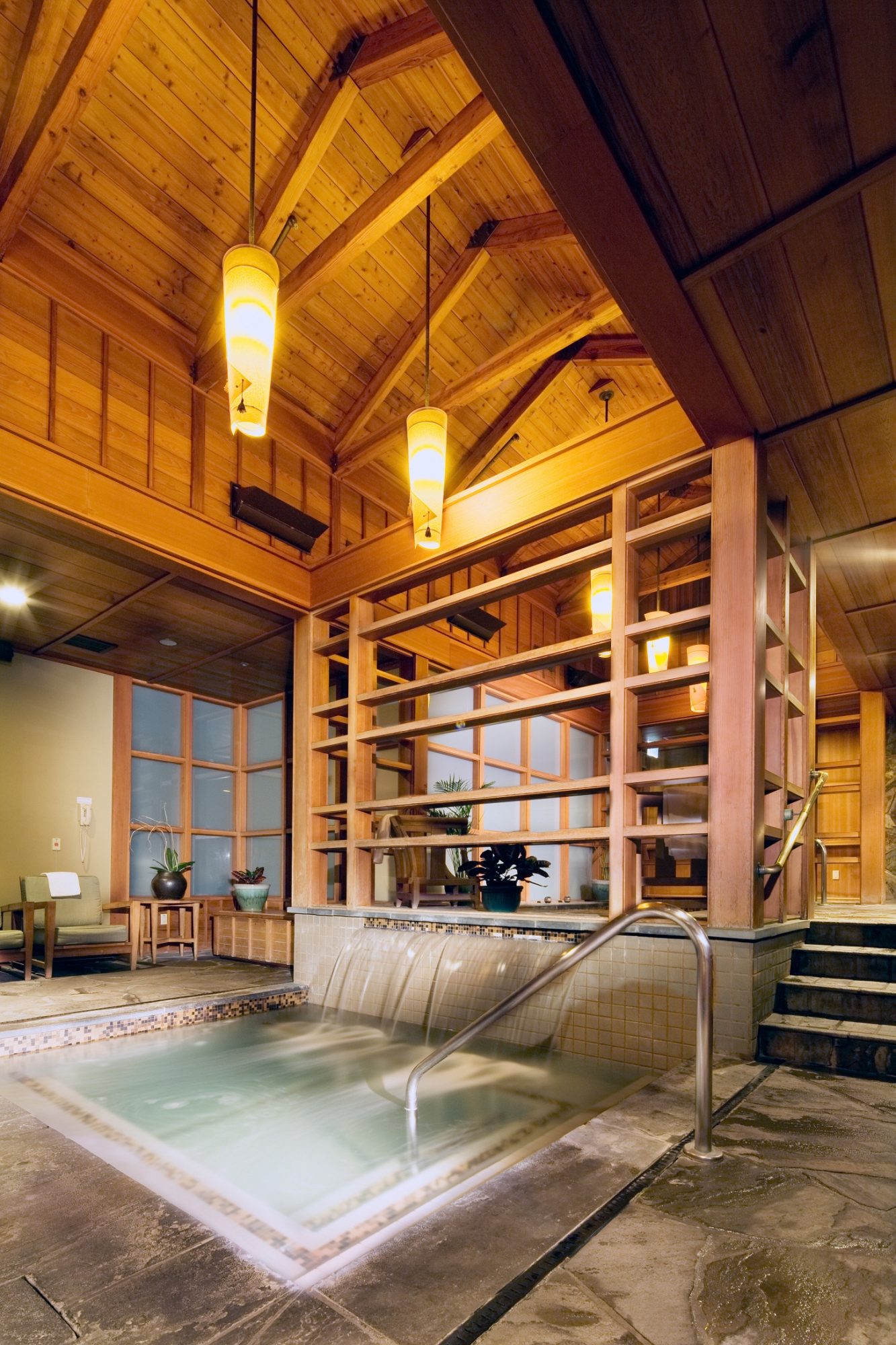 Besides offering a gorgeous view of Snoqualmie Falls, the Salish Lodge and Spa is offering a trio of great holiday deals that each include a complimentary cup of tea or sparkling wine. If you and a partner are trying to maximize your romance factor, the Spiced Fireside Couples Massage ($120 per person on weekdays) will lull you and your lover into a sense of calm. Melt away your holiday stress with a Fireside Honey Spice Tea Scrub ($120 per person), which will exfoliate you and your boo with a sweet combination of the coziest natural ingredients. To top it all off, the Midweek Spahh-liday Retreat ($200) will let you soak in the pools, lounge in the sauna and steam rooms, and then pick either a facial, foot treatment, or warm massage. At the end of it all you get to sip on a smoothie, because what better way to top off a relaxing day?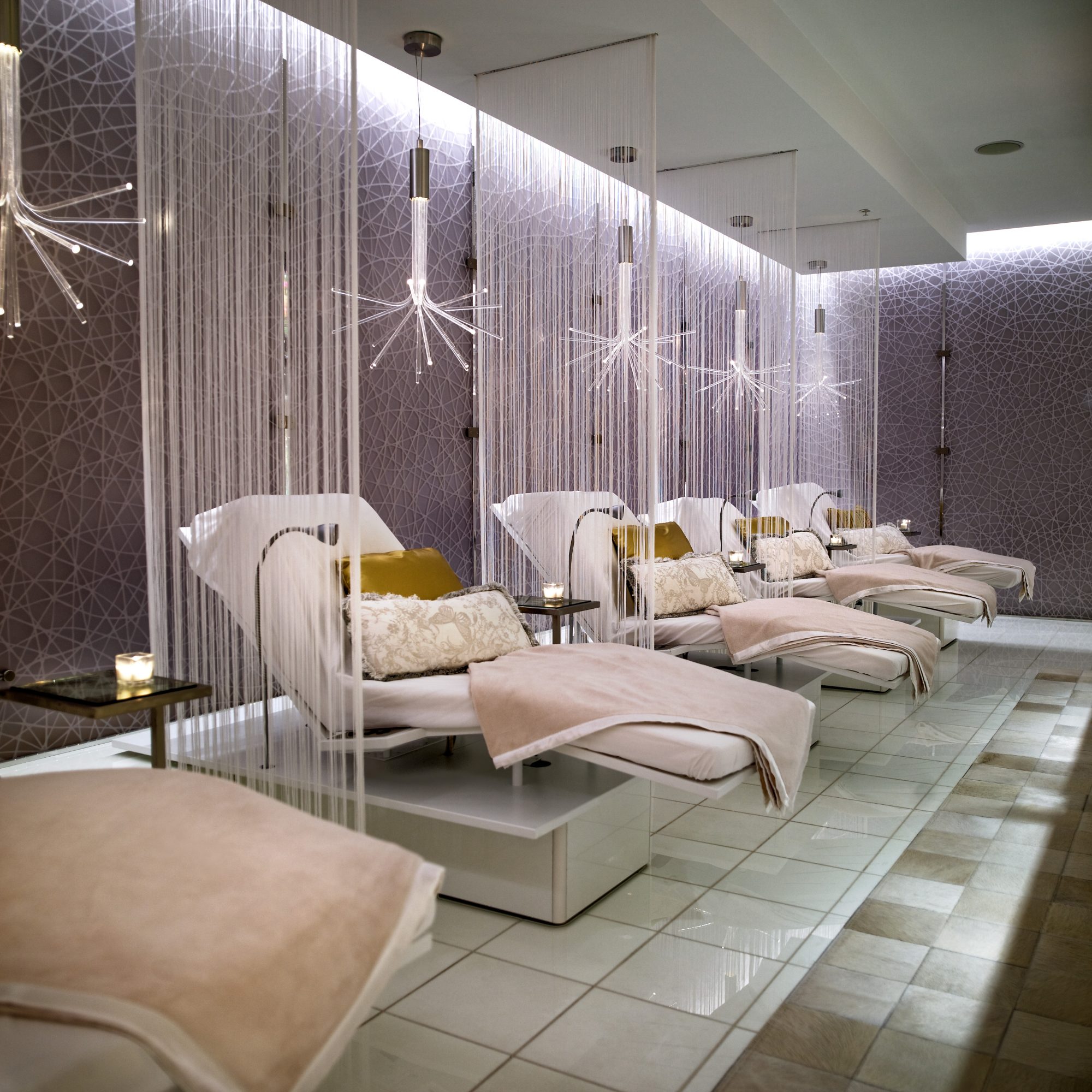 To celebrate the holidays, the popular LA spa will be offering treatments inspired by Valerie Confections' holiday chocolates. The Chocolate Peppermint Pedicure ($95) is a delicious lavender-chocolate scrub (featuring 100 percent pure organic cocoa oil) that will relax your tense traveler muscles, followed by a minty aromatherapy mask and a dreamy moisturizing cocoa massage. Absolutely ideal for those of us who are tough on our precious feet.
The Chocolate Spice Organic Facial ($185) is a festive shot of paprika herbal mud infused with cinnamon, willow and sage to exfoliate the skin, and is followed up by a moisturizing chocolate mask. Once your face and feet feel fresh, you can seal the deal with the Whiskey-ing Away for the Holidays ($185) hot stone massage that uses calming essential oils to play on the essence of whiskey without the pesky hangover.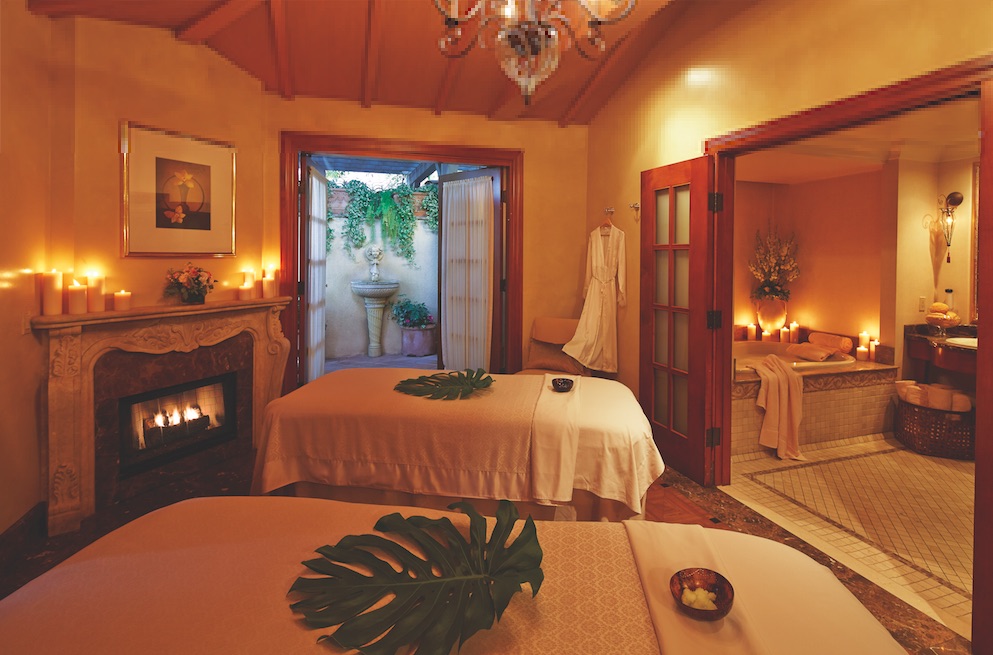 The Mission Inn offers such generous holiday deals it could easily be deemed the Santa Claus of spas. The holiday-themed Decadent Delights offer three flavored treatments: Mint Chocolate Bliss, Caramel Hot Chocolate Indulgence, or the Vanilla Chai Latte Delight ($240). All of the treatments include a full body exfoliating polish, followed by a hydrating body wrap and full body massage, which sounds like a dip into delicious heaven.
If you want to give you feet a special treat, the Peppermint Mocha Mani and Pedi ($135) will give your feet the absolute works. The treatment begins with a soothing peppermint swirl scrub, and is followed up by a chocolate decadence wrap and a deeply soothing cocoa butter massage.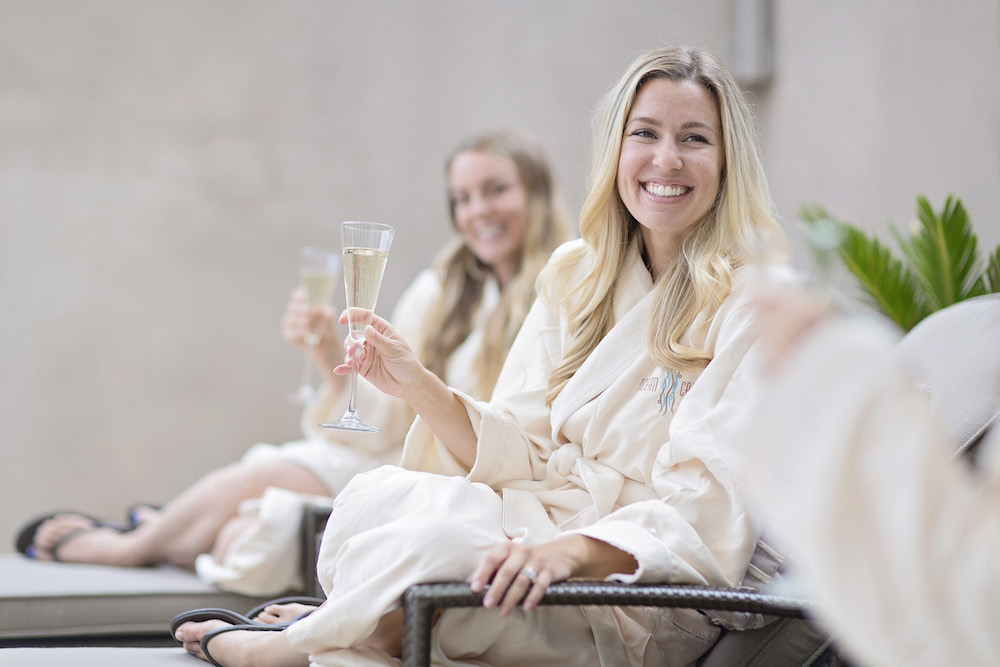 The Cape Rey Carlsbad Ocean Crest Spa is offering a seductive and spicy treatment this year just for the holidays. The Chai Body Wrap and Massage ($130) treatment starts off by wrapping you in ginger, cinnamon, cardamom, nutmeg, cloves and black pepper to stimulate circulation and boost your antioxidant levels. After the wrap, you're massaged in a warm creamy mix of star anise, cinnamon, vanilla and cardamom. You'll smell like the most delicious dessert at the holiday table.
The Ocean House offers vacationers a luxe getaway where you can stare pensively into the beauty of the sea while the first snow falls. As part of their delicious spa menu, Ocean House offers up a $145 New England Coffee Scrub treatment where you'll be exfoliated with coffee and moisturized with a dab of organic citrus lotion.
The Hot Milk & Almond Pedicure treatment ($65) at Bliss Spa includes a relaxing foot soak in nutritious warm milk and almond oil, a gentle softening scrub, and of course, a pedicure to top of the rest and relaxation.
The holiday-themed Oatmeal Cookies and Cream Manicure/Pedicure  ($60 pedi, $45 mani) at Corbu Spa features a sweet oatmeal scrub made of chopped oats, oatmeal, sugar and coconut oil and is followed by a hydrating massage. To complete the mood, spa visitors receive cookies and hot cocoa with their treatment.
You can wrap your body in warm and soothing spices with the Ultimate Body Herbal Wrap treatment ($145), which polishes your body with exfoliating sea mineral salts and then uses lavender and rosemary essential oils to smoothe your skin into a festive herbal dream.
https://www.instagram.com/p/BcSfIkIAklD
The Merry Mani-Pedi Package ($125) gives you the full Christmas treatment. The treatment starts with a hand and foot massage with vanilla, ginger and orange, and continues with a warm stone massage, and ginger steam, and of course the mani and pedi. During the whole relaxing ordeal, you'll be served wine, hot cocoa, and chocolates, like true royalty.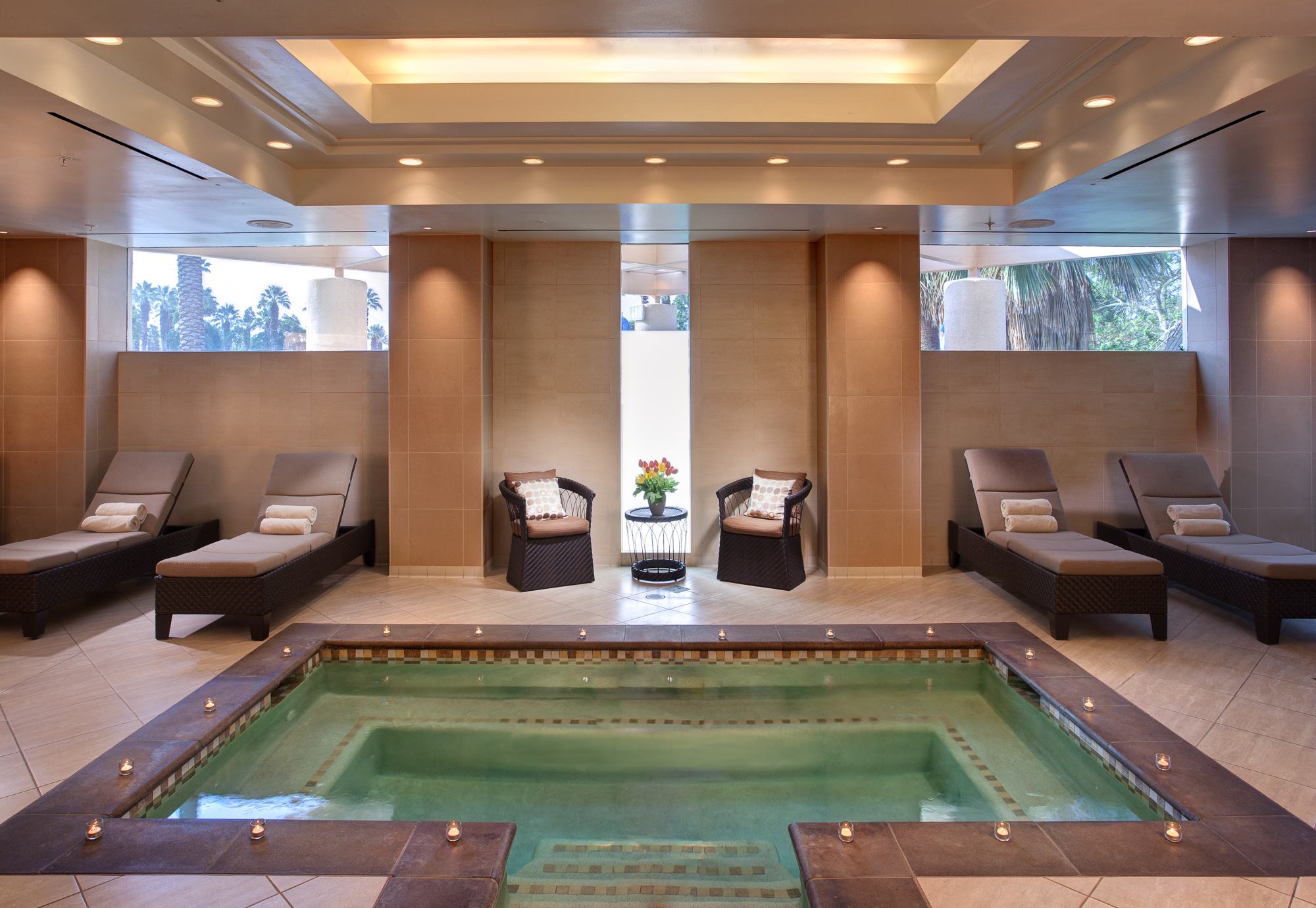 The adorably-named Sugar Plum Facial ($139) will help restore vitality to the skin with pumpkin and yam enzymes, then revitalizes it with plums, green tea, and rosehip. Fun fact: This spa is one of the largest in Southern California, so get ready to get your self care on.
We hope you're able to dip your toes into at least one of these heavenly suggestions. If not, you know what to ask Santa for next year.