17 stunning but scary pictures from Winter Storm Quinn you honestly just have to see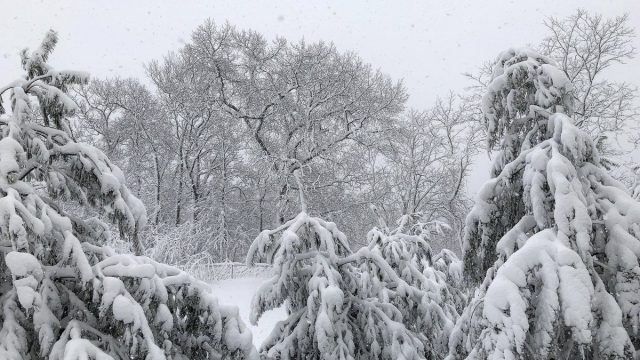 Is it just us, or does it feel like winter is never going to end? Maybe it's because of the back-to-back-to-back winter storms we've been experiencing. Just when we recovered from the wet and windy Winter Storm Riley in early March, Winter Storm Quinn came knocking. And on Wednesday, March 7th, it showed the East Coast what it's capable of. The nor'easter brought serious amounts of wind, rain, and snow. At one point, there was even thundersnow in New York City, and Twitter all but lost its mind. Today, Thursday, March 8th, many are waking up to an icy white winter wonderland. And you have to see these Winter Storm Quinn pictures for yourself.
This is the kind of snow accumulation that ices over roads, cancels school, grounds flights, and generally causes all kinds of disruption in your day-to-day life. It's beautiful to look at, but it sure can do some damage. If you've had enough of the winter weather, don't worry — Winter Storm Quinn is expected to end by Friday, March 9th. As the nor'easter makes its way up the East Coast, stay inside and look at these Winter Storm Quinn pictures under a blanket with a mug of hot tea.
Many East Coasters woke up to a beautiful winter wonderland in their front yards today.
https://twitter.com/udfredirect/status/971730375985725442
Their backyards too.
https://www.instagram.com/p/BgD6J8GHssI
It's hard to tell where the driveway ends and the street begins.
https://www.instagram.com/p/BgEI5ITHlBE
But despite the snow's beauty, the storm also did some serious damage to some parts of the East Coast.
https://www.instagram.com/p/BgD6-yBB-xO
Winter Storm Quinn pictures show heavy accumulation of snow and ice.
Many areas had trees fall and power lines go down.
This picture of New York City's Tribeca neighborhood shows just how hard it was snowing at the start of Winter Storm Quinn.
Many are enjoying the winter weather.
Even this bluebird is making the most of it.
Some are perfectly happy enjoying the snow from indoors.
A lot of pictures show just how much snow accumulated.
A dog makes a perfect reference for snow accumulation.
So. Much. Snow.
That snow is up to his armpits!
There's no denying how pretty the snow is.
Did we say pretty? We meant gorgeous.
As roads begin to clear, we hope the worst is behind us.
Stay safe out there!