Winter Storm Inga may be coming your way, and here's what you should know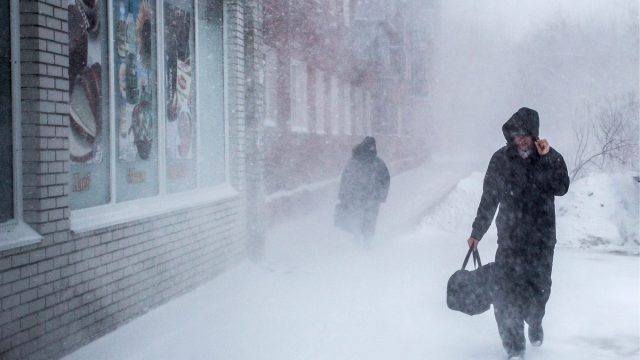 It's proving to be a bitter winter, and it doesn't seem like it's going to ease up any time soon. Depending on where you live in the U.S., winter storm Inga could be headed your way, delivering more cold temps, slippery roads, and a mix of stormy conditions. Weather experts are saying Inga could seriously mess with your commute for a few days, so there's definitely a few things you should know about this one.
Despite the bout of "warm" weather we had on the East Coast this past weekend, this storm will cause temperatures to drop down to as low as -4 degrees Fahrenheit in some areas tonight, January 15th.
If you live in a southern state, you should expect some messy conditions. According to the Weather Channel, freezing rain, sleet, and snow are expected in northern Louisiana, southern Arkansas, and western Mississippi. Experts say that anyone from the Tennessee Valley to Texas should expect enough snow to make the roads hazardous, while freezing rain and sleet will affect parts of central Texas.
Winter storm Inga is likely going to entail sleet and lighter snow. Heavier lake-effect snow is predicted for Wisconsin, where parts of the state have already seen over a foot of snow. The snow is expected to push into the Northeast on Monday night, but upstate New York will likely see more of that than the Tri-State area.
On Tuesday, January 16th, you can expect a mixture of snow, sleet, and freezing rain to continue through areas of central Texas, the Mississippi Valley, and the Tennessee Valley, as well as the Gulf Coast. Light snow is in the forecast for areas from the Appalachians to the Great Lakes to the Northeast. On Tuesday night, you might see heavier snow in parts of New England and the Hudson Valley, as well as New Jersey, eastern Pennsylvania, Virginia, and western North Carolina.
Inga is expected to go into Wednesday, January 17th, as well, possibly delivering heavy snow in areas of New England and the mid-Atlantic states.
Overall, we should expect less snow than the bomb cyclone earlier this month (most of the East will only see about three inches, while New England could see more), but Inga will still make things pretty messy.
Be careful out there!