17 winter nail polishes that will have you looking like a glam Mrs. Claws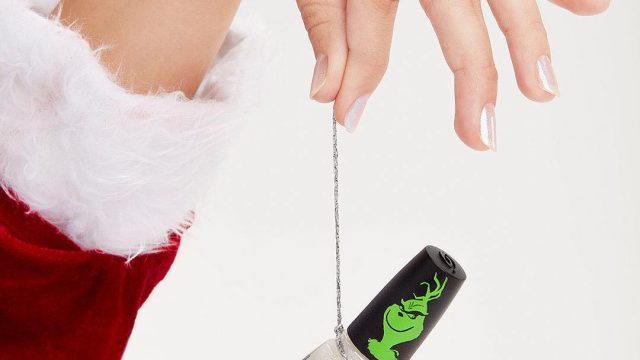 The world of nail art is truly unending in the best way. The changing of each season ushers in a whole slew of gorgeous nail polish shades, collections, and gift sets. Because of this, we're always hitting refresh on our favorite brands to see what nail products they have in store for us. Without fail, we are spoiled with seasonal color options that inspire us to get out our box of DIY manicure supplies and gussy up our cuticles.
This winter is no exception. In celebration of the frosty months, brands have released exciting seasonal shades, plus some of their classic colors—and we are here for all of it. Whether you're shopping for the nail art lover on your holiday list or want to update your personal collection for the winter, we've gathered some of the boldest and prettiest winter colors for you to shop.
https://www.instagram.com/p/BrVlDbMl9p-
This shade is perfect all year 'round, but it's especially great during the holiday season. Besides, you can't go wrong with a classic red polish.
https://www.instagram.com/p/BqVXpb7FFjq
This hue of electric blue looks like a psychedelic slice of the ocean, which makes it an ideal color for those who want something bold during the icy winter months. Plus, it's completely cruelty-free.
https://www.instagram.com/p/BqSQht2lNfz
This holiday set includes three different hues of luxe winter shades: Kissing Strangers (a cranberry), Double Bubble Trouble (a soft cotton candy), and You're My Disco (a glittery wine shade).
https://www.instagram.com/p/BpOAKFFnATs
As with all Pear Nova lacquers, this shade is completely vegan and cruelty-free, but more importantly, it looks like lavender-flavored snow, which doesn't technically exist—but it would in a perfect world.
https://www.instagram.com/p/BqcelpbggWA
This sparkling teal shade is a great option for your New Year's festivities, but it will also work for any occasion (especially when you want to feel extra snazzy).
https://www.instagram.com/p/Bp3bX0lgIfQ
If you've ever seen freshly fallen snow and wanted to cover yourself in its pristine glory, then this polish is your ideal winter shade. It also works great as a base for a layered lewk.
https://www.instagram.com/p/Bqh-no5HEGs
Who among us doesn't want to survive the winter with nails that look like a shimmery ice palace? (This is a rhetorical question.) Even better? This is an especially great option for people who swear by gel formulas.
https://www.instagram.com/p/BqYg2C0g_3r
The most ideal winters involve temporary getaways to sunny islands, where you can sip on margaritas. Sadly, this is more an idea than a reality for many of us. Luckily, we can channel the spirit of the sun through this deep golden lacquer.
https://www.instagram.com/p/BqkvPCugJom
This icy glacier pink hue is a gorgeous winter look that will have your channeling fairytale vibes. Honestly, we can use that fantasy during the coldest months of the year.
https://www.instagram.com/p/BpuIOaVADAt
Winter colors are great for the minimalists among us. This iridescent blue-white color will give your nails an icy boost while seamlessly matching your entire wardrobe. Plus, all Hype products are completely plant-based.
https://www.instagram.com/p/BqjPHf3AXJX
This glam holiday shade will make your nails shine brighter than the star atop the Christmas tree, so you can look the part while blasting Mariah Carey's magnificent album (you know which one) this December.
https://www.instagram.com/p/BqF6C5slGRY
Mint is one of the most underrated shades (in our humble opinion), and this vegan and cruelty-free lacquer embodies all of the delicious goodness of crisp mint leaves and mint chocolates.
https://www.instagram.com/p/Bm3NMAdg90w
This rich, metallic holiday red is ideal for turning heads at the holiday party.
https://www.instagram.com/p/BqS58b_nnCx
We are always on board for bringing glitter into our lives, especially during this time of year. This gold and silver-specked lacquer is a mix between snow and Christmas tree lights.
https://www.instagram.com/p/BprWI1wBX8z
This luxurious, crushed diamond nail set includes a powder pink shimmer lacquer, a rich purple lacquer, and an iridescent white top coat.
https://www.instagram.com/p/Bqp0r0Ulxod
This sheer white polish might not scream the Grinch, but it will have you channeling the classic character. Because, honestly, is there any Christmas villain that struts their stuff with more conviction than the Grinch?! We didn't think so.
https://www.instagram.com/p/Bqpxsf7AxCv
This luxurious champagne shade is cruelty-free and will have you ready to usher in the new year.