12 Winter Nail Art Ideas That'll Sleigh
Jazz up your wintertime mani with these fun and funky designs.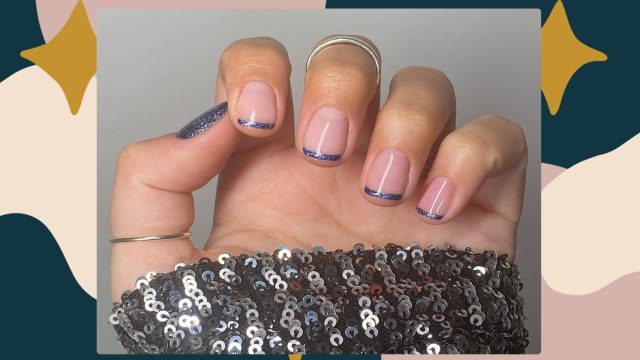 If we're being honest, wintertime can sometimes be a bit drab. Once the trees have lost their leaves and the temperatures cool down, the gray days can seem dreary. But just because it's dull outside doesn't mean your nails have to be, too. Winter's nail trends are all about embracing darker hues, fun glitter, and cool designs that punch up any outfit—whether it's your work-from-home uniform or your favorite cozy cold-weather dress.
That's why we've rounded up some of our favorite ideas for the ultimate manicure inspo. The best part is that these winter nail art ideas are easy enough to mimic at home. Just grab a few nail art brushes or a bottle of nail art paint and practice recreating these festive wintertime designs.
1. Subtle Snowflakes
This snowy design can be replicated on short or long nails. All you need is a nude, peachy, or light pink polish as the base. Then, using a nail art brush or white nail art paint, carefully recreate the lines of a snowflake: Start with an "X" shape, and then add lines going horizontally and vertically across your nail to complete the shape. Finish it off with a dot in the middle and add tiny strokes for a more realistic-looking snowflake.
2. Edgy Minimalist
This minimalist mani complements any outfit, and we love how simple it is to achieve. Start by painting your nails with one coat of sheer nude color. Then, create a diagonal line in black using a nail art brush and fill in half the nail. Dab a tiny bit of nail polish remover on the brush or use a toothpick to clean up the line if necessary. Finally, seal it off with a glossy topcoat.
3. Glitter Tips
We don't know if you heard, but French manicures have made a comeback. For this festive wintery version, start with a sheer nude base, then add a swipe of fun sparkle at the tip. Use a piece of tape if you need help making the line even and straight, and make your thumb the accent nail by giving it a full coat of glitter.
4. Mulled Wine
Deep red is one of our favorite winter nail colors. Amp it up by filing your nails into a cool almond shape and adding some delicate designs with a nail art brush.
5. Pops of Copper
A pretty navy background sets the stage for this easy DIY mani; all you need to add for extra pizzazz is a dot of glitter polish at the base of your nail. We love the copper and navy combo, but you can recreate the same look with any base color and glitter polish you have at home.
6. Fine Lines
Simple is the name of the game with this decidedly minimalist manicure idea. Use a strengthening clear coat as the base, then delicately draw on two lines using the thinnest nail art brush and black polish.
7. Sweater Weather
Talk about festive! This winter nail art idea embraces two of our favorite things: comfy sweaters and falling snow. Use a nail art brush to paint on a few gold snowflakes, then add two accent nails: one with a basic sweater print and one with fun gold sparkle.
8. Winter Wonderland
These sparkly ombré nails are cute and eye-catching. To get the ombré look, paint a foam makeup wedge in the ombré pattern, then dab it onto your nails. Seal it off with a final coat of white glitter for extra glitz.
9. Sparkly Snow
A sparkly gold base color sets the stage for these bright winter shapes. Make sure the gold color is completely dry before using a nail art brush to add the stars, dots, and diamonds onto each nail.
10. Black and Gold
If you're looking for a luxe manicure, this design is perfect for you. Start with a simple black base coat and oval-shaped nails. Then, create a half-moon shape on the cuticle using gold polish and top it off with a single gold dot on the tips. Seal the look with a high-shine topcoat for Instagram-worthy nails.
11. Neutral Stars
To achieve this cut-out star look, try using a nail stamper or nail stickers. Use neutrals as the base to make the stars subtly stand out.
12. Earthy Abstract
Abstract designs are some of the easiest to recreate at home because there's no right way to do them. This earth-toned mani uses a toffee-colored base coat with a shimmering black on top for the shapes.