This is why everyone is talking about Winnie Mandela today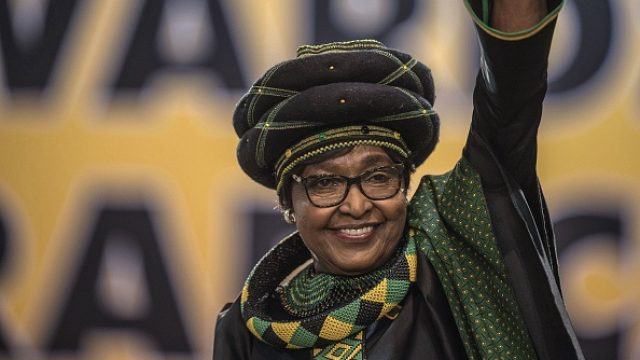 It has been five years since the first black, democratically elected South African President, Nelson Mandela, passed away in 2013. And today, April 2nd, the world lost another great activist with his wife, Winnie Mandela's death. But who was Winnie Madikizela-Mandela?
She was known as the "Mother of the Nation."
Madikizela-Mandela married her husband in the 1950s, when she was working as a social worker. The couple spent 27 years of their 38-year marriage separated, due to Mandela's imprisonment for protesting apartheid in South Africa. While her husband was incarcerated, Madikizela-Mandela took up the mantle, carrying on the fight against the regime's institutionalized racism. As a result, she became known as "Mother of the Nation." She was later jailed for her protests.
The activist's techniques also garnered controversy. According to the New York Times, she advocated for "necklacing" — the act of placing a flaming tire around traitors' necks.
Nelson and Winnie Mandela divorced in 1996.
Even though the couple's marriage lasted through Mandela's release from prison in 1990, they separated two years later. Their divorce was finalized in 1996. After the divorce, Madikizela-Mandela said that she would keep her ex-husband's last name, but added, "I am not Mandela's product. I am the product of the masses of my country and the product of my enemy."
She is the subject of the movie Winnie. 
In 2011, a documentary was released about Madikizela-Mandela's life that sought to challenge the narrative that Winnie Mandela had been a troublemaker, while Nelson Mandela had been "saintly" in personality.
According to her family, her cause of death was an illness.
The former activist passed away at South Africa's Netcare Milpark Hospital at the age of 81. In a statement, her family wrote that she had been ill throughout the year, and had been in and out of the hospital many times as a result.
"Mrs. Madikizela-Mandela was one of the greatest icons of the struggle against apartheid," her family's statement read. "She fought valiantly against the apartheid state and sacrificed her life for the freedom of the country."
Madikizela-Mandela was a revolutionary activist who helped bring about the end of apartheid. Her death is a reminder of how far the world has come in terms of racial equality, but we still need to continue the fight against racism. Our hearts go out to Madikizela-Mandela's loved ones at this difficult time.