Yasss: Willow Smith is the new face of Chanel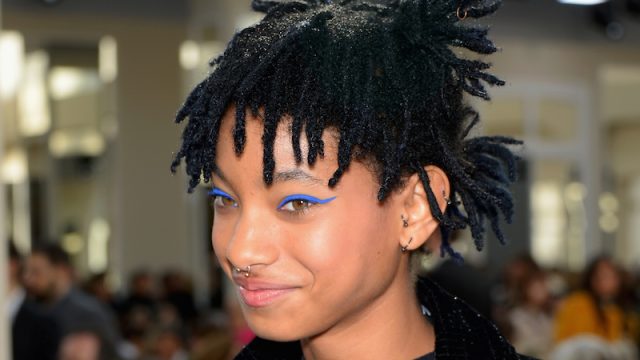 Chanel just announced 15-year-old Willow Smith as their newest ambassador, appointed by Karl Lagerfeld himself, and all we can say is YASSSS KWEEEN YASSSSS. According to Vogue, Chanel just released a statement saying "the young singer, songwriter, actress and trendsetter has been wearing Chanel for public appearances since 2013 and her first encounter with Karl Lagerfeld was in 2014 when he photographed her for the American magazine V."
Willow, who is the daughter of Will and Jada Pinkett Smith, burst onto the scene in 2011 at the tender age of 9 with the ridiculously catchy "Whip My Hair." Since then, she's been making waves in the fashion world with her experimental and playful fashion sense. She's always telling a story with her look in non-traditional ways, playing with colorful makeup, rhinestones, piercings, and hair dye in shades that other It Girls typically stay away from. She signed with IMG Models only six months ago.
Other Chanel brand ambassadors include Kristen Stewart, Lily-Rose Depp, Cara Delevingne, and Julianne Moore. Smith offers a much-needed dose of diversity to the Chanel #squad. She acknowledged this herself in a photo she posted on Instagram of her and Lagerfeld with the caption: "Thank you Karl Lagerfeld and the entire team at Chanel for expanding the perceptions of 'beauty' by picking me to be the new Chanel ambassador. I am honored."
The brand isn't always known for being edgy, especially when it comes to makeup, but it looks like this new partnership could lead to some very interesting collaborations and looks down the pipeline! Congrats, Willow!