Will Smith and Margot Robbie's insult battle is actually adorable
We cannot get enough of Will Smith and Margot Robbie lately. Whether you loved Suicide Squad or hated it, we can all agree that these two were pretty much the best part. They not only had great onscreen chemistry with their fellow squad members, but they totally rocked their individual roles, helping to ground an otherwise super frenetic storyline.
So it only makes it all the more awesome to see the pair featured in BBC's Playground Insults, a segment that pits two celebs against each other in a knock down, drag out, insult-off.
Just look!
https://www.youtube.com/watch?v=yKC7vOhr2vM?feature=oembed
Robbie goes for the jugular when she disses The Fresh Prince of Bel Air, I Am Legend, and Smith's outfit in the Gettin' Jiggy With It video (ouch!). Smith, on the other hand, is clearly such a big sweetheart that he's totally and utterly uncomfortable hurling insults Robbie's way (except for that terrible "your mom" joke. Really, Will?).
But if one thing was made clear (aside from the fact that neither actor is all that great at insults), it's that they're clearly buds IRL — which is well, just adorable.
In addition to Suicide Squad, Smith and Robbie worked together in the 2015 filmFocus, whichhelps explain their super easy back-and-forth.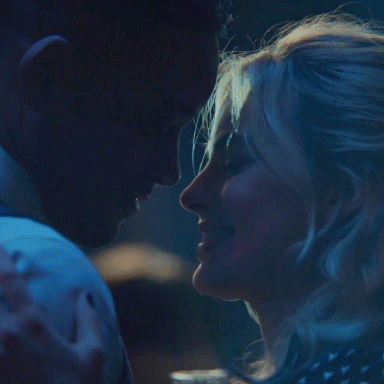 Now, is there an award out there for lamest/most adorable insult givers? Because I think we've found our winners.