Will Smith might play the Genie in Disney's live-action "Aladdin," and yes, this is a thing that could happen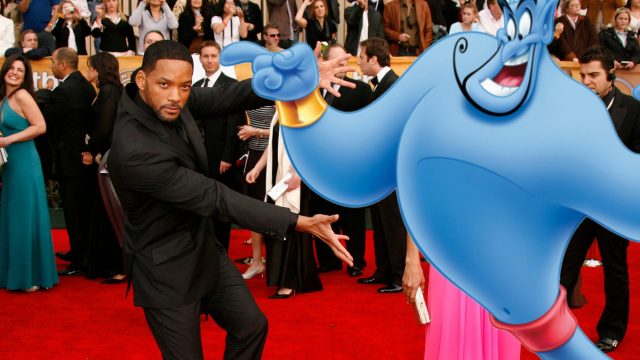 We soon might have a ~friend~ in Will Smith.
With the massive successes of Cinderella and Beauty and the Beast, it's a no-brainer that Disney is looking to expand to more live-action takes on its classic animated films with a whopping thirteen live-action films in early production, from Mulan, which hits theaters late next year, to Sword in the Stone and Oliver Twist.
Among the highly anticipated live action films is a live action musical version of Aladdin, which is set to be written by John August and directed by Guy Ritchie. Now, it appears Will Smith might be joining the cast as Genie. This is definitely something we can get behind.
While it appears these talks are apparently very early, we definitely think Smith is a fantastic choice to play the iconic Robin Williams character. In addition to being a highly sought after actor (and Academy Awards nominee, nbd), Smith is also a four-time Grammy winning rapper, AND he's hilarious. While Smith was apparently in early talks to team up with Tim Burton for Dumbo, nothing came from that. Disney was still looking to snag him for a live-action role, and thus…Aladdin.
For those hiding under a rock their entire childhood, Aladdin is about a young man living on the streets, who tries to win the affection of princess Jasmine with the help from a Genie, who he stumbles into along the way. Eventually, Aladdin, Genie, and Jasmine must team up to prevent an evil sorcerer and advisor to the Sultan from taking over the kingdom.
Disney is currently working hard to cast the upcoming film. Fans of the original film have, with good reason, been very concerned about potential whitewashing of the film, as the film is set on the Arabian Peninsula. According to The Hollywood Reporter, the casting department for the film is looking for actors of Middle Eastern descent.
We have some seriously high hopes for this film! We can't wait to see it when it finally hits theaters. No word yet on the casting search for Carpet, though. Stay tuned.