Is Roy Moore going to win the Alabama Senate race?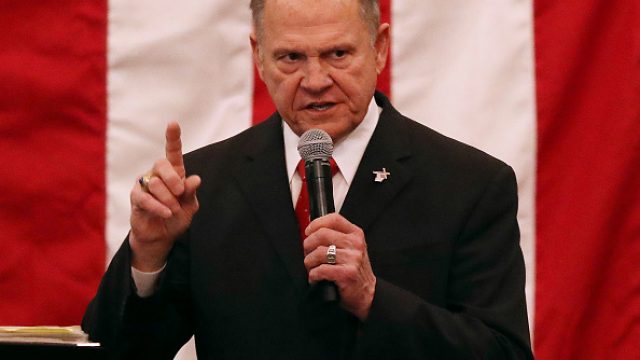 After months of campaigning, Alabama's special election to fill Attorney General Jeff Sessions' seat in the Senate will happen today, December 12th. And everyone is wondering: After being accused of sexual misconduct, can Roy Moore still win the Alabama Senate race?
Alabama is a consistently red state. But recent allegations against Moore could change that this time around. In November, after four women accused Moore of making advances toward them when they were teenagers, Moore's Senate campaign seemed to suffer. Democratic opponent Doug Jones overtook Moore in the polls for a few weeks following the allegations. But Moore resumed his lead on November 28th. More women have alleged that Moore behaved inappropriately toward them since the original accusations as well.
Despite the allegations against Moore, President Donald Trump and the Republican National Committee officially endorsed him for Senate on December 4th. The RNC reinstated its funding of Moore's campaign with a little more than a week left until the election.
Trump also urged voters to choose Moore in a tweet early on December 12th. And Trump has always been more popular in Alabama than the country as a whole, so it's possible that his endorsement will encourage his base to turn out in Moore's favor.
https://twitter.com/udfredirect/status/940584383605563392
But Jones has also gained the vocal support of his party. Democratic Senator Cory Booker traveled to Alabama on December 10th to help campaign for Jones, and former Vice President Joe Biden also endorsed Jones earlier in the fall. It's possible that the efforts of politicians like Booker and Biden will help increase turnout for Jones in the election.
The most recent polls are confusing and don't offer much of a conclusion about whether Moore or Jones is in the lead. Automated polls favor Moore to win, but polls that contact live voters give Jones the edge. Overall, Moore is ahead by 2.2 percent when considering the polling average. But that doesn't say much; shortly before the 2016 presidential election, Hillary Clinton was favored to win by about 3 percent.
At this point, the election is too close to call. And since the Alabama Senate race is so competitive, it's crucial that you vote if you are a registered Alabama voter.